Welcome to Life of Y! I'm Jeff…
Hey guys! Thanks for stopping by and checking out Life Of Y. I'm Jeff – just your average 30-something-year-old, Aruban born to Chinese parents, based in the UK, newbie blogger!
Like many people my age, I always thought that I had to go to university, get a good job and have a wife and kids by the time I was 25! Anybody reading this now would probably choke on their morning coffee (or tea, beer, vegan smoothie?) Funnily enough, this idea of 'happily ever after' faded quickly as I started to travel more!
My first ever trip away, as an adult, was a cheap last-minute deal to The Dominican Republic and, despite being famous for its hotels and resorts, it really opened my eyes. I literally knew nothing about travel so when I saw armed guards at the hotel entrances, and poor villages whilst out on day trips, I suddenly realised that I had a lot to learn about the world.
Time to Travel
The idea of finishing university and having to work for the next fifty-odd years was slightly depressing. So I decided to spend six months abroad instead. Working wherever I could, and whenever (even Christmas Day) I eventually saved enough to start my once-in-a-lifetime travel adventure.
Beginning in Thailand (where else?), I spent a couple of months seeing beaches, and temples and eating amazing street food before flying on to Australia. I worked and travelled my way around the country, (even doing the odd spot of fruit picking,) for seven months, before spending some time in New Zealand and, finally China before returning home.
So the six months abroad actually turned into a one-year trip and I returned home with a lust for travel. Broke, with no job, and friends who I hadn't spoken to in a year. Settling back in definitely took some time but I found a way – plan another adventure!
Another Adventure
After hearing the many stories about Brazil from different travellers, I decided that I needed to see it for myself. So in June 2008, I landed in Rio de Janeiro! I spent a few weeks on a new continent visiting amazing cascading waterfalls, snorkelling crystal clear freshwater pools, fishing for piranha and enjoying (or not) a few too many shots of cachaça!
I then visited my sixth continent – Africa! Travelling overland from Nairobi, our group passed through Tanzania, Malawi, Zambia, Botswana, and Namibia and finished in South Africa. As well as all the game drives in world-famous national parks like The Serengeti, we also visited different tribes like the Maasai and the Himba, saw spectacular natural wonders like Victoria Falls and much, much more (did I mention that I jumped out of a plane?) I could honestly say that seeing Africa from a truck was one of the best things I ever did.
The Seven Wonders
Without even realising it at the time, I had already been to three out of the seven wonders. The Great Wall of China, Christ The Redeemer and the Colosseum.
I never even dreamed that one day I would ever see all seven wonders. I had ambitions to see Petra in Jordan and Machu Picchu in Peru and, in 2014, I saw both!
Jordan was the first Muslim country I had ever visited, and I loved every second of it! From the chaos of the capital, Amman, to the peaceful desert of Wadi Rum, and the highlight, of course, being Petra itself!
A few months later, I found myself travelling through a country where I was trekking (at altitude) the Inca Trail one day, and cruising through the Peruvian Amazon the next. The best thing about arriving at Machu Picchu after a 4-day trek is that you appreciate it so much more, especially after seeing the other tourists coming in off the bus in their nice clothes and high heels!!
Whilst I'm a firm believer that travel is not about checking off lists, with only the Taj Mahal and Chitzen Itza of the seven wonders to see, I took it as 'an excuse' to explore India and Mexico. Two countries that had so much more to offer than just Goa and Cancun!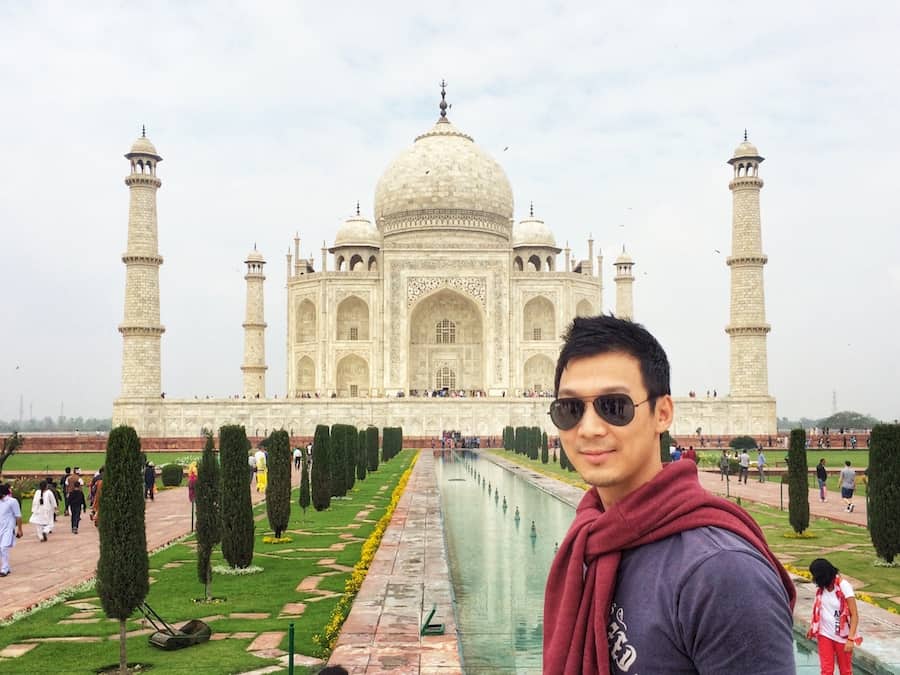 How I Could Afford to Travel
The simple answer is, I love travelling! When I returned from my year-long trip in 2007, I felt lost. I was back at my parents' house, in the town I grew up in, surrounded by familiar people. Yet something was different. It was me! Since then travelling has kind of become my hobby… my priority.
My friends were already 'going places' in their careers, buying their dream houses and driving their dream vehicles. What was I doing? Worked all hours from one job to another (often minimum wage,) spending as little money as I could, buying only the essentials so that I could go on another travel adventure.
I learned early on that travelling can be done on a budget, paying just £5 for my first night in Thailand in a room that had a bed, shower and a toilet that was flushed with a bucket of water. There was no air-con, tv or mini fridge – who needs all that crap when there's a whole world to explore outside?! I've picked up a lot of travel tips since then I've always enjoyed staying in budget accommodations, like hostels, eating delicious local food and meeting the characters on the local buses!
Still Travelling
Even though I'm not a 21-year-old backpacker anymore (*cries) I still try to travel like one. Except that these days I go on adventures to dream destinations with my 'travel partner in crime!' We both have to endure full-time jobs so we make the most out of the annual leave available to us!
Twenty-odd days of annual leave might not seem like a lot (that's because it isn't) but, with careful planning, we still managed to satisfy our thirst for travel, just! In the last three years, we've had long weekends in Edinburgh (twice,) Barcelona, Paris, Budapest, Cinque Terra, Brussels, Andalusia, Matera, Berlin, Amalfi Coast and Dublin, as well as longer trips to Norway, Croatia, Slovakia, Iceland and Madagascar.
Being based in the UK, we've also started to explore the beautiful old cities and spectacular coastlines right in our own backyard. Even with our full-time jobs at home, we didn't need to 'leave it all behind' or 'give it all up' to travel. Not yet anyway!
The Blog
If you didn't already know, I have a passion for travel! I want to share this passion with you guys. When I started travelling I was a complete amateur. Earning my travel badges 'on the go' was fun and scary at the same time. Now I can tell you all about my experiences, good and bad. More importantly, I want to express my opinions as honestly and openly as I can. After all, travelling isn't always beer in the sun and yoga on the beach.
Travel can and will cost money, as with most things in life. I can't tell you to spend your hard-earned money on travel instead of buying your dream car, but if you're reading this then you're probably thinking of it already! I didn't win the lottery when I started travelling, I just wanted to. If someone like me can travel to so many amazing places then surely you can too?! I hope this blog can inspire you and turn your travel dreams into travel plans!