Ready for an island-hopping adventure where you can travel to gorgeous beaches after gorgeous beaches? Then you need to look no further than the beautiful islands of Thailand. The islands are famous for their idyllic beaches and laid-back vibes but each has its own personality. I've put this Thailand island hopping guide together so that you guys can plan your own hopping adventures.
Scattered across the Andaman Sea and The Gulf of Thailand, each island offers a little slice of paradise and more. As well as beach time, you can do a wide range of activities such as hiking and water sports. Of course, being in Thailand, you can sample delicious Thai cuisine in top restaurants or from street vendors.
From Koh Tao to Koh Samui and Phuket to Koh Lipe, I've had the pleasure of spending many weeks exploring the different islands over the years. And I can tell you that island hopping is one of the best things you can do in Thailand!
Read More | Visiting Thailand for the first time? Why not check my Thailand Travel Guide For First-Timers for the best tips and ideas.
Best Time To Visit
For most of the year, the majority of Thailand experiences tropical, humid weather. Like most of Southeast Asia! Even though the islands are spread up and down the coast, they all follow a similar weather pattern to the rest of Thailand. Hot, dry, and wet.
The hot season in Thailand runs from March to June when temperatures reach the mid-30s (Celcius). Then the wet season, or monsoons, runs from July to October where the humidity is at its worst. The dry season, also known as the cool season, is from November to February, but this is still 23°C to 30°C. This is one of the best times to visit Thailand!
The southern islands on the Gulf of Thailand side generally get much less rainfall than those on the west in the wetter months (May-October.) This makes them a great choice to visit nearly any time of the year.
Thailand Island Hopping Routes
Thailand isn't a particularly huge country but its long shape can make choosing an island-hopping itinerary a little tricky. You'll most likely visit a group of islands in one region of the country. Unless you have a few weeks to spare. Try not to 'checklist' as many islands as you can – you'll never see all 1,430 islands in your lifetime!
The Andaman Sea
The most popular group of islands are located in the south of Thailand so let's start there! Located on the west side of the mainland are the islands in the Andaman Sea. A sample route of these islands could be (from north to south) Phuket > Koh Phi Phi > Koh Lanta > Koh Lipe. You can also visit Krabi, although this isn't an island it's definitely a worthwhile stop.
You can easily island-hop from Thailand's biggest island, Phuket all the way down to Koh Lipe or vice if you wish. Or you can base yourself somewhere like Krabi on the mainland and hop around the islands from there.
The Gulf Of Thailand
The islands in the Gulf of Thailand can be found in the north, nearer to Bangkok, and in the south on the opposite side to the Andaman Sea. These islands (or groups of islands) each offer something a little different but are all worth visiting in their own right.
From Bangkok, you can easily travel to Koh Samet, Koh Si Chang, or all the way to Koh Chang. A sample route for those heading south could be (from north to south) Koh Tao > Koh Pha Ngan > Koh Samui or vice versa.
How To Get There
If you want to hop around the islands in the Andaman Sea and the Gulf of Thailand, then you'll have to make a small effort to get there. Don't worry though! Thailand's transport system is excellent and you can get to just about anywhere in the country by bus, train or plane!
Plane
Phuket, Krabi, and Koh Samui all have international airports but there are only a handful of direct flights available from Europe/U.S. Most people flight into Bangkok and make their way to the islands from there. From Bangkok, you have a few options depending on your budget and quickly you want to get there.
Andaman Sea
The easiest and fastest way to Phuket or Krabi is by plane. There are regular departures and the flight time is only around 1.5 hours. It's also normally the most expensive but with prices as low as $20/£15, one-way, it's hard to agree with that argument. You would have to add on check-in baggage if you fly with a low-cost airline such as Air Asia or Lion Air which can cost the same or even more than the flight itself.
Bangkok has two international airports – Don Mueang Airport (DMK) Suvarnabhumi Airport (BKK). Make sure you know which one you need to get to! DMK serves more low-cost airlines so this can save you money but many flights from BKK have luggage included.
Gulf of Thailand
Like Phuket and Krabi, there's an international airport located on one of the islands in this area, on Koh Samui. These flights are usually from Suvarnabhumi Airport (BKK) and cost a little more – around $65/£45 one-way but this usually includes check-in baggage allowance. You can also fly between Koh Samui and Phuket.
If you want to visit the islands towards the north of the Gulf then you don't really need to fly. Koh Samet is only a few hours from Bangkok after all. Koh Chang is a little further away, towards the Cambodian border and you can fly to Trat for around $80/£60. It's then another couple of hours from Trat airport to Koh Chang.
You can check out the prices on Skyscanner and see what the best deals are with/without luggage.
Tip | Thailand is one of those places where you really don't need to book ahead. Plans change very quickly and you can walk into any tour agency to check their prices for flights, buses, etc. Many combo tickets include pick-up and onward transfers to make life just a little bit easier.
Sleeper Train
Trains in Thailand are a popular way to get around the country. They are cheap and comfortable and, when you consider that you'll be traveling through the night, they also save you the cost of a night's accommodation!
Andaman Sea
To make your way to the Andaman Sea you'll be taking the train to a small city called Surat Thani. From there you have to your own way by bus to either Phuket, Krabi, etc (unless you have a combo ticket from an agency.) All trains leave from Hua Lamphong Station in Bangkok and there are departures from around midday but I wouldn't recommend this as you'll arrive in the middle of the night! Try booking a ticket for the evening so you arrive in the morning as journeys take around 11-13 hours!
Tickets are split into classes depending on the level of comfort you're after or your budget. First-Class Sleepers cost around $60/£40, come with air-con, and are only 2-berth compartments. Tickets book up fast so you need to get in early. Second-Class Sleepers are either air-con ($35/£25) or fan-only ($23/£17) but do not have compartments. Berths are arranged on either side of the aisle but you do get a curtain for a bit of privacy.
Gulf Of Thailand
Like the islands in the Andaman Sea, your last stop on the way to Koh Tao, Koh Pha Ngan, and Koh Samui will be Surat Thani. But, as the islands you're after are on the east, the journey to them is much shorter and many people choose to stay in Surat Thani for a day or two to break up the traveling. From Surat Thani, it's very easy to arrange a ferry from the city's port. Ferry tickets cost around 400 THB ($12/£9) to Koh Samui, 500 THB ($15/£11) to Koh Pha Ngan, and 750 THB ($23/£16) to Koh Tao.
So whether you're heading to the Andaman Sea or the Gulf of Thailand, you'll be on the same train down to Surat Thani. You can buy your tickets at Hua Lamphong Station in Bangkok but I recommend getting them in advance as these routes are super popular. Use 12Go Asia or BusOnlineTicket instead and book your train ticket up to 90 days in advance. Alternatively, you can book at one of the many agencies that can also offer a combo ticket with onward travel to the island of your choice.
There are no direct trains to Koh Samet or Koh Chang and the easiest way to get to these islands from Bangkok to get a bus and then ferry.
Sleeper Bus
Just like sleeper trains, these buses are a very popular way to get around Thailand. It's always recommended to book in advance, especially if you're attending the Full Moon Party or other festivals. At any other time, you can sometimes book a sleeper bus the day before you want to leave or even last minute if you're flexible.
The most popular buses will take you to Phuket, Krabi, or Surat Thani. From there you will have to decide which of the islands you want to visit and book a separate ferry. To reach Koh Samet, you need to take a bus from Ekkamai Station or the hourly minibus from Khao San Road to Nuan Thip Pier in Ban Phe. Buses for Koh Chang also leave from Ekkamai Station and arrive at Laem Ngop Pier.
There are a couple of ways to book your ticket. Book in advance online using 12Go Asia or BusOnlineTicket, or simply walk into an agency. If you're staying in the Khao San Road area you'll see the travel agencies all over the place. They may have slight variations in prices but most will be using the same bus company so don't worry about which bus you'll get. I recommend getting a combo ticket that includes transfers and ferries as this can be cheaper than booking separately.
If you've booked through an agency, you will be waiting for your bus at one of their offices. There'll be a lot of waiting around and sometimes you'll be chatting to other confused backpackers about the hell is going on but your bus will eventually turn up!
Hopping Around The Islands
Now that you've reached the islands, you'll be pleased to know that hopping around is mega easy. Each island is full of tour agencies that can arrange travel to your next destination. Whether that's another island, back to Bangkok, or somewhere else in Thailand. Just rock up to an agency, or even your hotel reception, a day or two in advance and tell them where you want to go!
If you have concrete plans to be somewhere then book around 3 days in advance but, from my personal experience, booking an onward ticket the day before was absolutely fine. There always seems to be a ferry/boat/bus available in Thailand and many people choose to stay flexible and book things a little last minute.
Thai Island Hopping Tips
There are a couple of things to be aware of when booking combination tickets through agencies, and this doesn't just apply to Thailand:
You may be offered pick-up from your hotel but the guy collecting you might not know your plans – he's just delivering you to the station or pier.
If your ticket includes transfers (i.e. from pier to station) you will again be picked up by someone who is just 'delivering you' to the next stop. You may even have to sit on the back of someone's pick up truck.
There's usually a lot of waiting around at stations and piers. This is because the departure time you were told by the agency is different from the real departure time. They just want you there early.
Don't be scared if you are transported to a small floating pier in the sea. Some of the smaller islands can't handle big ferries.
You may find that you will have to arrive by long-tail boat as part of your transfer. This is where the people with the long fisherman pants and large suitcases wish they were in swim shorts and had backpacks.
As well as your ticket, you may be given a sticker/number. Look after it! You are technically just a number to these agencies but they need to get the number to the right places too!
Best Islands To Visit In Thailand
How many islands are there in Thailand? Around 1,430 so don't even think about how many you can see. Instead, choose an island or region that you'd like to explore and go from there. You may even find that you love an island so much that you don't want to leave! Here are some of the most popular Thai islands that most travelers include in their itinerary.
The Andaman Sea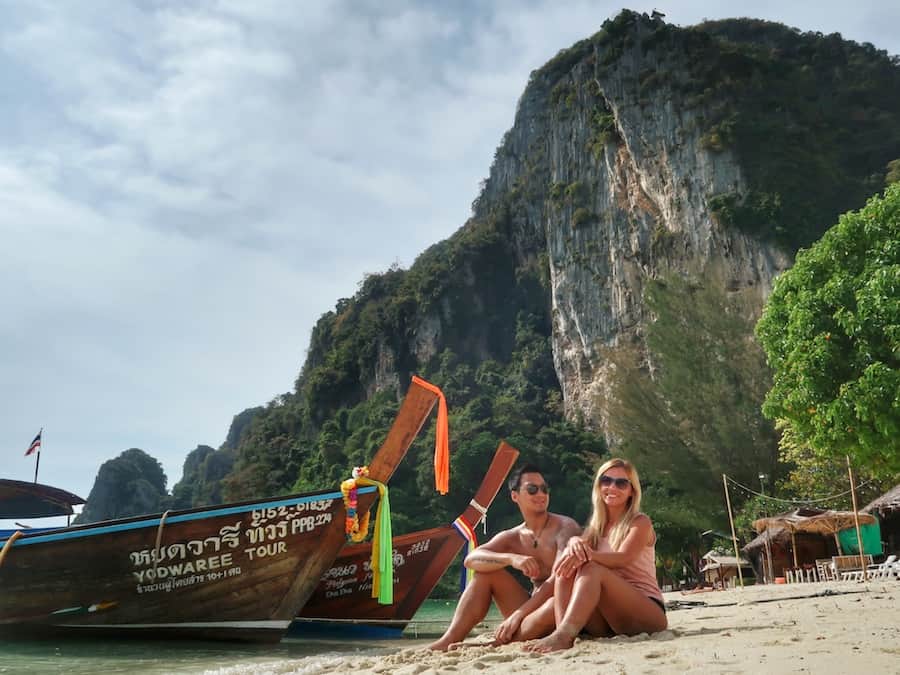 Phuket
Thailand's most famous island, Phuket sometime's has a bad reputation but don't let that stop you from visiting. The island is popular for its crazy nightlife where places like Patong take center stage. If you're after nightclubs, massage parlors, and girls dancing on top of tables, this is the place the be. Phuket isn't all nightclubs and loud music though. Being the largest island (roughly the size of Singapore) means it's not difficult to escape the crowds to quieter areas.
Koh Phi Phi
Anyone who has ever seen The Beach (all of us?) will want to visit Koh Phi Phi. The island is one of the most popular and with good reason. Not only do you get the usual stunning beaches but you also get jaw-dropping views with Phi Phi's jagged cliffs surrounding you at every turn. Mix that in with some excellent nightlife and you have a recipe for an awesome island adventure.
Krabi
Although Krabi is not an island, it's still a popular route on many people's island-hopping routes. Krabi town is a great place to base yourself but the real star of this place is Railay Beach. Located just outside of Krabi town, Railay Beach, with its stunning limestone cliffs, is one of the most beautiful beaches you'll see in Thailand. If you want to try your hand at a bit of rock climbing against a stunning backdrop then this is the place to go.
Koh Lanta
If you're looking for somewhere with peaceful island vibes then you definitely want to put Koh Lanta onto your list. Even though the island is a popular stop on most people's route, the beaches (which are golden but still beautiful) are far less crowded. You can snorkel on most of the beaches on the island or you can just relax in your hammock and just enjoy the slower pace that Koh Lanta offers.
Koh Lipe
Let's face it, a small island with squeaky white beaches and crystal clear turquoise waters wasn't going to stay secret for long. But due to Koh Lipe's location, it's still far less crowded than some of the other popular islands in Thailand. This also means that Koh Lipe is a little pricier than the other islands. For those looking for dreamy beaches and excellent snorkeling then Koh Lipe is simply unmissable!
Gulf of Thailand
Koh Samet
Did you know that there are islands near Bangkok? The closest island to Bangkok is also the easiest to get to. Koh Samet is the perfect place for a weekend island getaway. Koh Samet is only a few hours away by car and ferry so the place can get quite busy at times. There are enough white beaches on the island though which makes this the perfect place to get away from the hustle and bustle of Bangkok.
Koh Chang
Thailand's second-largest island is famous for having some of the best beaches in the country. Koh Chang, or Elephant Island, is rather underdeveloped compared to Phuket and Koh Samui but can still get busy at peak times. Around 70% of the island is covered in rainforest, so it's a popular place for nature lovers and adventure seekers who also want that chilled-out island vibe.
Koh Pha Ngan
If you haven't heard of Koh Pha Ngan, then where have you been? Koh Pha Ngan (or Koh Phangan) is home to the world-famous Full Moon Party. Which, strangely enough, takes place every month during the full moon. Thousands of people gather on Haad Rin from all over the world to party along the beach till the early hours.
The rest of the month is a great time to visit if you're not interested in partying. The island has some great beaches and the atmosphere is chilled and relaxed.
Koh Tao
This little island is famous for its diving and is littered with dive schools. You may feel a little out of place if you're not diving but there's plenty to do to add this island to your itinerary. You can also find some of the best snorkeling in Thailand here and on the surrounding islands. One of the best things to do in Koh Tao is to visit nearby Koh Nang Yuan, a tiny little island with the most beautiful sandbar you've ever seen.
Koh Samui
If Koh Pha Ngan is for backpackers and Koh Tao is for divers, then Koh Samui is the all-rounder. Popular with families and couples, there's a little bit of something for everyone on this developed island. There are the usual white beaches and clear waters but you also have with it comes larger hotels, shopping centers, and better road conditions.
Where Will You Go On Your Thailand Island Hopping Adventure?
Island hopping around Thailand is one of the coolest things to do in Southeast Asia and super easy to do!
I still remember my first night in Koh Pha Ngan all those years ago. It was the start of my first island hopping adventure and it will certainly live long in my memory. The chilled island vibes, parties, and beaches are just some of the reasons to get yourself to these small patches of paradise. And don't forget about the incredible food!
Island-hopping in Thailand is like a right of passage for any traveler and is so easy to do. Thailand's tourist agencies and network of ferries make it very simple to get from one island to another so you can explore and discover as many islands as you wish. The only problem is, which one do you visit first?
I hope you enjoyed this guide on how to plan your own Thailand island-hopping adventure. If you have any questions about something that I may not have covered then feel free to get in contact. Or just let me know in the comments below.