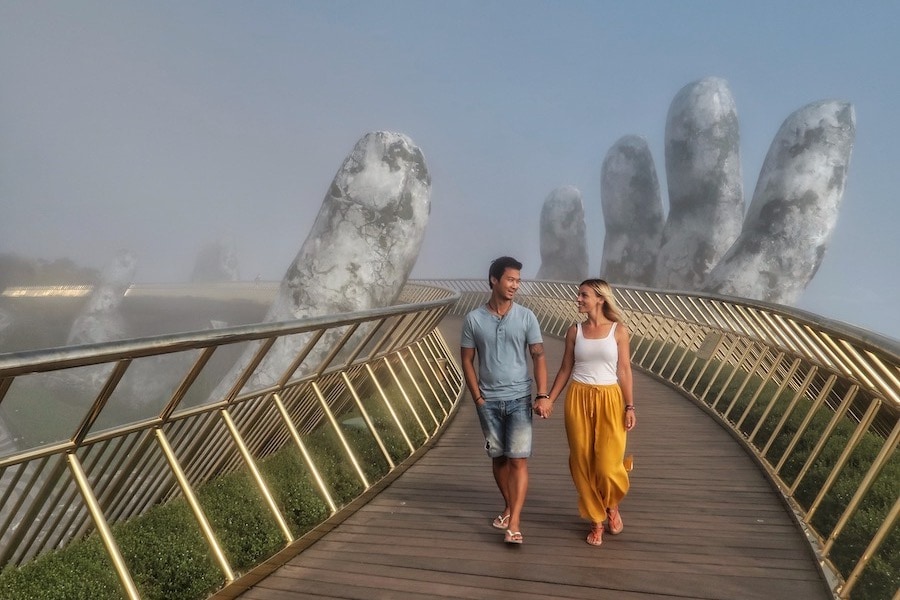 Hands up (get it?) those who remember when the images of a gigantic pair of hands holding up a golden bridge exploded onto our social media pages? Did you also have a sudden urge to see the breathtaking image for yourself in real life? Well, that was the Golden Bridge Vietnam and, in this post, I'll tell you how to visit and what to expect when you get there.
In 2018 our social media pages were inundated with images of the Golden Bridge or Cầu Vàng in Vietnamese. All we knew at the time was that this bridge was somewhere in Vietnam. And that we also really needed to go there! We now know that the Golden Bridge is part of the Bà Nà Hills Resort – a tourist park located high on the hills of Da Nang.
While we actually didn't plan to visit the Golden Bridge during our trip to Vietnam (as most of it was unplanned) we couldn't let the opportunity slip by. It was quite easy to get there in the end and I'll tell you how it's done whilst also sharing a few things we learned during our visit!
What Is The Golden Bridge?
The Golden Bridge Vietnam was opened in June 2018 and is sometimes known as the Golden Hand Bridge. The large structure is supported by a pair of giant stone hands set high in the mountains. The bridge is 150m long and made from gold-painted steel. It is part of the Bà Nà Hills Resort. A theme park owned by Sun World and is reached by cable car.
The giant hands are made from fibreglass and wired mesh and made to look like stone. The Golden Bridges designer is thought to have been inspired by the world of Gods, giant things & living things! This makes sense as the entire thing from above looks like a pair of giant 'god-like' hands holding up a delicate gold scarf.
The whole project cost around $2 billion USD and the Sun Group, who own the park, were thought to be reluctant to approve the final design for several months. Bet they were glad they did in the end as the bridge is now a must-see in Vietnam!
Where Is This Famous Golden Bridge?
As mentioned previously, the Golden Bridge is part of the Bà Nà Hills Resort in Da Nang, Vietnam. The amusement park is rated as the number one tourist attraction in Vietnam bringing in nearly 2 million visitors every year! However, the theme park isn't located in the city. It is located high in the mountains about 42km (26 miles) from the city. So, unfortunately, you'll need transport to get there.
Da Nang is Vietnam's 5th largest city by population but is often missed on the tourist trail. This is because it lies between Hội An and Hue – two of the country's most visited destinations. But there's plenty to do in Da Nang including some nice city beaches, a giant Buddha and the famous Dragon Bridge which lights up the night sky with its fire breath every Saturday and Sunday night.
So although the Golden Bridge is not quite on the main tourist route, it's quite easy to get there and should be on everyone's Vietnam itinerary!
How To Get To The Golden Bridge Vietnam
Like I said before, getting to Bà Nà Hills is pretty straightforward. Although the park is not actually located in Da Nang city itself, it only takes around 45 mins to get there. Here are the different options from Da Nang.
Taxi/Private Car
The easiest but most expensive way to get to Bà Nà Hills is by taxi or private car. This way you can set off at whatever time you desire. You can even ask the driver to wait for you although this may cost a little extra. This is a great option if you're travelling with children or just want privacy.
This all comes at a cost with one-way trips costing around 600,000 VND ($25/£22) or more depending on vehicle size and your bargaining skills. Return journeys will be in excess of 1200,000 VND ($50/£40) due to the driver having to wait for you. A good way to get a good price is by asking your hotel or guesthouse to arrange a taxi for you in advance.
One website I found quite useful was Klook. Fares were often much cheaper and there are often packages that include your ticket!
Grab
Grab is the Uber of Southeast Asia and an immensely useful ridesharing app. The cost of using Grab can often be much cheaper than taxis (around 400,000 VND). It also eliminates the horrible sequence of haggling for your ride and not knowing the real cost of your journey.
You have more flexibility too. With a taxi, you'll tell them a pickup time on departure and the time you will return to the car. Using the Grab app, you can just request a car a little before your desired leaving time.
Bus
Bà Nà Hills is the biggest theme park/resort in Vietnam so the lack of official shuttle buses is quite perplexing. The are, of course, tour operators who offer transport to the resort but the park itself doesn't seem to offer this as an official option.
Luckily, several agencies offer dedicated buses and one of them is Da Nang Green Travel. A return journey on their minibus costs 140,000 VND ($5.80/£4.50) and makes this a great option for those on a budget. There are also combination tickets with costs of entry and cable car included.
The journey to the park is around 1 hour and the bus will even pick you up (at around 8:00 am) and return you to your hotel. Travellers must be ready to return at 15:30 pm at the car park.
Motorbike
How can I talk about travel in Vietnam without mentioning motorbikes/scooters? At a cost of 100,000-150,000 VND per day ($5/£3.7), it's one of the most cost-effective ways to get around. Especially if you carry your partner or travel buddy on the back.
Of course, I wouldn't recommend this option unless you're a seasoned rider in Southeast Asia. Having said that, the road to Bà Nà Hills is decent and the traffic is nothing compared to Ho Chi Minh or Saigon. If you like winding roads and have a full bike license this could be a fun option.
Visiting the Golden Bridge Vietnam From Hoi An Or Hue
Not everyone visits the city of Da Nang but there are ways to get Bà Nà Hills from Hoi An or Hue. We didn't get to Da Nang on this occasion either but we will next time for sure!
The distance between Hue to Bà Nà Hills is much greater than from Hoi An. It will take over 3 hours to get there and don't forget about the return journey! While you can easily get the train to Da Nang and then a taxi I wouldn't recommend cramming it all into one day.
If you are travelling from north to south, I would wait until you visit Da Nang proper. Or at least wait until you arrive in Hoi An. The journey time from Hoi An is around 2 hours or less.
This is the option we had to take due to time constraints but it worked out pretty nicely. We were leaving Hoi An and heading to Hue. Our driver picked us up with our backpacks super early and we arrived at the park as soon as it opened. After a day at the park, our driver dropped us off in Da Nang so we could catch the train north. Simple!?
How Much Are Tickets To Bà Nà Hills?
Tickets to Bà Nà Hills are available at the booth at the entrance to the park. However, I recommend buying them in advance online! It's better to have your ticket ready rather than wasting time and queuing on the day. There are also offers on ticket prices from time to time.
The price structure of the tickets can make you forget you're in Southeast Asia. Entry is rather pricey making it one of the most expensive things to do in Vietnam. The ticket website shows all the different options (including food packages) but to simplify things, I'll list the price options here:
Adult ticket – 750,000 VND ($32/£25)
Children between 1m-1.4m tall – 600,000 VND ($25/£20)
Children under 1m – Free (good if you have short children!)
The tickets cover the cost of nearly everything except food, wax museum, tea houses and Lunar Castle. These can be bought separately or as part of a package on their website.
When you receive your map, you'll be able to plan out your day as the main attraction is at the very beginning of the park. After which you'll surely want to explore after seeing the Golden Bridge.
Golden Bridge Tours
If getting there by yourself is out of the question then there are many tours that offer to take you to Bà Nà Hills. Like most of Southeast Asia, Vietnam has numerous tour agencies lining the streets. It shouldn't take long before finding a shop with photos of the Golden Bridge plastered all over it.
The regular packages usually include transport to and from your accommodation and the entrance fee. However, you can also get food or wax museum/teahouse options. Try to visit a couple of tour agencies to get an idea of the prices. If you can, try to haggle as some agencies will charge more. Do remember though, that they're trying to run a business!
You can always check out the ever-reliable Viator and see what offers are on there if you don't have time to shop around.
Riding The Longest Cable Car In The World At Bà Nà Hills
People often visit the Golden Bridge in Vietnam without realising there are many other highlights along the way. One of those highlights is the cable car that takes you up the Truong Song Mountains to the bridge.
It is a spectacular 20 mins journey and is the perfect way to build up the suspense as you glimpse the giant pair of hands for the first time through the clouds.
There are several cable cars at Bà Nà Hills and they hold numerous records including the longest single-track cable car in the world and the biggest change in elevation. So add that to your list!
Best Time To Visit The Golden Bridge
The Golden Bridge can be visited all year round. Although it may be a little foggy or misty during the rainy season (mid-September – November for central Vietnam.) As the bridge is located at around 1,400m above sea level, the temperature can be a little cooler until the sun is out.
For picture-perfect clear skies, you should visit between March and the start of September with July and August being the warmest months.
We visited in March and it was perfectly fine temperature-wise. There was a bit of fog in the morning (which made for great photos) but it cleared and warmed up pretty quickly.
How To Get Great Golden Bridge Photos (Tips)
This is probably the question that's on most people's minds! As you can imagine, the Golden Bridge has become a bucket list attraction for many people visiting Vietnam. There are also many local tourists looking to get in on the action.
Getting great photos of the Golden Bridge is easy! The beautiful structure against the mountains means you can't take a bad photo. Taking a photo of you or your travel buddy without people. Now that's a challenge!
The best tip I can give you is to purchase your ticket online and be at the entrance as soon as the park opens, which is 07:00 am. The park is empty at this time and you will be one of the first ones on the cable car. Whether or not you will be the only one with the same idea is another question (think sunrise at Angkor Wat!)
On our visit (which was a Monday if anyone is taking notes) we did all the right things but there were about seven or eight wedding shoots taking place! I suspect these newlyweds were staying in the nearby Mercure Hotel which meant they had early access. The best thing to do is be patient as the park is still relatively quiet until about 09:00-10:00.
What To Do In Bà Nà Hills Beside The Golden Bridge?
When you've had enough of the Golden Bridge, you should visit the rest of Bà Nà Hills resort. Especially after paying that entry fee! Do you know how many bánh mìs you can buy with that sort of money?!
The park is spread out into different areas and I can already see there are plans to expand since we visited not so long ago! Having looked at the website there are already a few new attractions in the pipeline!
There is the usual kind of things you can find in any large amusement park including wax museums and tea houses while there's also the impressive Lunar Castle. There are also many shrines and pagodas placed around the park with the Linh Ung Pagoda being one of the most majestic.
You'll also find flower gardens, rollercoasters, beer gardens and giant Buddhas to name just a few things you can do at this huge amusement park.
Stay At Mercure Hotel Bà Nà Hills
Yes, there's now a hotel at Bà Nà Hills! Located at the French Village guests who haven't had enough of the resort can stay the night. It's not cheap but that may be the price some people want to pay to get that killer photo on the Golden Bridge in the early hours! You can check out the hotel on Booking.com.
Was Visiting The Golden Bridge Vietnam Worth It?
Our Experience
As I mentioned before, we were staying in the beautiful town of Hoi An and leaving for Hue. Not knowing how to get a driver, the hotel easily arranged one for us with an early pickup and a drop off at Da Nang train station.
We were very excited to finally see the bridge that had taken over our social accounts and we weren't too sure what to expect. There was literally no one around as we pulled up at the car park. We walked straight through to the cable car as we already bought our tickets online and there were no other tourists around.
Getting To The Bridge
The cable car ride to the bridge was spectacular. It was a little foggy which is normal for early mornings in the mountains. To be honest, it just adds to the atmosphere.
Getting off the cable car was a bit of a shock as we were greeted by several wedding shoots. I may have mentioned this before!
What We Thought Of The Golden Hands Bridge Vietnam
The bridge is very busy but also quite beautiful. It didn't seem as big as it does in all the pictures but that's not really a deal breaker. It was great just to finally see and walk onto the world-famous bridge!
The rest of the park looks completely brand new and while there are many things to see, you'd probably be done in around 3-4 hours. This could change if you decide to visit in a year or two. The park is constantly expanding and I'm sure it will be even bigger in a few years!
And…?
So the real question after visiting the Golden Bridge Vietnam is… was it worth it? I would say if you were in Da Nang then yes! And if you come from Hoi An like ourselves, or even Hue… of course it is!
I hope you enjoyed reading this post on how to visit the Golden Bridge in Vietnam. If you have any questions or suggestions then feel free to get in contact. Or just let me know in the comments below.