How To Visit Flamingo Beach Aruba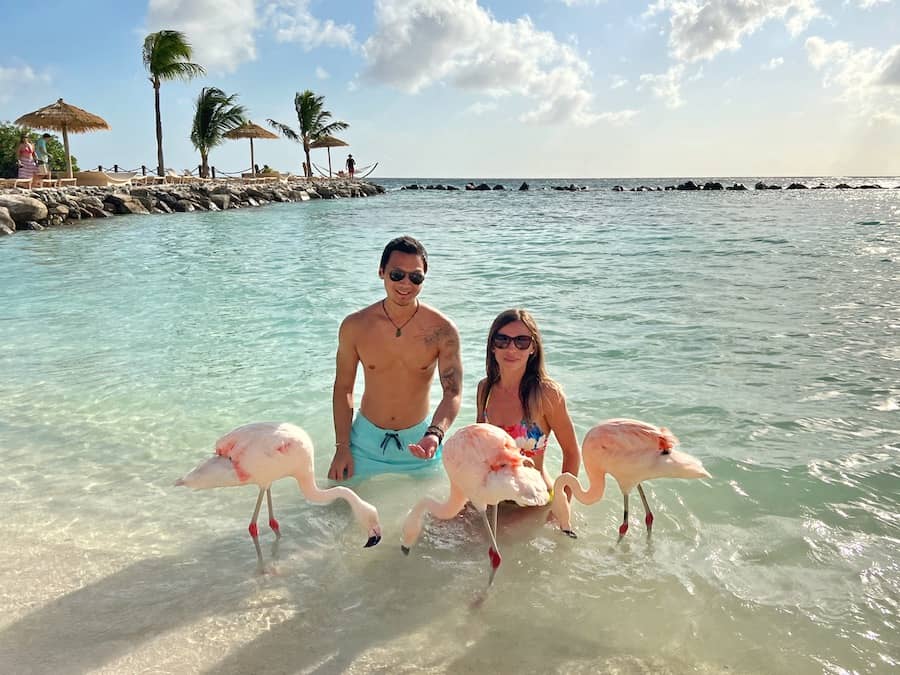 The wonderful Caribbean island of Aruba is famous for many things. However, one of the most recognised, most popular, and Instagrammed images is of the vibrant pink flamingos on Flamingo Beach. I'm going to tell you everything you need to know about how to visit Flamingo Beach in Aruba. I'll also tell you how I guaranteed our own visit there recently!
The sight of these famous flamingos have exploded over social media in recent years. I'm sure you've seen the ones I'm talking about. They normally involve (but not always) a bikini-clad girl sitting amongst a flamingo or two on a white beach with clear turquoise waters in the background. Whilst this may sound like a dream I can tell you now that it is real!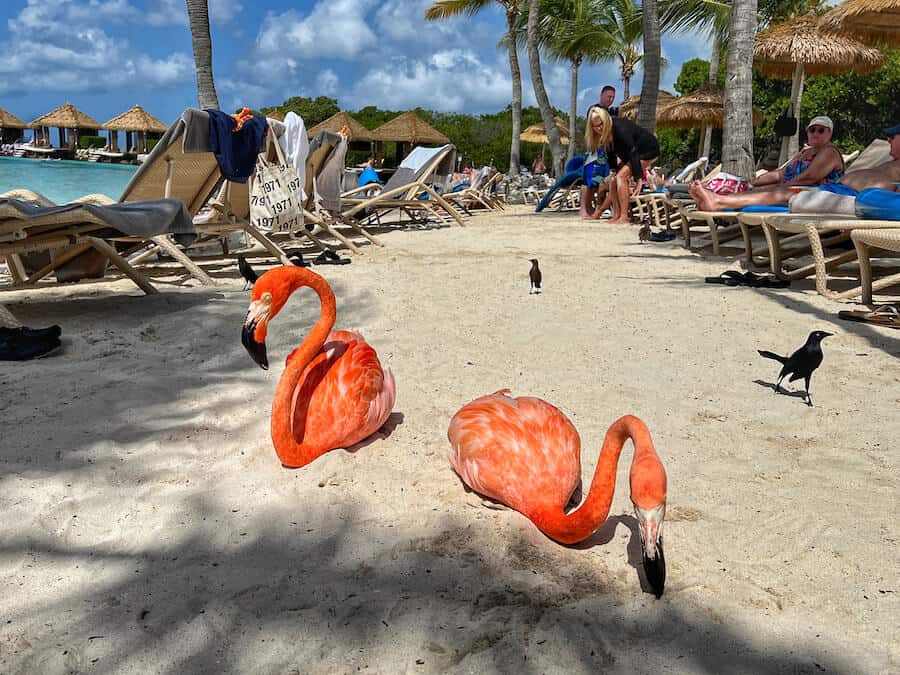 The only problem when trying to turn the dream into a reality is that getting there takes a little bit of planning. But don't worry, that's where I've got you covered. If you want to sit amongst the flamingos in Aruba then read on to plan your own dream experience.
Read More | 22 Amazing Things To Do In Aruba
Where Is Flamingo Beach In Aruba?
So you want to enjoy a day on the beach with flamingos in Aruba? Would that be Eagle Beach, Palm Beach or Baby Beach? I hate being the one to disappoint you but, unfortunately, you won't find any flamingos on those beaches. Or anywhere on the mainland in Aruba.
That's because flamingos are not native to Aruba and are normally found in Central and South America and parts of Africa. To find the flamingos you'd have to visit a beach which is named, quite appropriately, Flamingo Beach!
The beach is part of a private island owned by Renaissance Aruba Resort. You can't just turn up or pay a fee on arrival either and access to the island is limited. With a little planning ahead of your trip, however, it's quite easy to get onto Flamingo Beach.
How To Get To Flamingo Beach Aruba
Flamingo Beach is located on Renaissance Island which is privately owned by the Renaissance Aruba Resort. The only access to the island is by private water taxi (so, a boat) which, again, is only possible through the Renaissance Aruba Resort.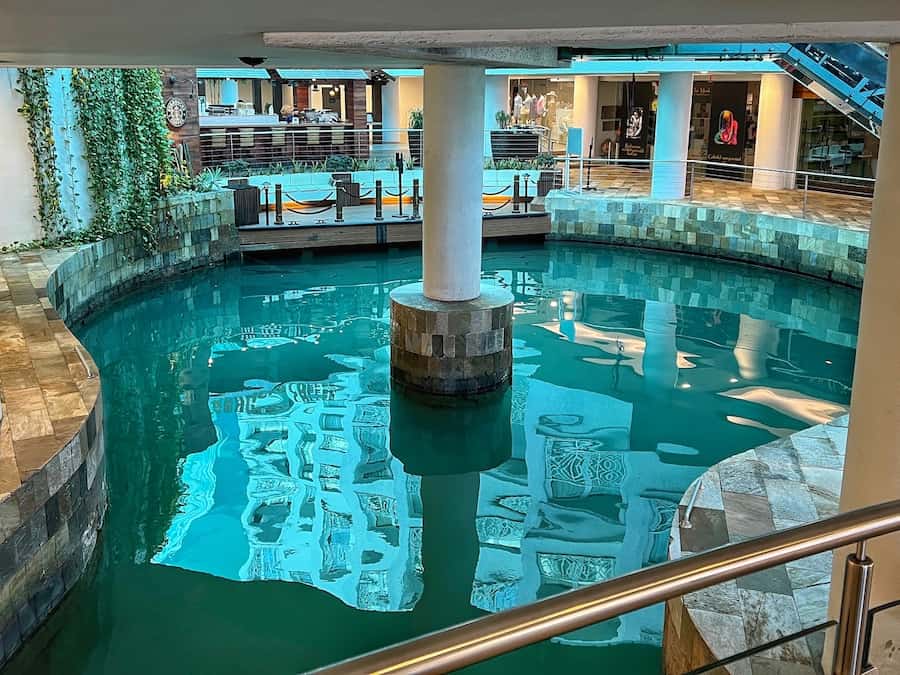 Guests are picked up at the resort lobby which is pretty cool. It's almost like a super villain's hideout in a James Bond movie. Be aware that on windy days (which is quite often in Aruba) pick up is by the marina just outside.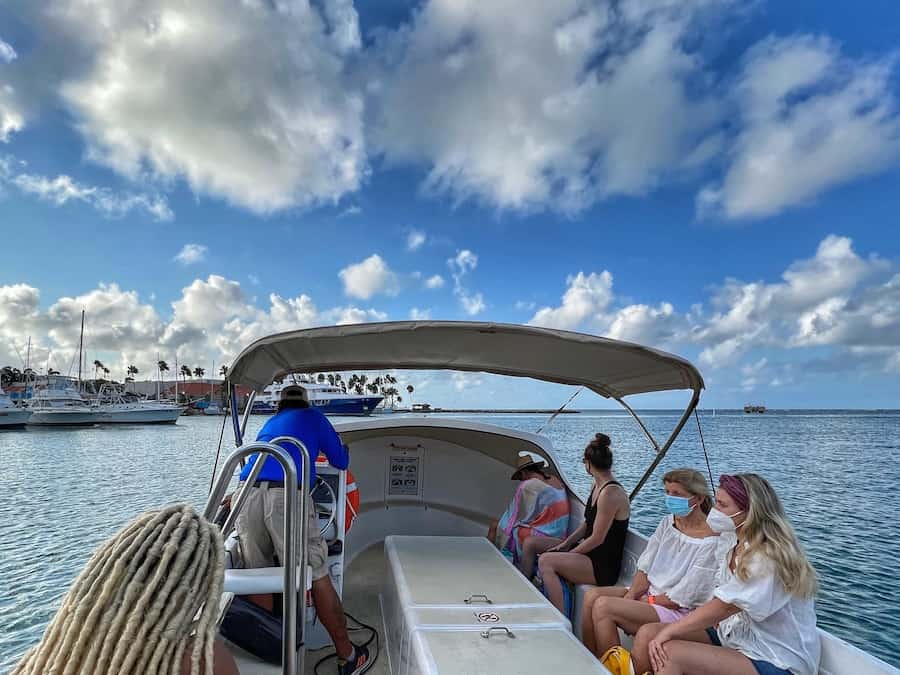 The first boat transfers to Rennasiance Island are at 7am and the last returning boat is at 6:45pm and transfer takes around 10 minutes.
How Much Does Flamingo Beach Cost?
This is probably the answer you've all been waiting for. Well, the cost of a day at Flamingo Beach, or Renaissance Island, really depends on which of the following options fall within your budget. And, more importantly, how much you really want to see the flamingos!
Take a look at the following opinions and you'll see you can pay anything from $125 (£90/€110) to over $500 (£370/€440) for a day at Flamingo Beach! There are plenty of inclusions though.
Renaissance Aruba Resort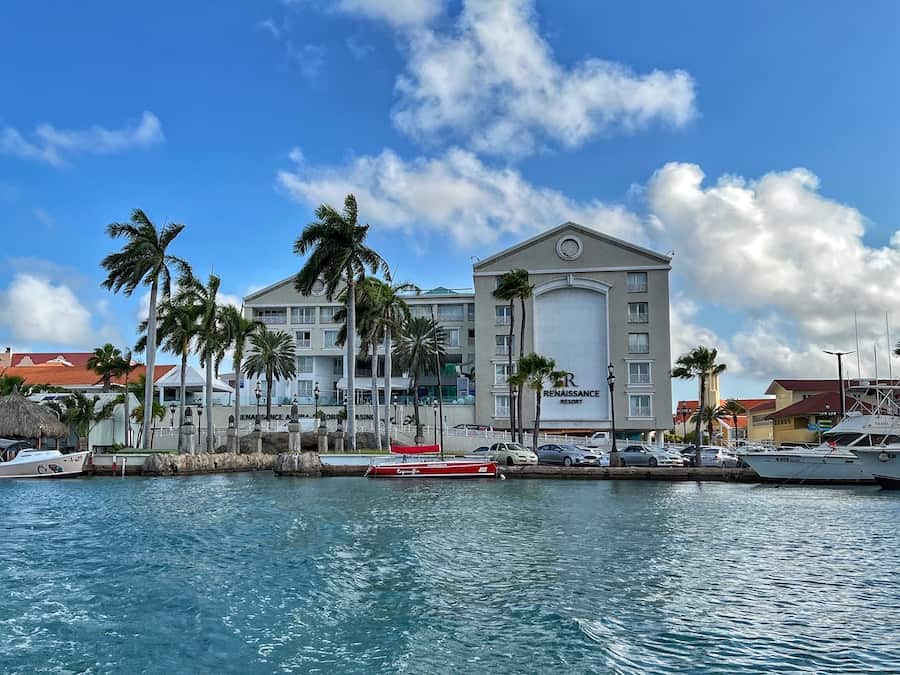 The Renaissance Aruba Resort (or the Renaissance Wind Creek Aruba Resort) is the owner of Renaissance Island. The hotel allows guests free boat passes to Renaissance Island as often and as many times as they want as long as they're a guest at the hotel.
What is the cost of a night's stay at the Renaissance Wind Creek Aruba Resort? Well, I've read online that rooms at the resort can be booked for as little as $150-$200 USD per night but these prices don't seem to exist anymore. The price of a room when I checked on my recent trip was around $500 USD (£370/€440) per couple for one night!
Another way to get the room cheaper is to gather a few friends together and split the cost 4 ways. The average cost for a room for 4 when I last checked was around $572 USD (£420/€505). The only problem is that there is only one king bed and the others would have to choose between the sofa bed and request a rollout bed. Surely this still beats staying in a smelly, sweaty dorm in Southeast Asia, right?
Those of you who collect Marriot Bonvoy points (for example, with American Express) can use them for a night's stay at the Renaissance Aruba Resort. There's more information on earning and redeeming points here.
Renaissance Island Day Pass
Although Renaissance Island is private and belongs to the Renaissance Aruba Resort, you don't have to be a paying guest to be able to visit. Anybody can purchase a Renaissance Island Day Pass and enjoy a day with the flamingos!
The day passes are issued by the Renaissance Aruba Resort and they have recently changed the way you can purchase the day passes. You used to be able to queue at the hotel in the morning to check availability. That then changed to an online booking system where you could book from 7am for the following few days. The system has changed AGAIN recently, but luckily, I'm here to help you with all the details!
Renaissance Island Day Pass Costs & Inclusions
Here are are the important things to note when trying to get hold of a day pass;
Day passes can only be purchased from the official Renaissance Island Day Pass website. Do not attempt buy from anywhere else!
The cost of a day pass is $125 (£90/€110) per adult, $62.50 (£45/€55) for children ages 5-12 and FREE for children aged 4 and under with an accompanying adult.
Island passes include 1 lunch and 1 drink from the Papagayo Bar & Grill and use of Renaissance Aruba Resort towels and 'floaties'.
Day passes will be available to purchase every Saturday at 9am for that following week only. No other dates will be available and there are a maximum of 30 passes per day.
If the Renaissance Aruba Resort is at 80% the amount of passes per day may be reduced or there may be none at all.
This is the most 'budget friendly' way to get to Flamingo Beach but it's not a certainty and you'll need to take a little risk as you won't be guaranteed a pass. If you have your heart set on visiting Flamingo Beach then I suggest you either book a room at the hotel or see the next option.
Spa Cove Treatment Package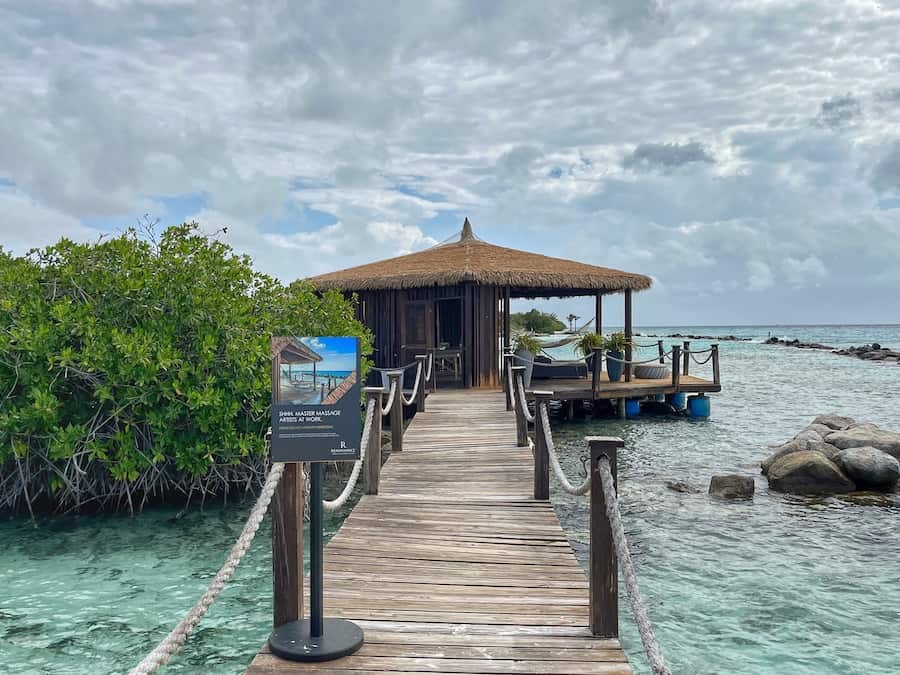 This is the lesser-known option for those of you who want to guarantee a visit to the island. If you don't want to pay for an expensive room and/or you don't want to risk the lottery of the day pass system then this is the choice for you (as it was for us.)
Spa Cove is part of the Okeanos Spa located at the main hotel in Oranjestad. The spa is an open-air Swedish massage experience on Renaissance Island. If you book a treatment at Spa Cove, not only will it include a 50 or 75-minute massage, but your package will also include entry onto the private island as well.
Prices start at $160 (£120/€140) for a 50-minute massage for one and it includes a frozen drink. There is an option to add lunch for an additional $20 and there is a boat fee of $25 for non-guests of the Renaissance Aruba Resort. You will have to check in on the day, when the spa opens at 8am, so you can only get the boat after this time. For a full list of prices and contact to book here.
Tip | The is a little more expensive than the day pass option but you are guaranteed to visit Flamingo Beach and have the option to book in advance (I recommend 2 months or more!) When calculating the costs, this option will cost $67.50 (£50/€60) more per person than the day pass. Isn't that worth the money a 50-minute massage and a guaranteed spot on the island?
What Is Flamingo Beach Really Like?
When we first arrived on Flamingo Beach we thought we would be fighting all the Instagrammers, bloggers and tourists for photos with the flamingos. To our surprise, it was not like this at all! I mean we did go to the wrong beach, to begin with, but there were plenty of empty beach chairs in the early morning when we arrived. Even as the day went on it never got overly crowded.
The beach is not very big but the water is beautiful and clear! A lot of the guests are quite happy to lay on their chairs among the swaying palm trees, enjoy a cocktail in the sun or just lie on their floaties in the water.
The flamingos are kinda odd too in their behaviour and it's quite funny just to watch them. They sound a bit like geese and wander about in their own little pairings or 'flocks' (or flamboyance!!) They don't seem to mind posing for photos but I'll tell you more about that late.
Can Children Visit Flamingo Beach?
Flamingo Beach is officially adults-only! Children are allowed to visit Flamingo Beach but only from 9am till 10am. They must be supervised at all times. Children can stay at the other beach (which is the official family beach) on Renaissance Island at any time. I wasn't sure why this rule was put in place but after seeing the flamingos in real life I guess it's to reduce the amount of stress they go through when being chased? They get enough of that from the adults!!
What Facilities Are There On Flamingo Beach?
There are plenty of beach chairs on Flamingo Beach (a few with umbrellas) and all are free to use. Well, you did pay to get the island, right? If you're worried about shade there are more beach chairs with umbrellas on Iguana Beach. But no flamingos!
There is a small gift shop selling the usual tourist treats. They sell anything from sun cream to fridge magnets. There's also a small selection of swimwear to choose from too in case you need a different outfit for your flamingo pictures.
Toilets can be found next to the Papagayo Bar & Grill. There are also some toilets directly behind the gift shop. This is especially cool if you're waiting for your significant other as you can watch planes land and take off from Aruba's Queen Beatrix International Airport.
Are The Flamingos Well Looked After?
In a word, yes! I have read online that the hotel flew over the flamingos and have that they've had their wings clipped to stop them flying away. There is no solid proof that this is how the flamingos came to the island but, if this was the case, please know that wing clipping is a harmless procedure and common practice on birds kept as pets.
Having said that, it looked to me like the flamingos seem to rule the roost on the beach and pretty much the whole island! They're left alone by the staff to do whatever they please. They're brought fresh water to drink and they can find food pretty much anywhere on the beach.
As someone who cares quite deeply about animal welfare, I would say I felt the flamingos on Flamingo Beach had it pretty good!
How To Take Pictures With The Flamingos
You've taken the effort to get to Flamingo Beach in Aruba. You've paid to get onto Renaissance Island and now you want a great photo to take home with you. I mean, you've seen enough on social media to think 'it can't be that difficult?' Well, that depends on what mood the birds are in!
Flamingos might not behave in the way expect them to. To b honest, we didn't know how they would act/react. Remember they're not in a zoo or in a cage and they are the permanent residents of the island. You're playing by their rules in a way.
Best Tips On Taking Pictures With The Flamingos
GET THERE EARLY! This is my number one tip for any photo op! The first boat leaves at 7am and you'll have the place to yourselves and the gorgeous golden hour lighting.
FEED THE FLAMINGOS. There's a little bird food dispenser at the entrance to the beach. It only takes quarters so if you need some you can buy some food/drink at the Papagayo Bar & Grill with your notes or card and ask for quarters as change.
RESPECT THE BIRDS. Don't disrupt the flamingos, chase them or be aggressive towards them. Do not disturb them when they're resting. The flamingos don't always want food and it's a 50/50 chance that they'll either eat from your hand or shun you!
IN THE WATER. When a flamingo decides to take a walk into the water, they're probably hungry and looking for food. This is THE best time to try to get that perfect shot. Have the food ready and slowly walk into the water.
BE ON THEIR LEVEL. Try to slowly sit or kneel with the flamingos. If they see you on the same level then you'll be less intimidating to them and have more chance of them eating out of your hand.
GO LIGHTER! You'll notice there are light pink flamingos and a deeper, rosy pink flamingos. The colour comes from the tiny crustaceans in their diet (imagine a blue/grey raw shrimp turning pink after cooking.) We noticed the lighter pink birds were more approachable as they were younger and maybe less grumpy!
BE PATIENT. You'll undoubtedly be fighting with many others for a photo so be patient. You're on the beach all day with them so there'll be enough chances for you to get that shot. Just enjoy the island and if you get a perfect picture, count yourself lucky!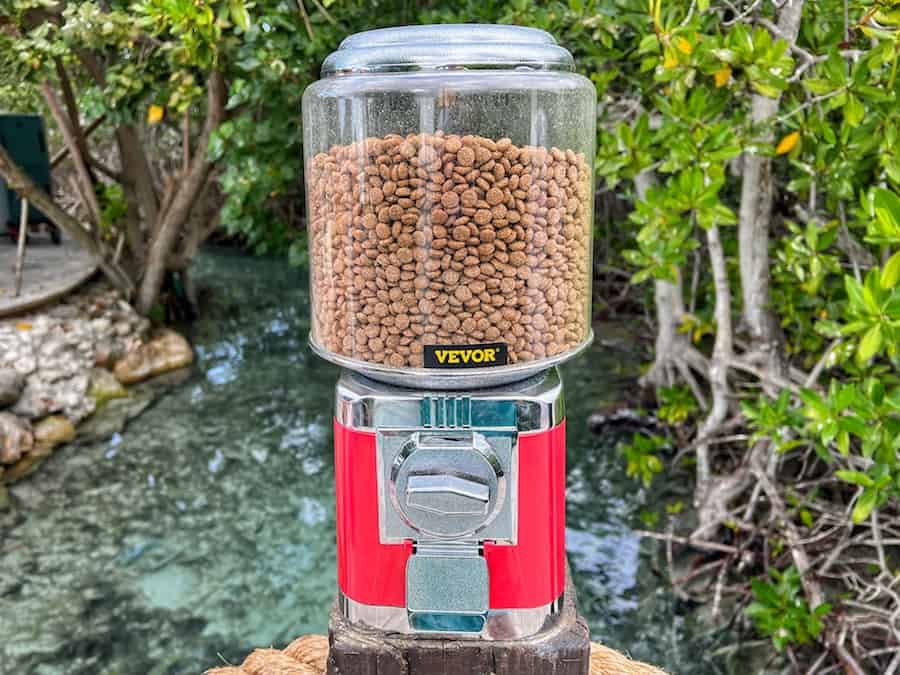 What Else Can I Do On Renaissance Island?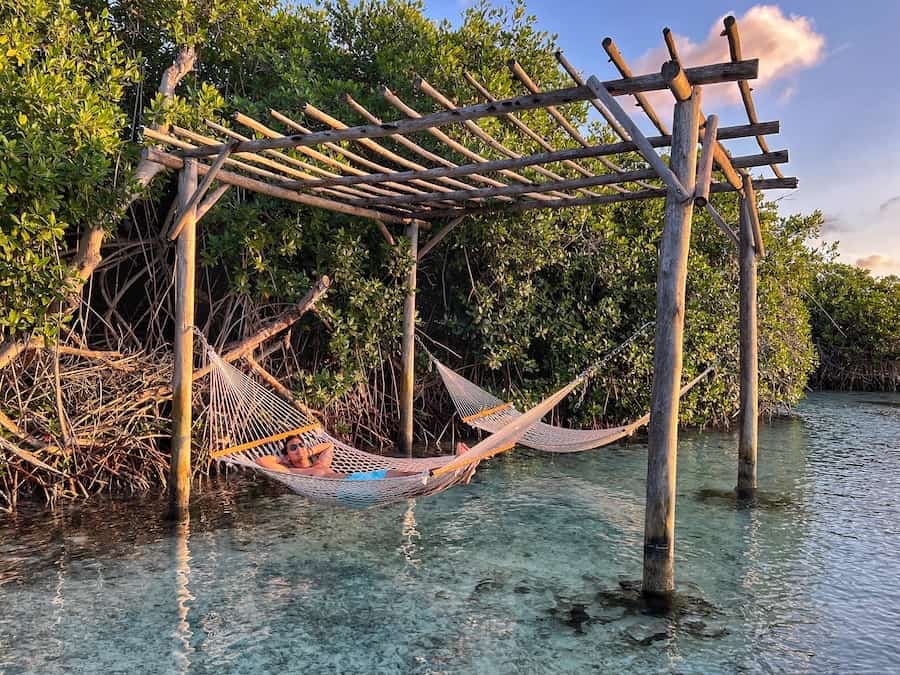 By now you've probably taken a million photos of the flamingos, soaked up some sun on the beach and laid on your floaty for the past couple of hours. Well, what else is there to do on Renaissance Island? There's actually a lot more to the island than just Flamingo Beach. Check out the other things you can do on the island.
Grab a Bite at Papagayo Bar & Grill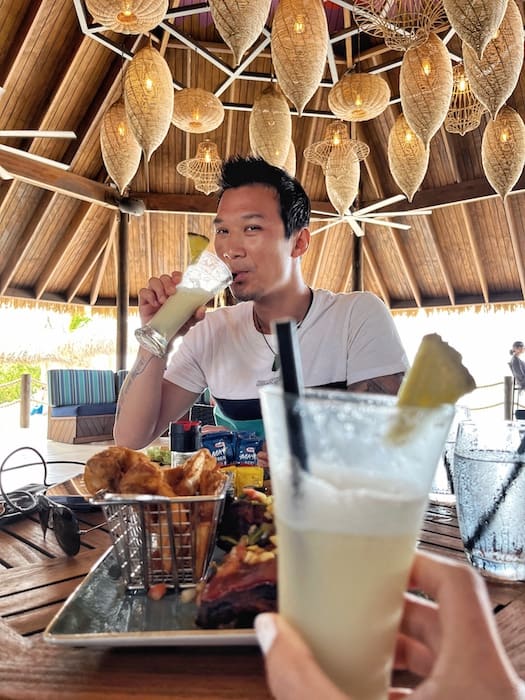 Papagayo Bar & Grill on Iguana Beach is the only restaurant on the island that serves food throughout the day. It is open from 8am till 6pm. The prices are very reasonable when you consider the cost and exclusivity of getting to the island.
They have a good selection for breakfast and lunch as well as coffee, beers and cocktails. There's also the very nice thought of watching the beautiful blue water on the beach whilst you enjoy your food or drinks.
If you can't remove yourself from Flamingo Beach, you can visit the little Mangrove Beach Bar and Fish Shack. This little beach bar was already open and serving cocktails when we arrived but only serve food from 11:30 am-3:30 pm.
Relax On Iguana Beach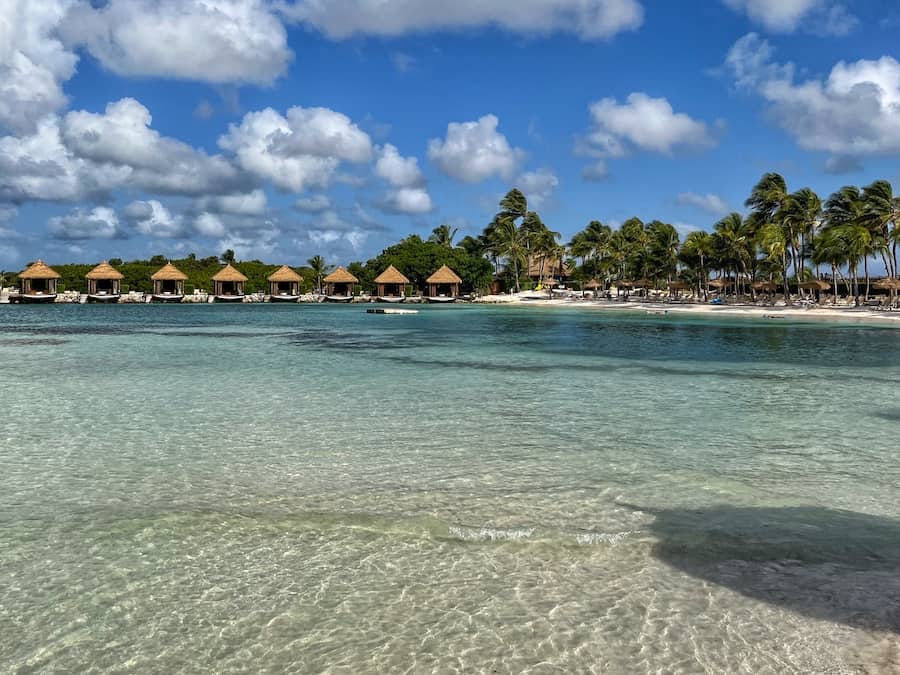 Ah, the other beach on Renaissance Island. When we first hopped off the boat we quickly picked a couple of chairs, changed into our swim gear, and waited for the flamingos. Except we were not on Flamingo Beach!
Iguana Beach is the other beach on the island and is where the Papagayo Bar & Grill is located. It's actually much bigger and is almost identical to Flamingo Beach in every way! We just wandered off in the wrong direction when we jumped off the boat!
Despite being the bigger beach, it is actually a lot quieter as most people are on Flamingo Beach. We didn't see any iguanas here but they do their own thing and can appear anywhere. Children are also allowed on here at any time too, making it a great family beach.
Hire A Private Cabana
If you are visiting as a guest of the Renaissance Aruba Resort, you can hire a private Cabana to give your Flamingo Beach experience a more personal touch.
Each private cabana comes with bottled water, a bottle of sparkling wine and a personalised butler service. Prices start at $300 (£220/€265) for 4 people or $350 (£260/€305) for 6, so they certainly don't come cheap!
For more information, including how to book, see the official website.
See The Iguana Feeding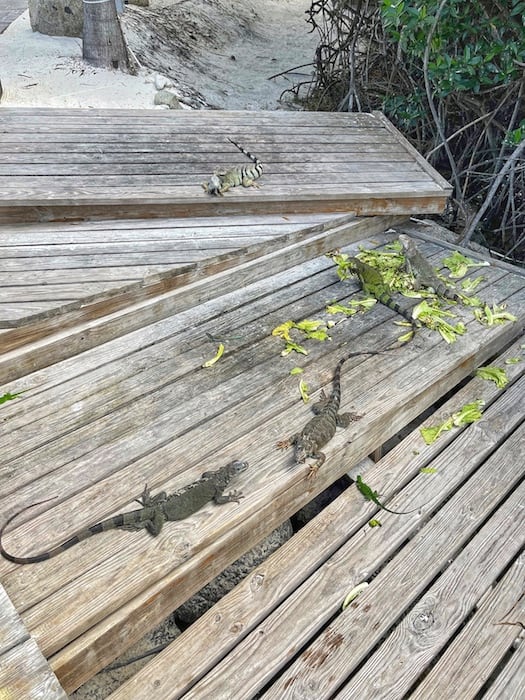 Did I mention that there's another famous resident on this private island? Iguanas are found all over Aruba and Renaissance island is no different.
They are normally just going about their own business but may take a walk along the sandy beach of either Iguana Beach or Flamingo Beach. They may even come and say hello if you're eating at your beach chair.
Around noon each day, the island staff leave a huge pile of salad greens in the feeding area for the iguanas. Most of the resident iguanas will come to feed and it's quite a sight. If there are many children visiting they are sometimes given the chance to hand-feed the iguanas (it's perfectly safe!)
Walk The Nature Trail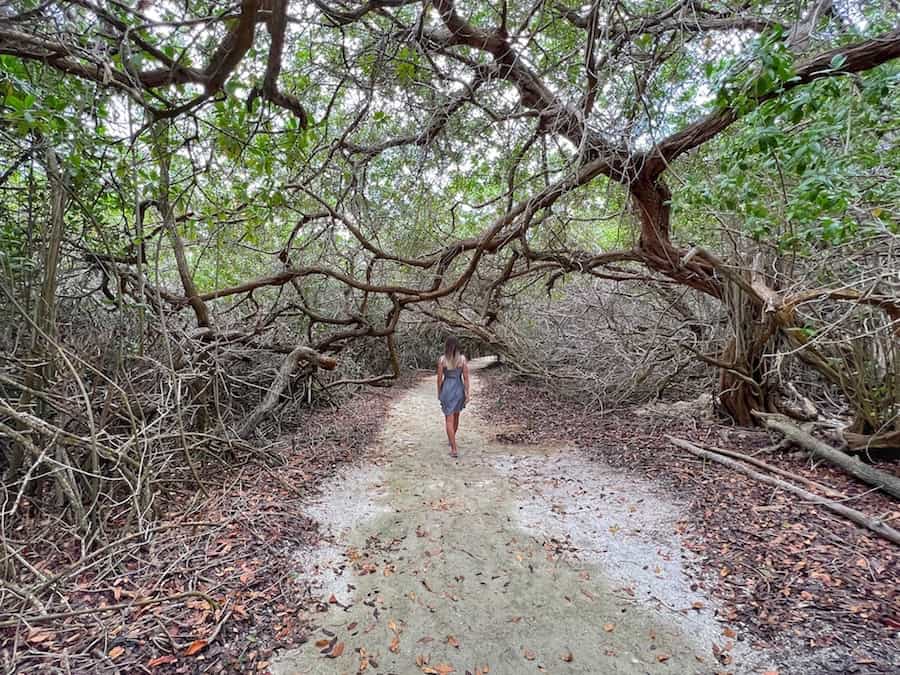 This little nature is a great little momentary escape from the beach if you need a little break from the sun and cocktails. Walk past Flamingo Beach and across the bridge and you'll see the entrance through the trees and branches.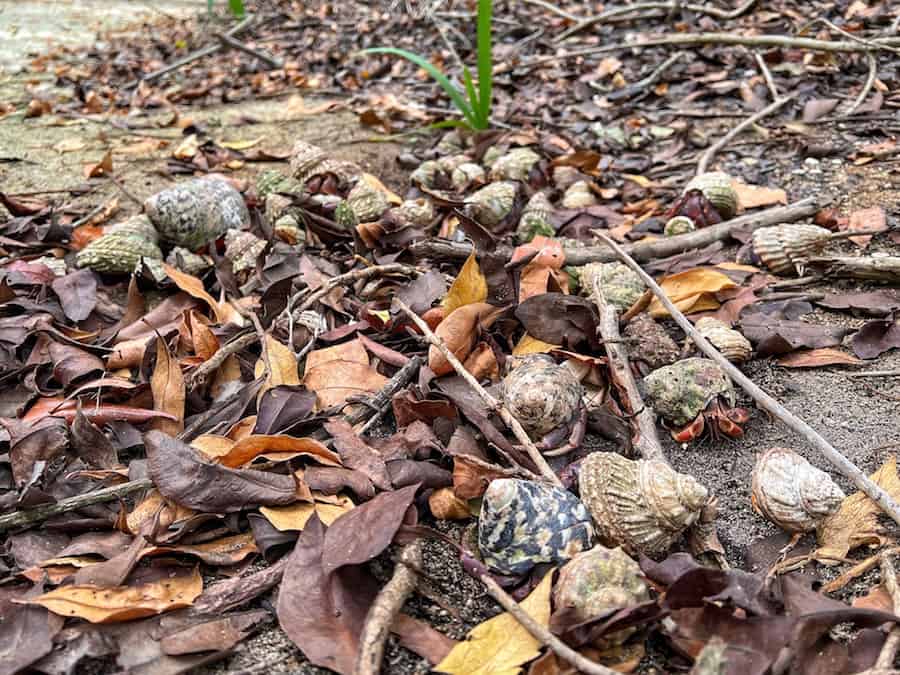 The trail is flat and about 1km (0.6 miles) to the end and back and is on flat, sandy terrain. You'll see different birds, brightly coloured lizards and LOTS of hermit crabs (be sure to watch where you're stepping.) We didn't have any issues with mosquitoes or bugs but I have read that people do get bitten so some bug spray might be useful on this short walk.
Enjoy A Romantic Dinner Under The Stars
For those of you who are not interested in the flamingos or spending the day on the island, there is also a dinner option. But it's only on Wednesday evenings at 7pm.
Dinner Under The Stars is a 4-course dining experience on the beach. It includes a welcome cocktail and live entertainment for $80 (£59/€70) and is likely to be one of the most unforgettable meals you'll ever have!
Reservations can be made here and should be made well in advance!
Is Flamingo Beach Really Worth It?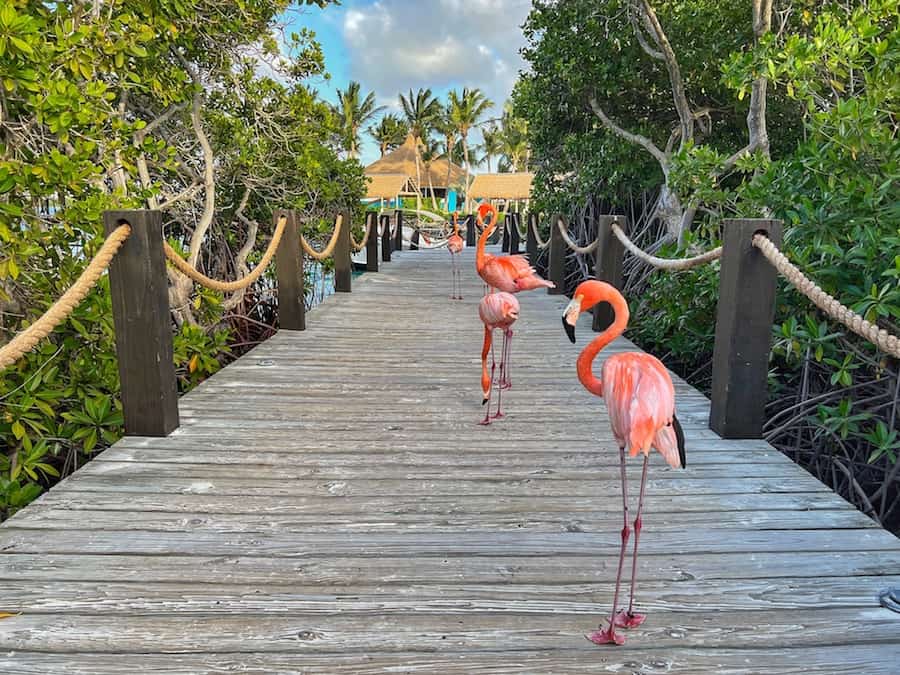 So is spending a day with flamingos on a beautiful beach with crystal clear waters worth it? It's a clear yes from me! A day on Flamingo Beach is a wonderful experience and it's not just about the pink birds. There are plenty of other things to keep you occupied for the day and you'll be amazed (or disappointed) with how the time literally flies when you're on the island!
It may not be the cheapest thing you do in Aruba but remember… you ARE in Aruba! Nothing is quite as cheap as you want it to be on the island! In comparison, a tandem skydive costs around $250 for 60 seconds of freefall and a sunrise hot air balloon ride in Myanmar costs $300 (both incredible experiences by the way). But if you pay $125 for a day pass, that includes lunch and a drink, and you spend all day on the island, you'll see that Flamingo Beach is definitely worth it!
I hope you enjoyed reading this short guide on how to visit Flamingo Beach, Aruba. If you have any questions or suggestions then feel free to get in contact. Or just let me know in the comments below.