The island of Aruba is one of those places where people come from all over the world to relax on the beaches and soak up the sun and island atmosphere. While this is the perfect excuse to visit the little Caribbean island, most are surprised at how much more it has to offer. I'm going to list as many amazing things to do in Aruba as I can so that you can get the most out of your visit.
Located just off the coast of South America, Aruba benefits from warm weather and sunshine all year round. The trade winds constantly blow across the island making it more bearable on the really hot days but don't worry too much about being sandblasted on the beach. There's no hurricane season either as Aruba is outside the hurricane belt. In fact, it hardly rains at all, making it a great place to visit at any time of year!
So all that's left to do now is get your butt off that beach chair and check out this list of best things to do in Aruba. Don't worry, the best beaches are on the list too!
Best Things To Do In Aruba
Soak Up Some Sun On Baby Beach
Aruba is, of course, famous for its beaches. One beach however that doesn't get mentioned as much as the big two is Baby Beach. But this is only because it's located near San Nicolaas, at the opposite end of the island to the hotel area.
The sheltered, half-moon lagoon means the water is calm and shallow making it very safe for small children. Hence the name! It also makes this beach the perfect place for sunbathing, swimming and snorkelling. It's definitely one of the best beaches in Aruba and many people who visit often say it's their favourite!
As you'll most likely be driving, you'll be pleased to know there's plenty of parking at Baby Beach. If you don't have your own chairs you can rent them from the chair vendor. Food and drinks are available at Big Mama Grill.
Visit The Donkey Sanctuary
Hidden away in the centre of the island is a sanctuary for Aruba's donkeys.
'Donkeys in Aruba' I hear you ask? Well, the donkeys arrived on the island 500 years ago and were the main mode of transport until cars were introduced. Most were released into the wild but many were killed by the cars that replaced them or of illness.
So in 1997, the donkey sanctuary was opened to keep the remaining donkeys fed, watered and safe. The sanctuary is a safe space for over 130 donkeys (there were only 20 at one point) and you can learn about them, pet them and even feed them. There's no entry fee but donations are very welcome.
You can also buy feed for the donkeys, coffee, snacks and all kinds of donkey related souvenirs. Check out Donkey Sanctuary Aruba for more information.
Hang Out On Eagle Beach
Eagle Beach is possibly the most famous beach in Aruba. Sure all the action happens on Palm Beach but a few kilometres down the road is an arguably more beautiful beach.
The pristine white sand and clear turquoise water have resulted in Eagle Beach being named one of the top beaches in the world on the Tripadvisor list over the last few years. The positioning of the beach means that it's one of the best places in Aruba to catch the sunset every single evening.
There is also less 'traffic' in the water too as most of the tour boats start and end at Palm Beach and the beach is much less crowded too making it many people's choice for the best beach in Aruba.
See Aruba's Famous Divi Divi Trees
Spend a little time in Aruba and you'll notice that many of the trees look like they've been blown over by the wind. Well, that's because they have in a sense!
Aruba's famous Divi Divi trees always point in a southwestern direction due to the trade winds that blow across the island. As the trees grow, they're sculpted by the winds and this gives the Divi Divi their unique look. They're even affectionately known as Aruba's natural compass!
The Divi Divi tree has become a symbol of Aruba and you'll find them all across the island.
Photo Tip | There's a famous spot at the north end of Eagle Beach that's marked on Google Maps as Divi Divi Tree. The two trees are actually Fofoti Trees and they grow on the beach whereas Divi Divi trees grow from soil/dirt. They look a bit like a large bonsai but they still make a great photo (like the cover image for this post!)
Explore Arikok National Park
Aruba's climate is not like some of the other islands found further north in the Caribbean. Sure it's hot most of the year but it's quite dry and arid giving it an almost desert-like feel. The best place to experience this for yourself is Arikok National Park.
The cactus-strewn national park takes up around 20% of the island and is home to many rare, indigenous species. You'll find tall cacti and rugged desert landscapes as well as many local species of flora and fauna.
A jeep safari to Arikok National is one of the best things to do in Aruba as they can take you to places you might not reach on your own. Most tours will visit the Natural Pool and Dos Playa but make sure you make it to the Guadirikiri and Fontein Caves too!
Hit Up Palm Beach
If you've managed to grab a good all-inclusive hotel deal then it's most likely that you'll be staying at Palm Beach. This is where all the action is and where you'll find hotels like the Riu Palace and Ritz-Carlton.
During the day you can enjoy the lovely white sandy beach where there you can grab a cocktail during happy hour. You can also hire jet skis and take part in numerous water sports such as parasailing and wakeboarding. At night you can enjoy a selection of excellent restaurants and there's plenty of shopping too if that's your thing.
Tip | There are no public toilets on the beach but everyone is welcome to use the hotel's toilets
Swim In The Natural Pool
Located at the north of Arikok National Park is Natural Pool (or conchi meaning bowl!) Although the terrain around the pool is rough and rugged, the pool's natural rock formation creates a barrier resulting in a calm, safe swimming environment. There's nothing quite like swimming in the little pool as the wild waves crash all around you!
The Natural Pool is often a quick stop on many Arikok tours but, if you have the chance, stay for a bit longer. Rent your own jeep and you'll have the pool to yourself if you visit early morning. The beauty of the pool really stands out when it's not full of people!
See The Natural Bridges
Aruba is famous for its many natural bridges. These arches are carved from the wild seas and wind on the island's north shore. Unfortunately, the biggest and most famous bridge collapsed in 2005. Luckily for you, there are some others on the island which may not be as big but are just as beautiful and photogenic. All in Aruba's Arikok National Park.
Next to the collapsed Natural Bridge is the Baby Bridge, perhaps the most famous bridge now due to its location and association with the original. But those looking for the largest bridge should visit Wariruri Bridge. And for something a bit different, check out the Trinity Bridge at Blackstone beach.
Learn Some Windsurfing Or Kitesurfing
By now I'm sure you all get the picture that Aruba is a pretty windy place. That's awesome news for those of you who want to learn some windsurfing or kitesurfing! Whether it's your 1st time or your 81st time, you'll find the trade winds and wave conditions make Aruba an ideal place for extreme wind sports.
Aruba has its own windsurfing and kitesurfing zone located north of Palm Beach. You'll find plenty of beaches to hone your skills as well as 'shacks' and 'hut' to rent your gear. The area is also excellent for snorkelling and diving.
Dive Down In The Atlantis Submarine
Have you ever wondered what it would be like on a submarine? In Aruba, you can take a tour in a submarine and explore the beautiful waters that surround the island.
Don't worry, this isn't some cramped military submarine with pipes everywhere. The Atlantis submarine is spacious, air-conditioned and just super cool! There are plenty of windows for you to view the sea life and you'll pass shipwrecks and reefs on your 1.5-hour tour.
Adult tours are priced at $109 and children aged 4 to 12 years are priced at $75. You can book online on their website.
Climb The California Lighthouse
The California Lighthouse was named after S.S. California which wrecked nearby before the lighthouse was built. It's located in the north of the island, just past Palm Beach so it's not too far to go if you want to visit.
It's a popular stop on many guided tours, however, not many take the time to climb to the top. For $5 (they need money for the upkeep you know) you can climb to the top of the lighthouse for some incredible 360-degree views across the island. It's also a beautiful spot to catch the sunset.
Explore Aruba's Capital – Oranjestad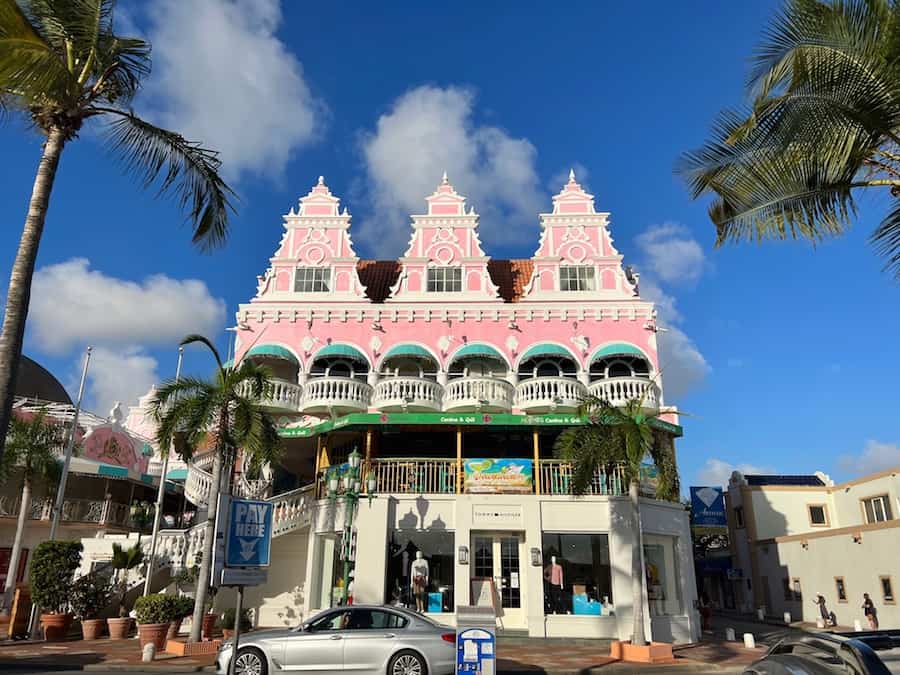 The colourful capital of Oranjestad is often missed by visitors to Aruba. However, this photogenic city is well worth a stop, if only for its lovely bright houses.
There are numerous restaurants and cafes by the harbour and shoppers will be delighted with the luxury retailers on the high street. There are usually several markets during the week that sell locally produced and handmade goods. The 'I Love Aruba' sign is also located in Oranjestad.
As part of a new art installation, there are now 8 blue horse sculptures placed around Oranjestad. This is a tribute to the city's former name Horses Bay as selling horses was one of the main sources of income for Aruba. See if you can find them all!
Snorkel With Turtles At Tres Trapi
This was one of the highlights of our recent trip to Aruba! Snorkelling with green turtles in the clear blue waters of Tres Trapi is a must-do in Aruba!
Just north of Malmok Beach is a little sandy cove where you can enter the baby blue water. Tres Trapi (meaning three steps in Spanish) is the perfect place to try and spot green turtles due to the clear and shallow water. They usually visit to eat the seagrass that grows in patches around the area.
You can also spot a whole variety of fish and starfish too.
Tip | For the best chance of finding the turtles, try and arrive before 9am when all the snorkelling boat tours arrive. We arrived in the afternoon and saw one turtle but went back one morning at 8am and saw around seven! Try to swim out towards the darker patches where the seagrass is.
See The Flamingos On Renaissance Island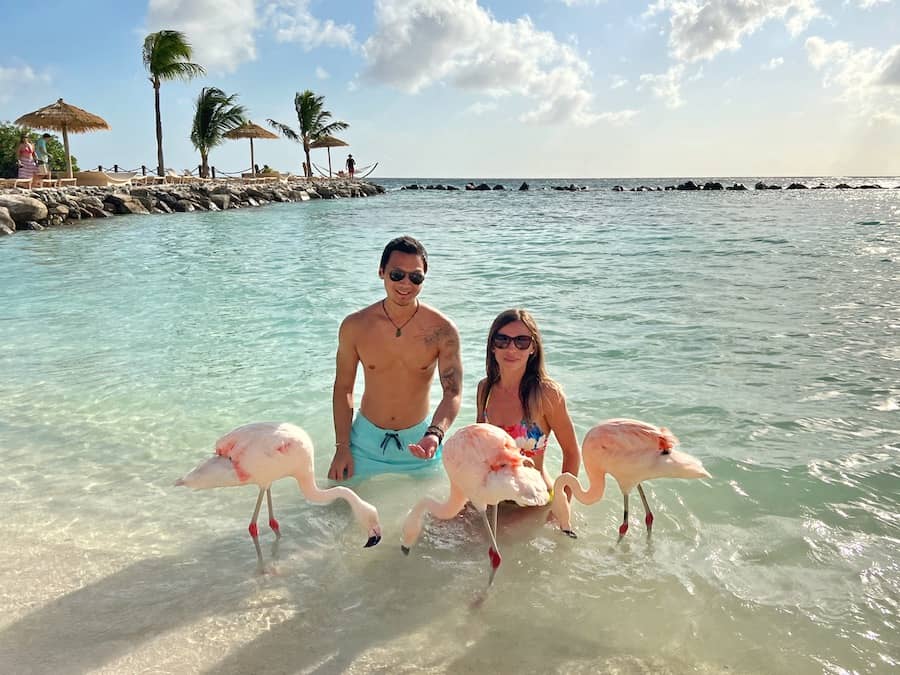 The flamingos of Aruba are probably just as famous as the beaches thanks to the recent photos on social media. They're not native to Aruba and are only found on Flamingo Beach which is on Renaissance Island, owned by the Renaissance Hotels.
Flamingo Beach is like any other beach in Aruba. White sand, clear blue water, beach bar. But having the local residents (the flamingos) roaming around whilst you bask in the sun with your ice-cold cocktail is really an incredible experience.
However, to go there you must either be a guest at the Renaissance Wind Creek Resort (at around $500 a night) or you might be lucky and get your hands on a day pass at $125.
Read More | How To Visit Flamingo Beach
Enjoy A Day On De Palm Island
De Palm Island is a private island designed with one thing in mind – relaxation! Visitors can enjoy beautiful beaches with clear waters, snorkelling, water slides and banana boat rides for around $114! Not only that but all food and drink are included, including alcoholic beverages. There are even a few resident flamingos on the island.
One of the coolest things to do is the Sea Trek. For an extra $50 or so you can have an underwater experience with your specially designed helmets. You don't need to be a good swimmer and it's a great chance to get close to the marine life without a diving certificate.
You can find more information and book tickets on their website.
See The Murals At San Nicolaas
Aruba's second 'city' is often bypassed even though most visitors pass it at some point on the way to Baby Beach. It's well worth a stop to see some quite impressive artwork from the Aruba Art Fair.
The visitor centre can give you a map of all the murals around San Nicolaas or you can just take a wander through the streets yourself. There are plenty of shops selling souvenirs, crafts and snacks for when your feet get tired.
Climb To The Top Of Hooiberg
Where ever you go in Aruba, there's a small chance you'll always see Hooiberg from where you are. Although not the tallest mountain in Aruba (that would be Mount Jamanota), Hooiberg is located centrally and has flat surroundings so it's easier to see.
It is also possible to 'climb' Hooiberg using the 600 or so concrete steps. It's not the most difficult climb and should take about 30 minutes up to the top depending on fitness. The views are well worth it, with some saying you can even see Venezuela on a clear day!
Snorkel The Clear Waters Of Mangel Halto
Located on the south of the island is the little, quiet beach of Mangel Halto. Tourists staying at the Palm Beach rarely visit this area so you're more likely to encounter more locals or ex-pats.
The water at Mangel Halto is some of the clearest on the island. This and along with the mangroves and shallow water makes it one of the most popular snorkelling spots in Aruba.
Divers are also in for a treat at Mangel Halto as parrotfish, octopi and barracuda are often spotted in the deeper waters.
Explore Aruba On An ATV or UTV
You don't have to stay long on the island to see these vehicles come whistling past you. These off-road vehicles are usually on a group tour and you know you want to hire one too!
Whether you hire one for yourself or join up with a tour, you'll be able to use these fun vehicles to reach some of Aruba's more secluded sites such as the Bushiribana Gold Mill and Alto Vista Chapel. Just make sure you have some protective eyewear and face cover as the wind and dust can be quite brutal in these things.
Read | Unfortunately ATVs and UTVs are no longer allowed into Arikok National Park. This is partly due to years of damage to the environment and local flora and fauna caused by reckless driving (thanks for that!)
See Casibari Rock & Ayo Rock Formations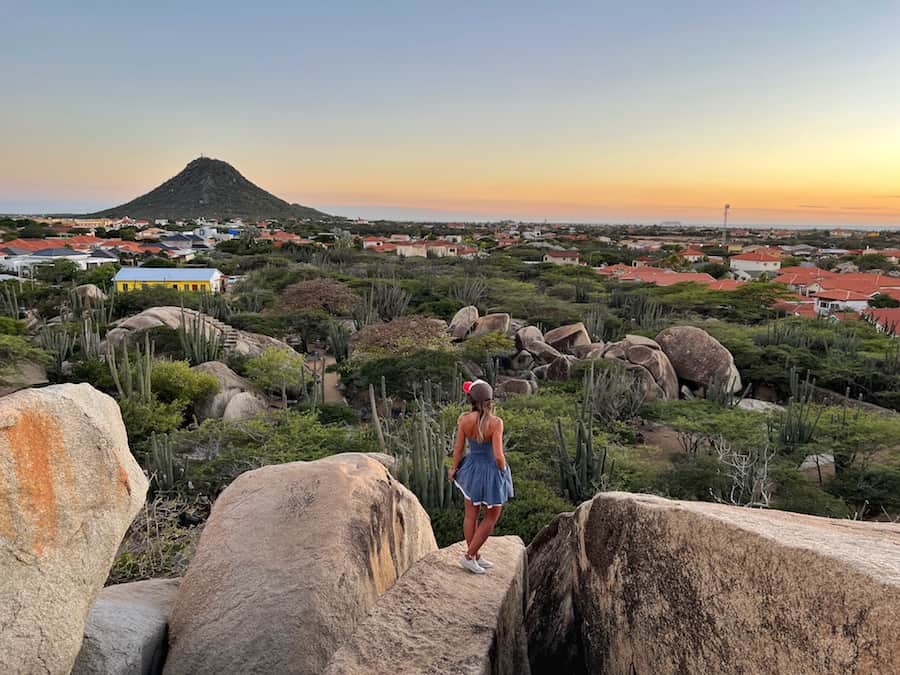 As I previously mentioned, Aruba is quite flat. So when there are a couple of cool rock formations around, people get pretty interested! Casibari and Ayo rock formations are just a few kilometres apart and are both equally interesting.
Visitors can climb and explore the rocks and get some nice views of the island, especially at sunset. You can also find some prehistoric rock drawings on the rocks, showing just how ancient these formations truly are.
Dine In The Water At The Flying Fishbone
The Flying Fishbone has got to be one the best places to eat on the whole island. Not only is the food absolutely delicious but you can also get a table in the water!
There are tables set into Eating fresh seafood whilst having your feet is certainly an awesome experience. Especially if you can get a table for sunset and watch as the lights in the water around you attract the little fish to your table.
The incredible food, service and the experience of dining in the water certainly make the Flying Fishbone one of the best restaurants in Aruba. This also means it can be difficult to get a reservation so check the website and book early.
Take A Dance Class
Aruba's proximity to South America means that there's a strong Latin American vibe on the island. Whether you're sipping a cocktail on a beach bar or even just listening to the radio in your car you're sure to hear salsa, bachata or merengue
The good news is that there are plenty of drop-in classes for tourists who want to have a quick lesson. It's a great social evening where you can try out your dance moves. Or you can just watch the experts strut their stuff.
Aruba Salsa is one of the most popular dance companies and off drop-in lessons for tourists for $20 USD (cheaper if you pay in local Florins.) See their website for more details.
What Will You Do On Your Visit To Aruba?
So there you have it. My list of the best, most amazing things to do in Aruba. It's hard to believe such a tiny little island can have so much to offer. All you need to do is rent a car/jeep and explore the island. It only takes 45-minutes to drive the length of Aruba so no excuses!
With plenty to do, plus the year-round sunshine and gorgeous weather, you have all the ingredients for an awesome Caribbean getaway. Not to mention you're never too far away from a beach bar serving happy hour drinks. They don't call Aruba 'One Happy Island' for no reason you know!
I hope you enjoyed reading this post on all the amazing things to do in Aruba. If you have any questions or suggestions then feel free to get in contact. Or just let me know in the comments below.