The city of Bangkok is one of those unrated and misunderstood destinations. Speak to other travellers and you may hear the words dirty or seedy mentioned a lot. But I personally love the Thai capital and I'm going to list some of the best things to do in Bangkok to make your next trip to this awesome city the best!
Bangkok is one of those chaotic, crazy, and fast-paced cities you either love or hate. People will often tell you to get out as soon as you can and explore the real Thailand. Having visited many times during my travels I can tell you that underneath all that dirt and chaos is an exciting city waiting to be explored.
Bangkok is often known as the gateway city to Southeast Asia. It's usually one of the first stops on most people's itinerary and with good reason. The city is known for its history and culture as well as its cheap eats and awesome nightlife. Add a touch of chaos and you have a recipe for an exciting time!
Read More | Visiting Thailand for the first time? Why not check my Thailand Travel Guide For First-Timers for the best tips and ideas.
Where To Stay In Bangkok
Bangkok is full of accommodation for all price ranges. Whether you're looking for a nice hotel for a family or a cheap party hostel with other backpackers, there's plenty to choose from. Check out some of the cheapest options on Booking.com or Hostelworld.
On my visits to Bangkok I've always tried to stay close to, but not on, Khao San Road. The location is perfect as it's only a short (ish) walk to places like the Grand Palace and other sites. There's plenty of places to eat and drink around that area and it's where a lot of night buses pick up and drop off.
Getting Around Bangkok
There are many ways to get around Bangkok, which is great as it's one of the biggest cities in Southeast Asia! The cheapest way to get around is by bus. Tickets start around 10 THB ($0.30 USD) for an air-conditioned vehicle. This is a great cheap option to/from the airport too.
Taxis are one of the most convenient ways to get around Bangkok. Their prices are fair as long as you tell them to make sure the meter is on. Never agree on a price beforehand! You can also use the ride-sharing app Grab which tells you the estimated price before you confirm your pick-up.
Tuk-tuks are great fun for tourists but are a poor choice for getting around. Prices are often inflated and drivers cannot always be trusted. That's not to say they're not a great option in other parts of Thailand though. If you really want to be close to the action you can always get a moto-taxi which offers much cheaper rates.
Other transport options include The Skytrain and MRT. The Skytrain is Bangkok's train network elevated above the roads and the MRT (Metropolitan Rapid Transit) is Bangkok's underground subway system. Both have convenient links throughout the city and are similarly priced – 15 to 45 THB per ticket, with passes also available.
The Best Things To Do In Bangkok
Visit The Famous Grand Palace
A must-visit for anyone visiting Bangkok is a trip to the Grand Palace. This iconic landmark is the former home to the King of Thailand and is full of beautiful temples, statues, and other artwork. You can spend hours (and you probably will) wandering through the many buildings of treasures and sculptures.
Within the grounds of the Grand Palace is Wat Phra Kaew – The Temple of The Emerald Buddha. Inside is the sacred Emerald Buddha made from jasper and clothed in gold. Due to its importance, Wat Phra Kaew is regarded as the most sacred buildings in Thailand. So you will need to remove your shoes and be respectful as you enter.
Being the most popular attraction in Bangkok means you'll likely be sharing the grounds of this magnificent palace with many other tourists. Try arriving at opening time – around 8:30 am. This way you avoid the heat and the majority (but not all) of the tourists arriving en masse!
Tip | There is a strict dress code at the Grand Palace. If they think you're not appropriately covered, you will be made to buy something to cover up your legs/shoulders from their shop. Or you can walk out and buy your clothes from the shop across the road for half the price. Like we did!
See The Reclining Buddha At Wat Pho
One of the most iconic sites in Bangkok is the reclining Buddha at Wat Pho temple. At 46 meters long it is one of the largest Buddha statues in Thailand and represents Buddha entering Nirvana. This means the end of reincarnation as enlightenment has been achieved.
Wat Pho itself is one of the largest temple complexes in Bangkok and there are many sacred and religious buildings and Buddha images around the grounds. The temple is also a place of education and is considered to be the first public university in Thailand. Students can learn the art of traditional Thai massage which has recently gained UNESCO Heritage status!
Soak In The Atmosphere At Khao San Road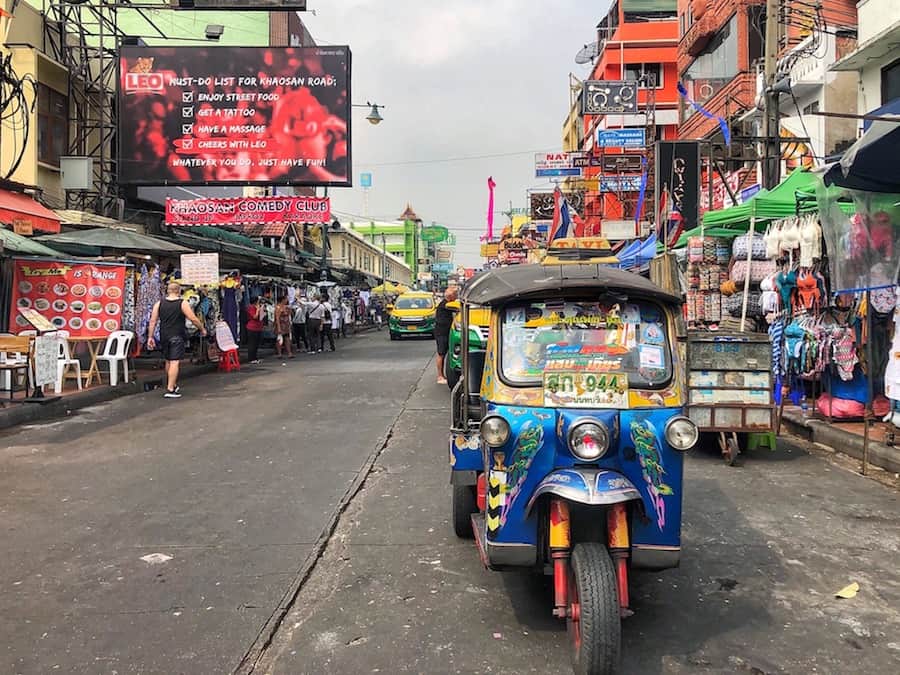 The most famous road in Bangkok and Thailand! Khao San Road was known as the backpacker haven for many years. With budget-friendly accommodation, cheap eats, and endless bars lining the street it's easy to see why.
At night the road becomes the place to go and experience some Bangkok nightlife with loud music coming from all angles, bars selling cheap buckets, and food stalls (fried scorpion anyone?) open till the early hours.
The road has seen a lot of development over the years as more and more tourists visit and the latest refurb has seen the road completely renovated. Stalls and vehicles are now set up in an orderly fashion while a new road has been build through the middle. Only time will tell has this will affect the atmosphere of this famous road.
Learn About Silk At Jim Thompson's House
Thai silk is famous all over the world and they have Jim Thompson to thank for it. For those looking for a bit of history and culture, Jim Thompsons' house is a great little museum that explores how an American living in Asia saved Thailand's silk industry. Then one day, he mysteriously disappeared in the Cameron Highlands!
The entry fee is 200 THB ($6.30/£4.50) and includes a guided tour of the house and gardens and a demonstration of house Thai silk is made and Thai dance. Not bad for such a cheap ticket!
Marvel At The Beauty Of Wat Arun
Also known as The Temple of Dawn, Wat Arun has to be one of the most beautiful temples in Bangkok. The Khmer-style Buddhist temple has been around since the Ayutthaya Kingdom and is easily recognized from its 80-metre prang (similar to a stupa/pagoda) which is covered in porcelain and coloured glass and seashells.
You'll have to take a ferry across the river (4 THB/0.12 USD) to get to the temple and the entrance fee is around 100 THB ($3 USD) but it's well worth the small effort. The temple is best visited around sunset although it does close around 18:00. This is a shame as it is lit up beautifully after dark but you can still see it from across the river.
Get Cultured At The National Museum
If you're interested in Thai culture and history then the National Museum is a great place to spend a few hours. One of the largest museums in Southeast Asia, the Bangkok National Museum is a former palace and exhibits collections from Thai history and culture through its many halls.
The museum itself is a former palace and there are informative multimedia displays. The entrance is 200 THB ($6.30/£4.50) and they also have free guided tours on Wednesday and Thursday mornings in English and French.
Use Your Haggling Skills At The Markets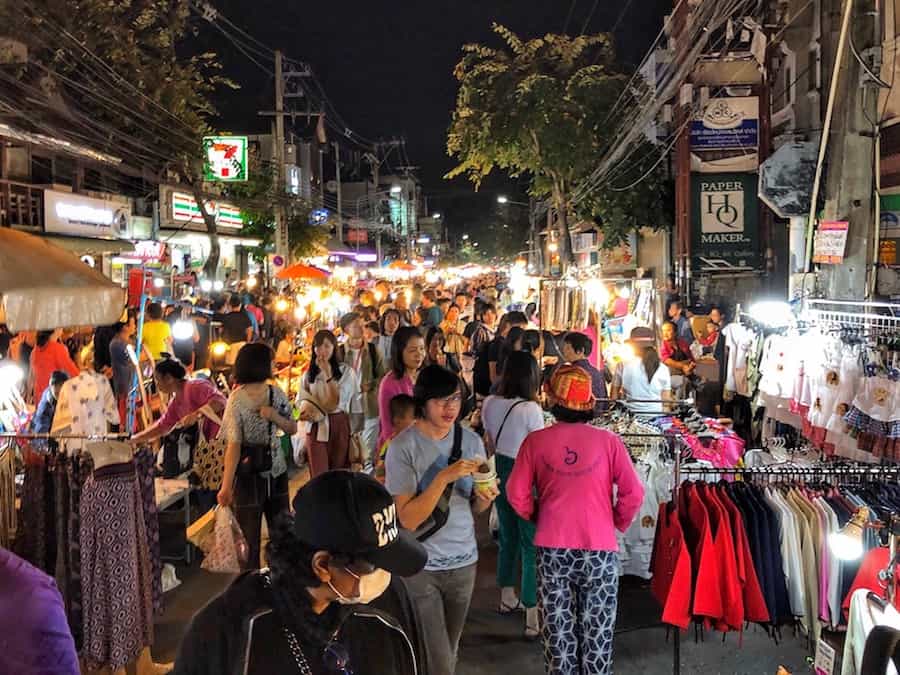 You can't visit Southeast Asia without experiencing the atmosphere of the markets. Whether you're looking for cheap clothes, delicious food, artwork, or genuine fakes, the markets in Bangkok will likely have what you're looking for. Chatuchak Weekend Market is one of the largest and most popular markets in all of Thailand. Try to arrive in the morning and be a 'lucky' first customer at one of the 15,000 stalls!
Night markets are also pretty cool and the Talat Rot Fai/Train Night Markets are worth a visit. There are two locations these night markets and they have nothing to do with trains, so don't confuse them with the Maeklong Railway Market. Always remember to haggle with the price in a friendly but confident manner.
Visit A Floating Market
If you like the markets then you'll love these markets with a difference. There are many floating markets to choose from. Some are nearby but some of the better ones are located out of the city. You'll probably hear the tuk-tuk drivers asking to take you to one on a daily basis!
Damnoen Saduak is probably the most popular floating market due to it being featured in the James Bond movie The Man with the Golden Gun. The mazy canals and perfect photo opportunities make it very popular with tourists but this also drives up the prices. Another popular floating market is Amphawa. Not as big or busy as Damnoen Saduak but the market is open till 20:00 meaning you'll experience a floating night market!
Seeing a floating market is a must-do in Bangkok and a unique way of buying some fresh fruit and vegetables and local delicacies. Make sure you haggle for the price of the boat and enjoy the ride!
Climb The Dragon At Wat Samphran
This super cool temple is also known as the Dragon Temple for obvious reasons. Located around 40km west of central Bangkok, this temple is very different from the traditional Buddhist temples you may have visited in the city. The 17-story high building is cylindrical and pink and there happens to be an enormous dragon spiralling itself around it.
The temple, although a little run down, is impressive, and getting to the top requires an uphill walk through the body of the dragon. It can get quite hot and you'll come across the odd bat too but once at the top you'll be able to see views of Bangkok to the East.
The grounds of the temple are also worth looking around. You see many sculptures around the park and also a giant Buddha and tortoise. The best part is that you'll probably be only a handful of tourists there!
Watch A Muay Thai Fight
Muay Thai (or Thai boxing) is Thailand's national sport. It's as brutal as it is spiritual and popular with locals as well as tourists. Stadiums are often a place of constant wagering as bookies take bets on fights in the only place where gambling isn't prohibited.
There are two venues in Bangkok and they also happen to be two of the best in Thailand. Rajadamnern and Lumpinee Stadium have show fights regularly and cost around 1500 THB – 2000 THB. If you fancy yourself as a bit of a Muay Thai fighter you can also enroll in one of the many schools offering classes and camps.
Treat Yourself To A Traditional Thai Massage
Tired from all that walking around from temple to temple? Then get yourself to one of the many massage parlors for a traditional Thai massage. The traditional massage technique is so important to Thai culture that it's now gained UNESCO Heritage status.
Prices can be as low as 200 THB ($6.30/£4.50) per hour on Khao San Road and as high as 420 THB ($13.30/£9.40) at Wat Pho, although this is supposedly the best in Bangkok! The massage includes a series of stretches and movements along with pressure to help release both physical and mental stress.
Shopping Malls
Bangkok isn't all about street food and market vendors. Some of the very best shopping in Southeast Asia is found in the huge shopping malls around the city. This is where you'll find real branded goods, air conditioning, and 5-star dining options. If that's your thing, of course.
Icon Siam is one of the newest and best shopping malls in Bangkok. From Apple to H&M, you'll find all the popular brands here and a man-made floating market on the ground floor! Other malls to visit are Terminal 21 where each floor is styled on a popular city from around the world and the classic MBK – known for being Bangkok's indoor street market.
Sip On A Cocktail At A Rooftop Bar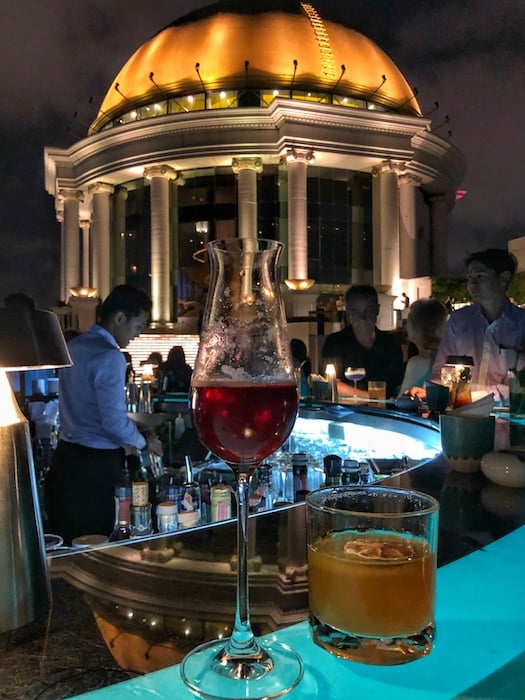 Rooftop bars have sprung up all over Bangkok recently and that can only be a good thing. There's only so much cheap alcohol and buckets you can take before you start to crave something a little classier. Getting dressed up and visiting a rooftop bar is a great way to enjoy Bangkok nightlife whilst enjoying a view of the city!
The Sky Bar At Lebua is one of the best places to visit in Bangkok. It was featured in The Hangover Part II, making it the most famous, and ridiculously expensive, bar of them all. Other rooftop bars to consider are ZOOM Sky Bar, The Speakeasy, Park Society. The Rood @ 38, Cloud 47, and Octave Rooftop Lounge.
Take A Day Trip
Did you know that Bangkok is surrounded by awesome sites that are only a short drive/train ride away? One of the most popular is the ancient kingdom of Ayutthaya, the old capital of Siam. The ancient ruins are easily accessible by public transport. You can also find many tours from the many travel agents that align the streets.
Read More | Want to see Ayutthaya without a tour? Then check out my post on how to plan your own Ayutthaya day trip for the best tips and ideas.
Other popular day trips include Kanchanaburi you can walk along the Death Railway. The seaside city of Pattaya is just 1.5 hours away from Bangkok. Thailand's answer to Disneyland, Dream World, about 40km from central Bangkok. Khao Yai National Park where Leo famously off the top of the waterfall (in the movie The Beach anyway) and Hua Hin, home to long stretches of quiet laid-back beaches.
Bangkok – More Than Just The Capital Of Thailand!
Bangkok was the first city I ever visited in Southeast Asia and I love returning there every time!
For me, Bangkok really has everything. I love exploring the city and there are so many temples to visit as well as markets and food stalls. There's never a dull moment and it's the perfect introduction to Southeast Asia. Anyone who tells you otherwise just didn't explored enough of this awesome city.
Whether it's your first visit or your seventh, I'm sure you will love the Thai capital after exploring all the incredible sites. Next time you pass through Bangkok, just dig a little deeper and you'll get exactly what you want from this city that never sleeps!
I hope you enjoyed this post about the best things to do in Bangkok. If you have any questions about something that I may not have covered then feel free to get in contact. Or just let me know in the comments below.