The Ultimate Isles Of Scilly Travel Guide | England
With sandy white beaches and swaying palm trees, you may think that you've arrived on some tropical paradise island. However, you haven't landed in the Caribbean or Mediterranean but you're actually in the Isles of Scilly in England! Want to know more? I've put together this Isles of Scilly travel guide so you can plan your own trip to this little gem tucked away in the corner of England.
I had heard about the Isles of Scilly before and we recently had the chance to visit them. It had always intrigued me how such a place could exist in England. Somehow, the islands still manage to keep their British charm. You may be on a sandy beach or be walking past palm trees but you almost feel like you're at a British seaside town back on the mainland.
We had an amazing time on the Scilly Isles and now I want to share everything we learnt from our trip. Enjoy this Isles of Scilly travel guide and plan your own trip to this little slice of paradise in England.
Read More | The Ultimate UK Bucket List
Where Are The Isles Of Scilly?
The secret is out and more and more people are finding out the Isles of Scilly are located in… England! You may be forgiven for thinking that they are located in the Mediterranean but they're located 45km (35 miles) from the tip of Land's End, so they are still part of Cornwall in England's southwest.
The 250-mile journey to Cornwall from London takes around 5 hours by car. Luckily for you, Cornwall is one of England's most beautiful counties with plenty to do and see. With stunning beaches and beautiful little seaside towns, it's well worth taking the time to explore this part of the country.
Weather On The Isles Of Scilly
You may have heard people calling the Isles of Scilly 'the UK's answer to the Caribbean' or 'England's tropical hidden gem' but the weather isn't quite as warm as that. Sure some of the beaches may look like they've come straight out of a Caribbean postcard, but the islands are still part of England don't forget!
The weather follows the typical seasons in the northern hemisphere. August is the warmest month to visit with an average temperature of 19-20°c. The islands are positioned on the end of the North Atlantic Current so temperatures may seem milder compared to the rest of England. There's a high chance of rain from November to February while the driest month is May.
We visited in July and while we had some long sunny days we also had spots of rain. But I've spoken to others who have had nothing but sunshine during the summer months.
How To Get To The Isles Of Scilly
Getting to the Isles of Scilly is half the fun, and needs a bit of planning due to their location. First, you need to make your way to the town of Penzance in Cornwall. So if you're staying in London for example, you would need to take a train or hire a car. From Penzance, you can make your way over to the island of St. Mary's by air or by sea!
The Scillonian Ferry
Probably the most common way to get to the Scilly Isles is by ferry. The Scillonian III to be precise! Although a standard adult fare of £65.95 ($81/€76) is not cheap, it is still the most cost-effective way to get to the islands. You will need to purchase a return trip at the same cost!
The ferry journey takes around 2 hours 45 minutes and runs from April to November. It's quite a nice relaxing journey with comfortable seats and a small cafe on board. If you're lucky you may even see dolphins or seals on your trip. However, there is only one ferry to St. Mary's in the morning and one returning in the afternoon. So don't miss it!
For more information on the Scillonian, head to the website, where you can view an up-to-date timetable and prices.
Day Trip | You can purchase a day trip ticket for £35.00 ($43/€40). I would only recommend this if you're really, really short on time as you would arrive at St. Mary's at around 12:30pm and leave again at 16:30pm (average departure times.)
Sky Bus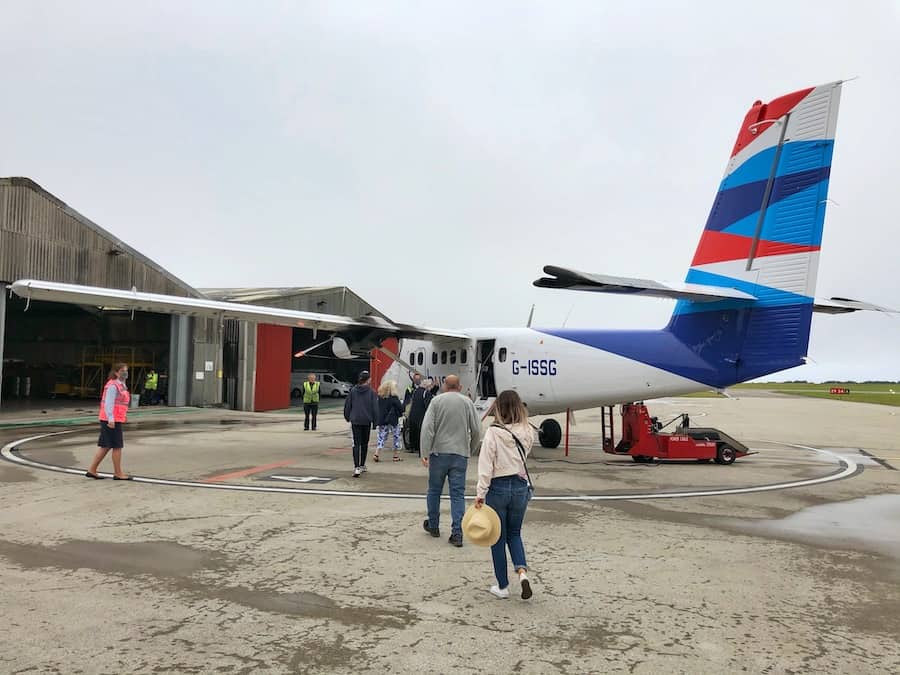 A more convenient way to travel to the Isles of Scilly is the Sky Bus. You can get flights to the Scilly Isles from Exeter, Newquay and Land's End airports. Depending on the airport, the journey is much quicker – 60 mins from Exeter and only 20 mins from Land's End!
It's quite a cool experience on the Sky Bus. If you fly from Land's End, you can pay for a transfer from Penzance to the tiny little airport. The planes are also very small with only around 8 passengers on board and you even see the pilots doing their thing in the cockpit!
A standard adult ticket starts at £105 ($130/€122) each way so it's a more expensive option but you can't put a price on time! There are multiple flights throughout the day, making a day trip (£127) to the Scilly Isles a more tempting option than on the Scillonian.
Check out the official website for timetables and booking.
Fly & Sail | A great option for those who are undecided is to fly one way and sail the other. This is what we did on our trip to the Scilly Isles. This way, you'll get to experience the best of both worlds
Penzance Helicopters
For a truly grand entrance, why not arrive by helicopter and feel like an A-list celebrity? Penzance Helicopters offers journeys from Penzance to either St. Mary's or Tresco in only 15 mins! Prices start at £134.50 ($165€156) off-peak and you can book on their website.
Isles Of Scilly Accommodation
The Isles of Scilly are not what you would call a budget travel destination. Although the prices are similar to the rest of the UK in terms of food and drink, accommodation is a little pricey for your typical hotel, B&B. A quick look on Booking.com shows properties for over £200 ($230) per night.
For those who want to travel on a budget, I recommend booking early on Airbnb and staying in Hugh Town, St. Mary's. This is probably the best bet for cheaper accommodation and there are more options available compared to the other islands. We stayed in an Airbnb for under £100 ($115) per night and were able to explore the other islands using Hugh Town as our base.
Another option is camping. Many of the islands have camping grounds and this is a great option for those who love the outdoors. Prices range from £11 ($12.60) to £55 ($63) per night.
Getting Around The Isles Of Scilly
The Isles Of Scilly consists of 5 inhabited islands and all are well connected by boat. While most visited will be staying in St. Mary's there are some accommodation options on the other islands.
The islands are only 5-20 minutes apart and are easily accessible from the quay. Times are usually posted on notice boards as well as each island's own boat service Facebook pages.
Our plan of action was to take a walk to the quay the day before and check out the departure and return times. These may be different due to the tides. We would then buy our tickets (not timed) ready for our trip the next day.
Best Things To Do On The Isles Of Scilly
Eat Fresh Sea Food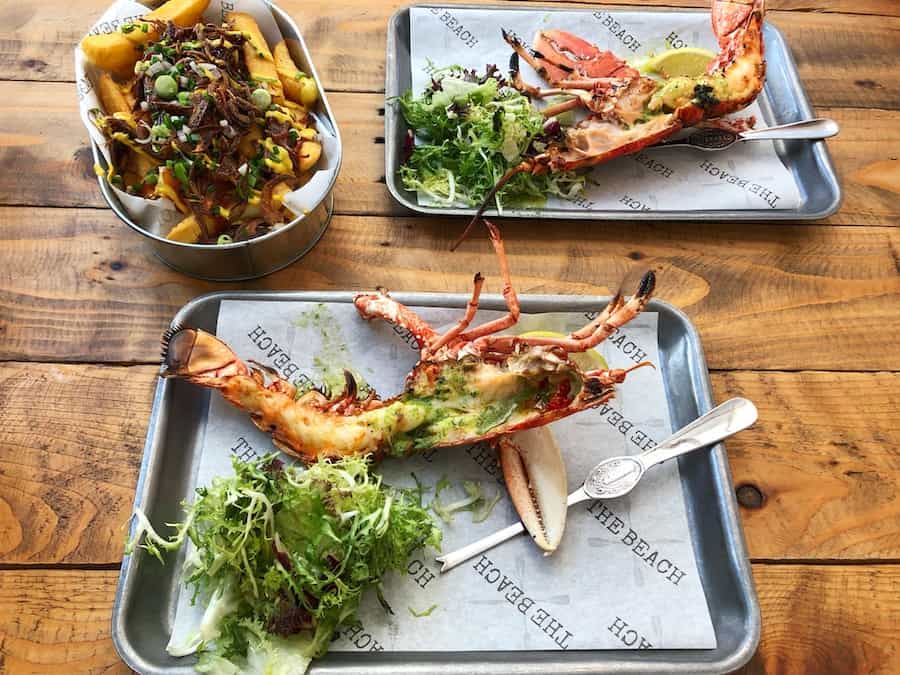 The local farmers and fishermen will tell you that the Scilly Isles have some of the best food in the UK. The food is locally sourced and reared on or around the islands themselves so you know it's going to be fresh and you'll be doing the environment a favour by reducing the carbon footprint.
There are many award-winning restaurants and eateries dotted around the isles for you to sample. It goes without saying that seafood should be the top choice when exploring these islands. From fresh fish to lobster, you'll find an amazing choice of fresh seafood all over the islands and you have to try the lobster roll… yum!
See St. Mary's
St. Mary's is the largest of the Scilly Isles and the gateway to the rest of the islands. It is where the airport is located and where the Scillonian arrives and departs. Hugh Town is the main hub where you'll find shops, cafes, restaurants and the Scilly Isle's only banks (so withdraw your cash here if you need it!)
St. Mary's is the best place to base yourself if you want to explore the other islands. You'll find more accommodation options and there is also plenty to see and do including gin distillery tours and riding around in golf carts.
Island Hopping
There are 5 inhabited islands in Scilly – St. Mary's, Tresco, St. Martins, St. Agnes and Bryher. Each one is different and a visit to at least one other island is a must! From the gardens of Tresco to the beaches of St. Martins, it's really worth taking the boat out to all the other islands in this region.
While most people are happy to visit the main islands, there are over 140 more scattered around the archipelago. Many are home to wildlife whilst others are worth exploring due to their uniqueness such as Bishop Rock where a lighthouse sits on the world's smallest island!
Wildlife Spotting
As previously mentioned, the Scilly Isles are home to an array of marine and sea life. It's not uncommon to spot dolphins and porpoises whilst out at sea and there are several seal colonies around the islands.
Boat trips are available from the quay but you may have to book in advance and these are very popular in high season. Popular boat trips include the seabird sanctuary island of Annet and the islands east of St. Martin's where seals and seabirds love to hang out. Another popular option is the glass bottom boat trips from St. Mary and St. Martin's.
Enjoy The Beaches At St. Martin's
St Martin's has some of the best beaches on the Isles of Scilly and it's the island you want to be on if sunbathing is your thing. It's on St Martin's that you'll find Great Bay – an untouched, white sand beach with crystal clear waters considered to be the best in the Scilly Isles.
You won't find any shops or cafes on the beaches so it's best to stock up on food and drink (take your rubbish/trash please!) The Island Bakery or convenience store are the best places to buy snacks.
Explore The Island Of Tresco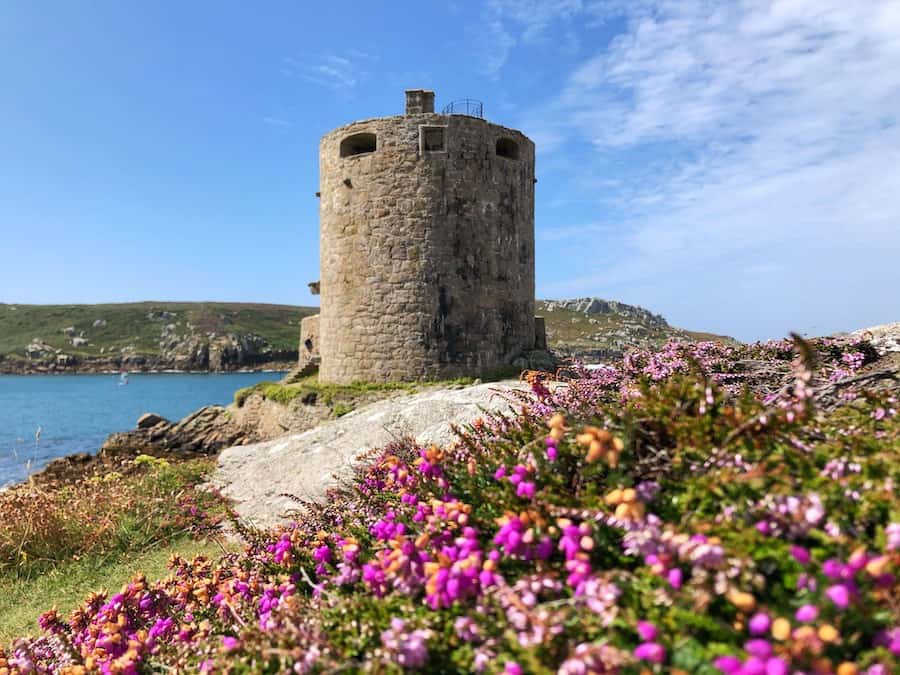 This subtropical island is classy yet chilled! Tresco is a Royal favourite with William and Kate visiting two summers in a row. We enjoyed a beer and snacks at the Ruin Beach Cafe where a local told us William had visited recently.
There are plenty of other things to do on Tresco besides following the Royals and a hike to Cromwell's Castle is a particular highlight. There are also a few beaches on the island to explore and you can also play a round of golf, or enjoy a spa treatment or yoga session.
See The Tresco Abbey Gardens
The famous Tresco Abbey Gardens are a must-see when visiting the Isles of Scilly. Located on Tresco, there are around 4000 different specimens in the gardens from over 80 countries. Quite incredible if you consider that many of these plants wouldn't survive anywhere else in the UK.
The entrance to these fabulous gardens costs £18 and there's no need to book. There's a cafe and shop there too so you can enjoy a tea or coffee and a sandwich in true Brit style! You can find out more about the gardens on their website.
Walk From Tresco To Bryher
Bryher, the smallest of the inhabited islands, is a contrast of rugged coastlines on the west and calm and sandy on the east. It's a great place for walks, picnics and beach days. However, several times a year everyone wants to get to/from Bryher and not by boat!
The location, around 230 metres or so from Tresco, can be walked at very low tide! This can only be done a few times each year so it's quite a popular event! Check out the dates & times when the tide is low if you want to time your visit with this unique event.
Walking On St. Agnes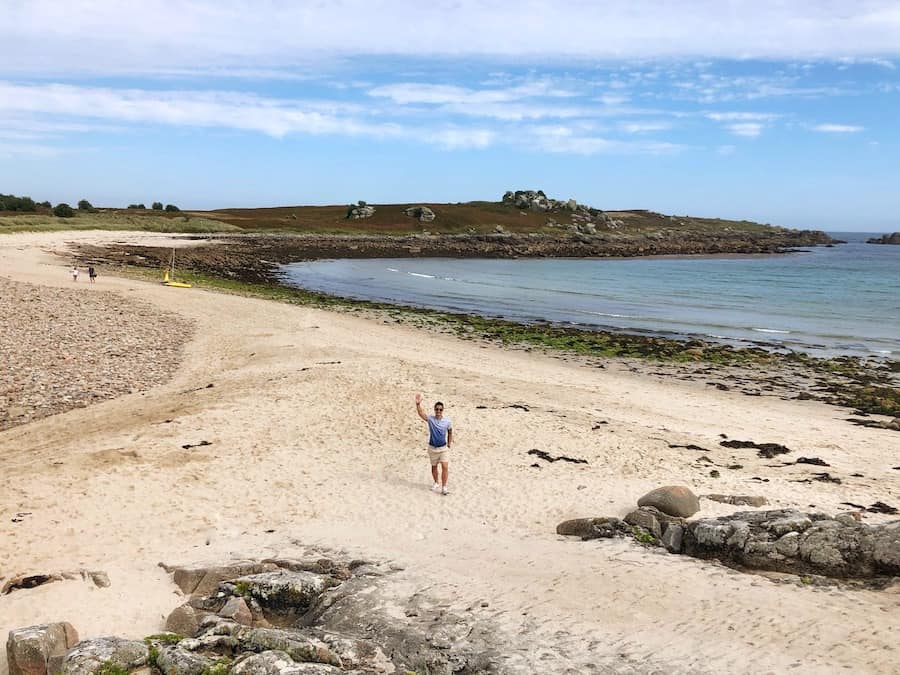 The Isles of Scilly's most south-westerly island is wild and untouched. The island is great for walking and you can walk the coast, through little villages and onto untamed beaches. Don't miss the Gugh sandbar that's only visible during low tide and if you like Troytown Farm ice cream, well the farm is found right here!
Don't forget to grab a pint at the famous Turk's Head pub – the Most South Westerly Pub in the British Isles!
Snorkel With Seals
One of the best things to do in the Scilly isles is to swim with some resident Atlantic grey seals. These cute critters live off the coast of St. Martin's and you don't need any experience to participate. The seals are friendly and inquisitive and you'll be well looked after by Seal Snorkelling Adventures.
The experience costs £55 ($67/€64) and lasts for around 2.5 hours. There are only 2 sessions per day and a maximum of 10 people per group. This is so the seals don't get too used to having people around. Make sure you book early, especially in the summer months.
I hope you enjoyed reading this Isles of Scilly travel guide. If you have any questions or suggestions then feel free to get in contact. Or just let me know in the comments below.