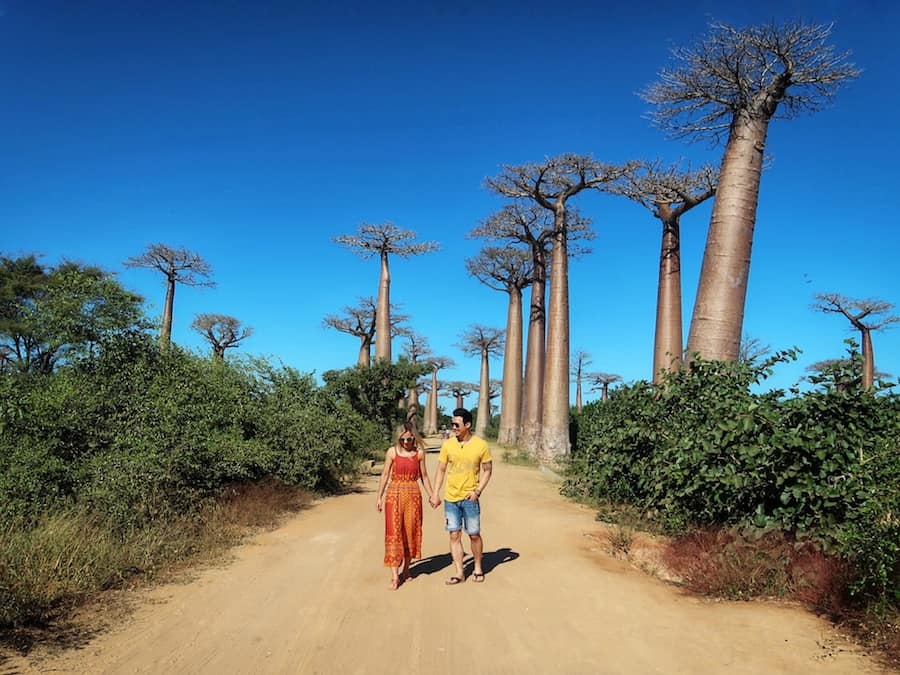 What happens when a piece of Africa is separated off the east coast and allowed to evolve for 88 million years? Madagascar! That's what happens! Madagascar only sees a few hundred thousand tourists annually so I've put together this travel guide for you guys looking for something less touristy. Some national parks only see a few hundred visitors each year!
The fourth largest island in the world may look suitable for lion, zebra, giraffe and hippo, but this is definitely no DreamWorks movie! The actual cast that live in the rainforests, mountains and deserts of this diverse land are unique to Madagascar. In fact, 90% of the flora and fauna are endemic, meaning that they are found no where else on Earth!
It's not difficult to wander off-the-beaten track and those who believe that 'getting there is half the fun' will be greatly rewarded! Free from human colonisation, until around 2000 years ago, 'The Red Island' remains largely unspoiled and is one of last places in the world where you can really have an adventure of a lifetime!
Background
After millennia of complete isolation, migrants from Indonesia, and later Mozambique, settled in Madagascar around 2000 years ago. A quick look at the history books will see stories of pirates, traders and explorers until the rise of the Merina Kingdom in the early 19th century.
Seven kings and queens (including 'The Mad Queen' Ranavalona I) ruled during this time until the French invasion in the 1890's. The royal family were exiled to Algeria and the short-lived Merina Monarch ended.
Madagascar gained it's independence from the French, after a period of revolt, in 1960 and it's easy to find their influence wherever you go. From the language to the cuisine, it's easy to see why the majority of visitors are from French speaking countries.
Best Time To Visit Madagascar
We planned our trip for the end of April/beginning of May as this would be the best time for us to see what we wanted. This is the start of the peak season, which runs through to December, but there still weren't many tourists around. There were sunny days in Antananarivo as well as rain and chilly evenings. This time of year is considered to be winter in the southern hemisphere too. It didn't feel like it during the 38°C temperatures on the west coast!
Madagascar can be enjoyed all year round but, having said that, it's a huge country and the climate will vary depending on your location. The wet season, from late December to March, is probably best avoided as a lot of roads are closed or become impassable and places like Tsingy de Bemaraha National Park will be closed. However, beach destinations like Nosy Be are still possible September to November as the weather is hot and the heavy rains won't come until December.
Another thing to consider when planning your trip is the wildlife. Lemurs are the main draw here, and can be seen all year round in the reserves, however, visiting in October or November would increase your chances of seeing baby lemurs! Humpback whales visit these shores from July to September and from September to December, whale sharks visit the island of Nosy Be.
Getting There
This will be one of the most difficult parts of any visit to Madagascar. There are no direct flights to Madagascar from the UK (or US or Australia) and all flights required a transfer, normally at an African airport. Flights from Heathrow cost around £600/$800 upwards, but the stopover times are longer unless you pay a bit more. Flights in July will cost around £1000/$1300 or more due to this being the peak season for Madagascar.
Our flight from London cost us just over £600/$800 per person as we visited in April, and we had a stopover in Addis Ababa, Ethiopia. I would recommend paying that little bit extra to reduce the time spent in an African airport (no offence to the Egyptian and South African airports!) Bole International Airport is stuffy, with no air-con and without a great deal of options to entertain ourselves. Once the security desks open, expect a lot of pushing, shoving and people just generally not giving a damn that you're in their way!
Visas
All visitors travelling to Madagascar require a visa. The standard 6-months remaining in your passport and proof of onward travel rule applies here, as well as two blank pages. An e-visa is now available online (a few weeks too late for our trip) and although there is still little information on it's reliability, it still has to be better than what most people go through at the airport.
Visa fees, as of 2019
30 Days – €35/$37
60 Days – €40/$45
90 Days – €50/$55
The fee has to be paid in Euros or US Dollars as it is unlikely that you will have had a chance to get any Malagasy Ariary.
Arrival
Ivato International Airport will be one the of things you will want to forget in a hurry! You will be handed your visa forms to fill in at the airport on arrival, not on the plane. Once the paperwork is complete, you then join a very slow moving queue… three times! The first queue is to check the visa form. Then another queue to pay for the visa. Then, longest wait, for them to actually give you the visa.
In a tiny airport, with no air-con, the wait is frustrating enough. What will annoy you more is the amount of people who get their visa before you when you were sure you were in front of them. Bribery is rife in Madagascar and even the airport security have no problem accepting!
After finally getting your visa, you may be asked to present your passport several more times (five in my case!) Once in the arrivals hall, you have a chance to use the ATM's or the currency exchange to get your Ariary. The exchange rate isn't amazing but certainly better than some hotels. Euros and US Dollars give a slightly more favourable rate than British Pounds. Now is also a good time to get a local SIM (we were told Telma provided the best service.)
Tip | When leaving Madagascar, try to use all your Ariary BEFORE check-in/security. For some strange reason, many of shops in the departure lounge only accept Euros or US Dollars! Also, check your departure time – we had different times on the confirmation email, our boarding passes and on the departure screens!
Getting Around
Patience is the key! And there will be times when yours will be pushed to the limit. Tourism is slowly growing in Madagascar, but the infrastructure still remains a problem. Many of the national roads between locations are either unpaved or in terrible condition meaning long travel times and uncomfortable journeys. You will also be sharing the roads with goats and zebu as well as children and people as there are no footpaths. This, of course, is all part of the adventure!
From The Airport
The airport is around 16km from the city and the journey usually takes around one hour (I know!!) On exiting the airport, or more likely before, you will probably be approached by one of the many taxi drivers. There is no longer a shuttle bus service so a taxi for 40,000 – 50,000 Ar. is a reasonable price. Make sure to haggle and agree on the price before hand. Our hostel organised our transfer for 50,000 Ar. There are also some taxi brousse options for those who dislike comfort.
Be aware of anybody trying to help you with your bag. They are after tips. Some guy followed us and our taxi driver to our car, literally grazed Zuzi's bag as she put it into the back (didn't even glance at mine) and then expected a tip. Even the driver said 'just give him something!' If I hadn't just been on a 15-hour journey I probably would've told him where he could go. More on tipping later…
Car Hire with Driver
This is the most common way to travel around Madagascar, and with good reason – the roads. I'm not going to beat around the bush here, the roads are basically just shit! Hiring a car with an experienced driver who know's the roads is one of the best option. They will know how to negotiate the thousands of potholes on the road that you wouldn't even see until it's too late. Your hotel will most likely know of a few drivers to get you from one place to another.
We negotiated a price with our hotel in Morondava to have a driver with a 4×4 for a few days as it would not be possible to visit some places without one. Of course a 4×4 would cost more but there are two of us to share the costs. A popular way to reduce costs is by asking other travellers at your hotel/hostel and seeing whether you can share a trip together. We met a group of about five people who joined up to do this at our hostel in Antananarivo.
A car with driver (4×4) can cost around €50/$65 per day. The driver's food and accommodation are included. If you have a driver for just one day, they will wait while you visit a national park etc. before taking you back. It's not uncommon for them to have a friend or relative for company during your trip. You are expected to pay for fuel costs and any return costs. E.G. The driver picks you up from location A and drops you off in location B. You will pay for the driver's fuel to return to location B as well as the extra day(s) it takes for his return.
Please listen to your driver! If he says you need to leave at 5am, then be ready. He will know the road, the current conditions and the time it takes to arrive somewhere. Driving in the dark is nearly impossible as there are no streetlights (or streets!) It's not a great feeling watching your driver avoid zebu and people when driving during the night!
Taxi Brousse
The famous taxi brousse of Madagascar is the locals choice and for the real budget conscious. A 'taxi be' can come in all shapes and sizes. In Antananarivo and other cities and towns, this is usually a minibus such as a Mercedes Sprinter or smaller. If you're on a really tight budget, this is probably your best option but your choices will be limited unless you have a lot of time to travel as taxi be's normally only leave when full (this could take 10 mins or 4 hours) and have an annoying habit of breaking down.
I wouldn't advise a taxi be when travelling to remote places such as Tsingy. We saw several broken down taxi brousse during our drive there and most were still in a state of repair when we returned two days later!
Distances between cities can be huge, and the road conditions means it will take longer than normal, so a longer journey usually means a better standard of taxi be. A better option is the Cotisse/Sonatra Plus taxi brousse option. These have their own stations in the major cities and the standard of minibus is higher. Booking online is not always possible but we managed to book a Antananarivo to Morondava journey for 45,000 Ar. each.
Flights
Air Madagascar is the main airline for domestic travel. With little competition from other airlines, the price of flights can be expensive. Air Madagascar don't really have the best reputation and are known for their 'flexible' itinerary meaning you'll either leave later or earlier than expected.
Update 2019 | Tsaradia is a new domestic airline launched in 2018. A subsidiary of Air Madagascar, they offer fairly priced domestic flights and have a growing reputation.
Train
There are a few trains that run on a limited schedule in Madagascar. Trains are slow and can take anything from 8 to 12 hours, or more, to cover a short distance in comparison. In the time we were in Mada, we saw many train tracks but never a train.
Things To Do In Madagascar
So what is there to do in Madagascar? It may seem like an obvious question, especially since 90% of Mada's flora and fauna can be found nowhere else on earth! From ring-tailed lemurs to epic landscapes, and even beach escapes, a trip to Madagascar is a truly unique experience.
Antananarivo
Most people who visit Mada will have to go through the ordeal of staying in 'Tana' at some point. Nearly everyone will tell you leave as soon as possible. Whilst we agree that it's probably not the most charming or inviting city we've visited, there are still a few things worth seeing such as The Rova (Queen's Palace) or the Catholic Cathedral. Why not visit Lemur's Park where you can play with semi-wild lemurs like 'King Julien'?
We really enjoyed Ambohimanga – a UNESCO World Heritage Site located about 25km north of Tana. The drive takes about one hour due to the city's infamous traffic (try not to breath in all the fumes!) This is one of the most important, and best preserved monuments of the Merina Kingdom. We also liked the colourful Analakely market – the perfect way to immerse ourselves into local Tana life.
Andisabe – Mantadia National Park
A three hour journey from Tana and you'll arrive at Andasibe National Park – one of the most visited parks in Mada. Comprising of the the Analamazaotra Special reserve, and Mantadia to the north, the protected rainforests are home to many lemur species but there is one in particular that everyone comes to see, the indri. The Indri is the largest of the lemur species and their haunting calls can be heard throughout the forest, making them easy to find.
The guides here make it their duty to spot Indri for you. We spent most of our hike off the main path as our guide was determined to find the Indri before we left. We also visited The Vakona Forest Lodge where we were taken to Lemur Island – a small island where rescued semi-wild lemurs reside. This was the perfect place to get up-close and personal with Madagascars most famous residents.
Avenue of The Baobabs
One of the main reasons we visited Mada was to see the legendary baobab trees that litter the west coast. The most famous being The Avenue of The Baobabs. These magnificent specimens can reach a height of over 30-metres and some trees are said to be over hundreds, or even thousands, of years-old.
Located 17km northeast of Morondava, a beach town on the West coast, a visit to 'Baobab Avenue' is a must and can be organised by your hotel (they always know a driver) or by taxi. The road to Baobab Avenue soon turns into a bumpy, dusty, dirt road so, as tempting as it seems, tuk tuks are probably avoid on this journey!
A visit at sunset or sunrise, or both, is highly recommended. Don't expect to have the place to yourselves though. Even arriving at 5am for sunrise, there were already groups of people on the avenue taking photos. At least we had someone to take our photo for us!
Reade More | Walking Down The Avenue Of The Baobabs
Tsingy de Bemaraha
The stone forests of Tsingy National Park are a highlight for anyone visiting the west coast. A full day's drive from Morondava in a 4×4 on a bumpy dirt road is needed to get there. With it's jagged, limestone landscape and the possibility to spot lemurs, this is a place not to be missed.
It's easy to see why they named the park Tsingy as this roughly traslates to where one cannot walk barefoot in Malagasy. A limestone seabed 200 million years ago, heavy rainfalls have eroded the cliffs into the spectacular, jagged valley we see today.
The park is split into the Great Tsingy and Petite Tsingy, we hiked for hours around this magnificent park. We crossed rope bridges, squeezed though caves and spotted some wildlife in this other-worldly place.
Read More | A Guide To Tsingy de Bemaraha
Isalo National Park
Madagascar has many tropical rainforests but for something slightly different, try Isalo National Park. Looking more like something from the American West, Isalo combines desert landscapes with deep lush canyons. A hike through this reserve can bring you along rocky terrain, through lemur inhabited forests and even alongside waterfalls.
Ranomafana National Park
Meaning 'hot water' in Malagasy, this mountainous rainforest is one of the most picturesque reserves in Madagascar. Located about 7 hours from Antananarivo, the park was created in 1991 due to the discovery of the golden bamboo lemur. With 12 species of lemur live here as well as 115 bird species and 62 different reptiles, Ranomafana is one the best places in to see Madagascar wildlife.
Tip | All national parks in Madagascar require a guide. Prices will depend on the park visited and length of your hike.
Madagascar Beaches
Being a huge island with 5000km of coastline can only mean one thing. Beaches! Mada has so many stunning beaches all around the coast as well and it's many islands. Nosy Be is probably the most popular, and expensive, island located in the north. Whale sharks are the main attraction and visit from September to December . For more peace and quiet, Ile Sainte Marie lies on the east coast and was a popular base for pirates in the 17th and 18th centuries.
During our off-road drive down the west coast, we passed beautiful places such as Morembe and Andavadoaka. These places are not written about much, due to the difficulty in getting there, and we only saw a handful of other tourists. We loved the time we spent at Salary Bay – a 7km stretch of white beach without any other people to share it with.
Food and Drink
Food in Madagascar can vary depending on where you eat (our hostel served Mexican). Most of the restaurants we visited had pretty much the same kind of menu. This typically involved some type of meat – usually chicken, fish or zebu (Madagascar's version of a cow), along with a plate of rice huge helping of rice! When you see all the rice fields during those long drives, you'll probably understand why!
Make sure to take advantage of the cheap seafood available when staying on the coast or islands. Even as we drove off-road, our driver managed to buy some fish from locals by the river. Simple, fresh and grilled to delicious perfection!
Drink
Bottled water will probably be your drink of choice in Mada. It can get hot and the local water is not drinkable. Soft drinks and beer are available at nearly every restaurant and bar. THB (Three Horse Beer) is cheap and tasty whilst Baobeer, made from the baobab fruit, was also nice but harder to find.
Madagascar also produces high quality rum. Often cheaper than beer, rum is normally available in a variety of flavours including coffee, which is a local favourite, (caffeine and alcohol anyone?) vanilla, pineapple and many more. We passed home-made rum distilleries just on the side of the road selling cheap bottles!
Tip | Save your empty water-bottles. When driving off-road, through the remote villages, the children will really appreciate them. They are used for collecting honey. If you are unsure whether to give them your empties, ask your driver.
Budget For Madagascar
The great news is that, after that expensive flight to get there, the cost of travelling Mada can be relatively low. Travelling as a couple meant shared expenses when it came to hotels and car hire. National park guide prices are often banded, meaning there will be one price for 1-4 people, another for 5-8 people etc.
Exchange Rate
£1 = 4,600 Ar.
€1 = 4,000 Ar.
$1 = 3,600 Ar.
Update | This is the correct exchange rate during our visit (May 2019)
Costs
To give you an idea of costs, here are some of the prices of things we paid for –
Coffee – 1,000 Ar. (espresso 4,500 Ar.)
THB beer – 4,000 Ar.
Bottled water – 5,000 Ar.
Breakfast – 8,000 Ar. – 15,000 Ar.
Typical meal (chicken/zebu with rice/fries) – 10,000 Ar. – 20,000 Ar.
Hotel room – 30,000 Ar. – 140,000 Ar. for a double room
Taxi within Tana – 15,000 Ar. per journey
Cotisse (taxi-brousse) from Tana to Morondava – 45,000 Ar.
Cotisse from Fianarantsoa to Tana – 25,000 Ar.
Car hire with driver – 120,000 Ar. per day excluding fuel
Car hire with drive (4×4) – 220,000 Ar. per day excluding fuel
National park fees – 45,000 Ar. – 55,000 Ar. per person per day
National park guides – 50,000 Ar. (3hrs 2 persons at Andasibe), 135,000 Ar. (full-day 1-4 persons at Tsingy)
These are just some of the prices from our trip. Food and drink will vary greatly depending on how touristy or how local you eat. There are also hotels for all budgets in Madagascar. Prices are per person unless stated otherwise.
Need To Know
Health
As well as the usual travel vaccinations needed when visiting developing countries (Hep A, typhoid etc) Malaria is the other main danger in Madagascar. Antimalarials are essential on any visit as well as mosquito repellent, with DEET, and those fiddly bed nets. We used Malarone, which was a more expensive than the others but there are less side effects and they are only taken for 7 days after departure (doxycycline requires an extra 4 weeks worth after departure!)
Those coming from, or have spent more than 12 hours in, an area at risk of yellow fever will also need a yellow fever certificate (now valid for life.) Most flights to Madagascar will have a stopover so please check if the country is at risk and how long your stopover is. If you're unsure, just check the WHO.
Safety
Madagascar is a relatively safe country to visit. Just don't go wandering the streets at night! Many of the Malagasy people, especially in the small villages, don't see tourists often so don't be offended when they stare. Children will often be heard shouting "vazaha" meaning foreigner (white) but it is not to offend you. The Malagasy people we met were kind, friendly and often very helpful.
Avoid travelling on the roads at night. Vehicles have been ambushed after dark by bandits blocking the road. If you think you're at risk, have a few thousand Ariary in your pocket. Although ambushes do occur, the situation has improved significantly since the new president, Andry Rajoelina, was sworn into office in January 2019. You will see his face on the t-shirts of many Malagasy people!
The crime rate in Madagascar is generally lower than many other African countries. Crime can happen anywhere but by being cautious and staying aware, there's no need to let it ruin your trip.
Language
French is the main language in the main cities in Madagascar. Once you leave places like Tana, you hear a lot more Malagasy being spoken, especially in the remote villages. English is not as widely spoken, which explains why we met mostly visitors from France, Canada and Belgium.
Having spent five years learning French at school, I am happy to tell you that I can only say bonjour! With a lot of gesticulation and pointing, it wasn't so difficult to navigate our way around Mada. Hotel receptionists and drivers usually have some level of English, as do national park guides.
Tipping
Tipping is not obligatory, or even expected, in Madagascar. That's what people tell you! The truth is that nearly everyone in Madagascar thinks that you will tip them. I don't want to say that this a result of the older, richer tourists that visit but it's definitely not a habit that a Brit is used to.
Carrying your own luggage will save you thousands (of Ariary). Some hotels will have porters to carry your bags and expect 2000 Ar. We had three people carry our bags and show us to our room once!! I don't even want talk about what happened at the airport again.
How Much To Tip
We didn't always tip, but when we felt a tip was well deserved, we followed these guidelines –
5% of the food bill at a restaurant
2,000 Ar for porters
20,000 Ar. for a guide – full-day
10,000 Ar. for a guide – half-day
20,000 Ar. for a driver, per full day
taxis – no tip, agree on the price before journey
This was what we paid as a couple. You may feel differently if you're travelling solo or in a group.
Our Thoughts On Madagascar
Madagascar was definitely an adventure we'll never forget!
However, the cities are a little rough around the edges and the signs of poverty are hard not to miss. Even the national park set-up didn't seem quite official at times. However, the Malagasy people are friendly and want you to enjoy your visit. One hotel forgot to book our taxi brousse so the receptionist took us to the station herself, at 6am, and booked our tickets!
Time and patience are the key to a great trip in Mada. My patience was certainly pushed to the limit when a battery fault meant that a 4-minute ferry crossing was delayed by OVER THREE HOURS. Did I lose my cool? Sure – we arrived at our next destination at night with no time to enjoy the sites! These things happen when you travel, and they happen a lot in Madagascar. Drivers can be late due to mis-information and we can't even count how many vehicles we saw broken down on the road!
Despite this, we had an absolutely amazing, mostly trouble-free, time in Madagascar. We especially loved the nature and the wildlife. We'll never forget the moment we first saw those majestic, giant baobab trees. Or seeing how the lemurs leaped sideways from tree to tree in their funny little way. We were also treated to beautiful coastlines where we were the only tourists around!
I hope this travel guide has helped you guys plan your Madagascar adventure. Or at least consider making it a future destination! If you liked this guide, or want to know anything else, please leave a comment. Thanks.