The Complete Thailand Travel Guide For First-Timers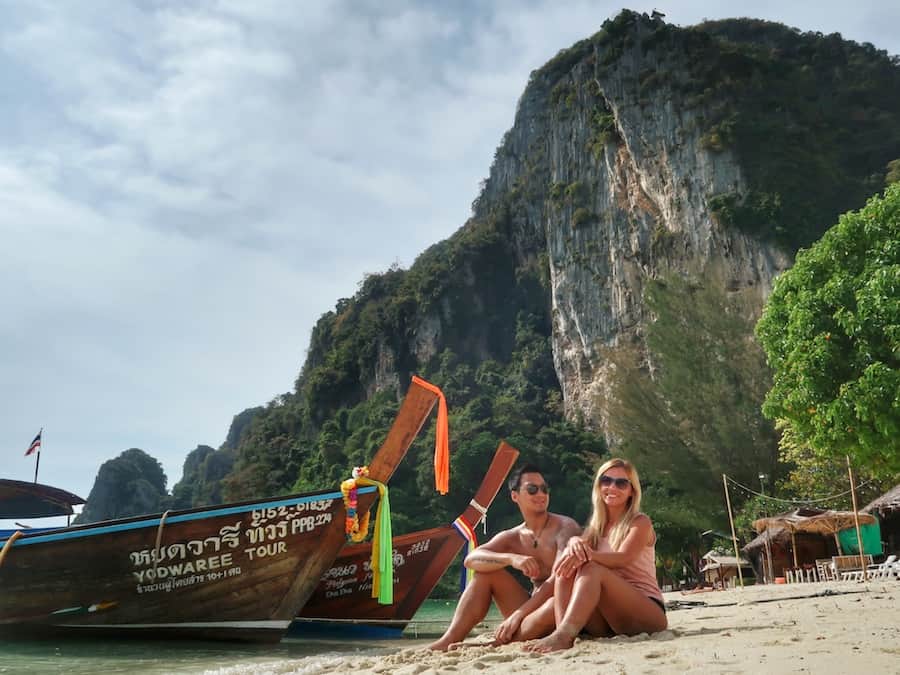 Looking for a travel destination that has it all? Then you've probably been thinking about Thailand! The Land of Smiles is often at the top of most people's list of countries when planning a backpacking trip or vacation. That's why I've decided to help out with this Thailand travel guide for all you first-timers out there.
Thailand is a dream destination and the perfect place for anyone looking to start their travel adventure. You'll find beautiful islands with pristine beaches and clear waters, bustling cities with stunning bars and markets, incredible palaces and temples and so much more.
It was the combination of all the above that made me choose Thailand as the first stop on my first backpacking trip. I ended spending nearly three months there! It also helped that it's one of the most budget-friendly destinations in the world… if you want it to be.
Best Time To Visit Thailand
There are officially three seasons in Thailand – hot, dry, and wet. However, it's difficult to clearly define the weather due to the length of the country. The majority of Thailand experiences tropical, humid weather for most of the year.
The hot season runs from March to June when temperatures reach the mid-30s (Celcius). Then the wet season, or monsoons, runs from July to October where the humidity is at its worst. The dry season, also known as the cool season, is from November to February, but 'cool' means a lovely 23°C to 30°C!
The north is the coldest region during the dry season. Temperatures can drop to 15 °C during the night (which is still pleasant for us Brits.) The southern regions often see more rain during the wet season with the east coast seeing more rainfall later in the year compared to the west.
With all that confusion out of the way, it is generally agreed that the best time to visit Thailand is from November to February. Although I have been in March to May too and had excellent weather.
Arriving In Thailand
Most flights to Thailand will land in Bangkok. There are two main airports in the capital and you'll most likely land at Suvarnabhumi (BKK). Most of the long haul flights arrive at BKK but it does handle some short international and domestic flights too.
The older Don Mueang Airport (DMK) handles international and domestic flights from mainly low-cost airlines. The journey between the two airports takes around 50-60 minutes. However, the traffic can add an hour to the journey so you need to know which airport you're flying to/from!
Suvarnabhumi Airport is located 30km east of the center and there are numerous transport links to get you into the city. If you're heading to Khao San Road then one of the cheapest options is the S1 bus to Democracy Monument. It costs just 60 THB (£1.50/$2) and the journey takes around an hour.
Take a look at this site for other routes and options from Suvarnabhumi and Don Mueang Airports.
Visas
Most countries can stay visa-free for 30 days on the day of arrival (check with your local government site.) It is possible to extend your stay for another 30 days but this must be done before your exemption period ends.
If you enter via a land border then you may only enter on a 30-day visa exemption twice per calendar year (again, please check.)
Planning a trip to Thailand for more than 30 days? You can always apply for the appropriate visa in advance.
Airlines may ask for proof of onward travel and/or proof of funds when entering/leaving surrounding countries such as Malaysia or Cambodia.
Money
The official currency of Thailand is the Thai Baht (฿ or THB.) At the time of writing, roughly $1 USD is equal to 30 THB, so £1 UKP to 40 THB. Due to the high denominations, it may take you a few days to get to grips with the value of things.
One thing I normally recommend when it comes to money is to get a travel debit or credit card. Specialist travel cards don't charge high fees for overseas transactions or cash withdrawals. Just make sure you pay off credit card bills in full each month to avoid high-interest charges.
Remember that Thailand is a developing country and it's not always possible to pay with debit/credit cards. You may be surprised at some of the places that do take them, though. Also, all ATMs charge 200 BHT ($6.5/£5) per transaction.
So if you want to withdraw cash in Thailand I would suggest that you take out the maximum amount. This avoids paying the transaction fees each time. Most ATMs have a maximum withdrawal of 20,000 THB but there are some that will only have a 10,000 THB limit.
If you're comfortable taking cash then you may find it cheaper to find a money exchange office. USD, GBP and EUR are the most accepted currencies. You may even be able to save 2-3% when compared to using the ATM.
Tipping | This is not normally expected in Thailand. Many high-end hotels and restaurants may add a 10% service charge. This is normally added to your bill.
Haggling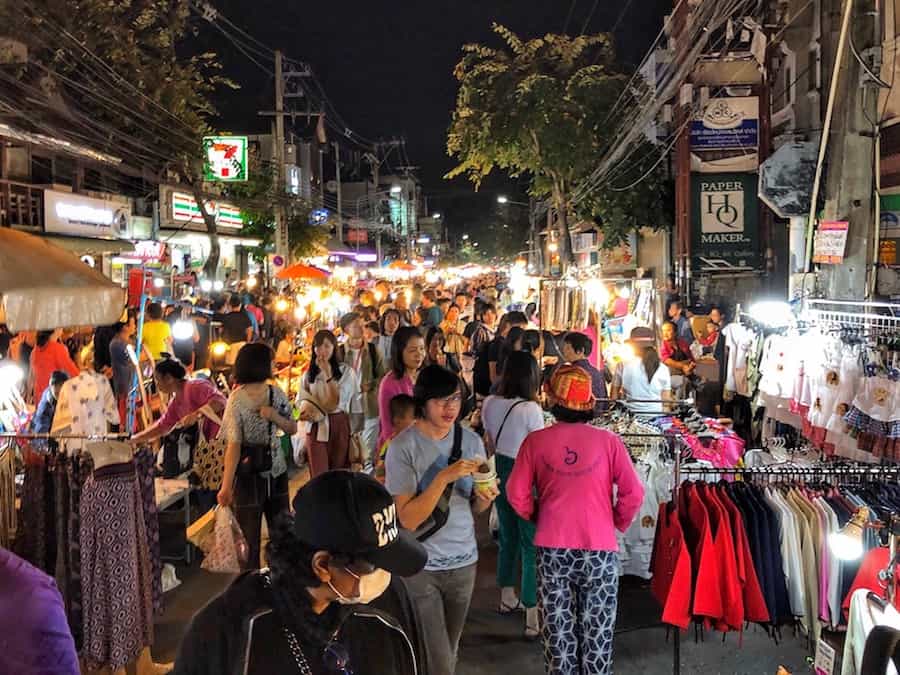 When buying from local markets, you will be expected to haggle for your souvenir/clothing. The general rule is to offer around half the amount that they ask for and negotiate until you meet in the middle. If the price is still too high then just say sorry and walk away. If they want the sale they will chase after you and renegotiate!
When there are marked prices on items it usually means that there's no room for negotiation. There's no harm in asking though! Remember that haggling is supposed to friendly and fun. Enjoy it and never let the vendor know you really want the item because they know you'll pay more for it!
Language
Thai is the national language of Thailand. If you've never heard it before, it sounds a little like Cantonese, but softer and in a higher pitch. One interesting thing about the language is that men and women finish certain phrases differently. For example, hello in Thai for men is sawadee kap and for women is sawadee kah.
Luckily for you, English is widely spoken by most Thai's who are working in the travel and hospitality industry. You'll only have difficulties if you venture off into more rural areas.
SIM Card
There is free WiFi in nearly every hotel/hostel as well as many restaurants and bars. However, being tethered to your hotel isn't going to be very useful. Especially when you want to use Google Maps or looking for your new travel buddies at the Full Moon Party!
You don't have to search for long before seeing the 'SIM card for Tourists' signs in all the shops. Just avoid buying one at the airport! For around $20 you can get a few GB of 4G data that lasts around 12 days. You will also need your passport if you buy from a reputable seller.
Thai Etiquette
Religion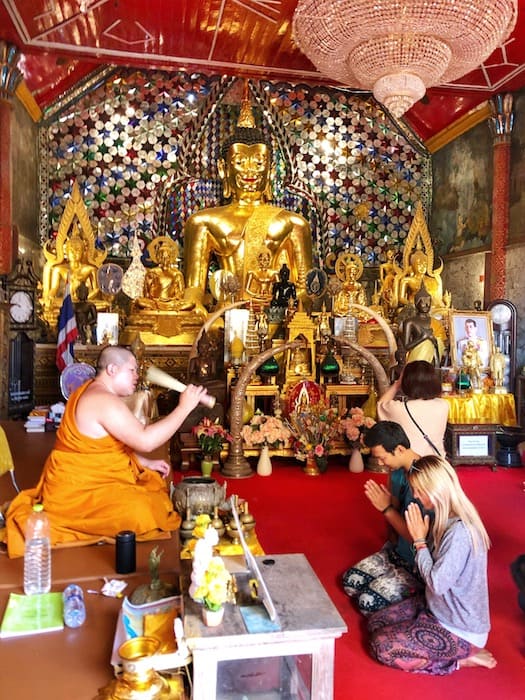 One of the wonderful things about visiting this Thailand is that this could be the first time you'll experience another culture far different from your own.
Thailand is 95% Buddhist and has been since the 12th century. Men are expected to become a monk for a period of time before they turn 20 to receive good merit. You'll see many monks dressed in orange robes, with younger ones on their smartphones!
It's important to respect the religion so dress respectfully when entering temples by covering shoulders and knees (for both sexes). Also, women should never touch a monk!
Royal Family
Unlike many other countries, which mock their leaders, the royal family of Thailand is highly respected in Thai culture. The previous king, King Bhumibol Adulyadej (or Rama IX), was the second-longest reigning monarch of all time.
King Rama IX was known to be an author, artist, photographer, musician, sailor, and explorer. He was also the only Thai king to have visited every single place in Thailand and was responsible for many royal projects including reforestation and education. It's no wonder the people mourned for a year when he passed away in 2016.
His son, King Vajiralongkorn, has been on the throne ever since. Unfortunately, with his father being one of the most beloved kings the world has seen, he has some pretty big shoes to fill.
Respect | Please respect the royal family whilst in Thailand. The strict lèse majesté law means that any disrespect towards the royal family or their image can result in going to prison! People have been arrested just for disrespectful social media posts.
Be Aware Of The Body
The head and feet play an important role in Thai culture, as they do in many Asian countries. The head is considered to be the most spiritual part of the body so avoid touching someone's head or hair. This includes Buddha statues.
The feet are seen as the lowest, and dirtiest, part of the body. Never point your feet at someone or raise them above someone's head. When visiting temples, always sit so that the soles of your feet point away from the Buddha representation.
You will see shoes and flip-flops at many of the shops and temples. If you're worried about someone taking your shoes then it's better to wear some simple flip flops or cheaper brands.
Sexuality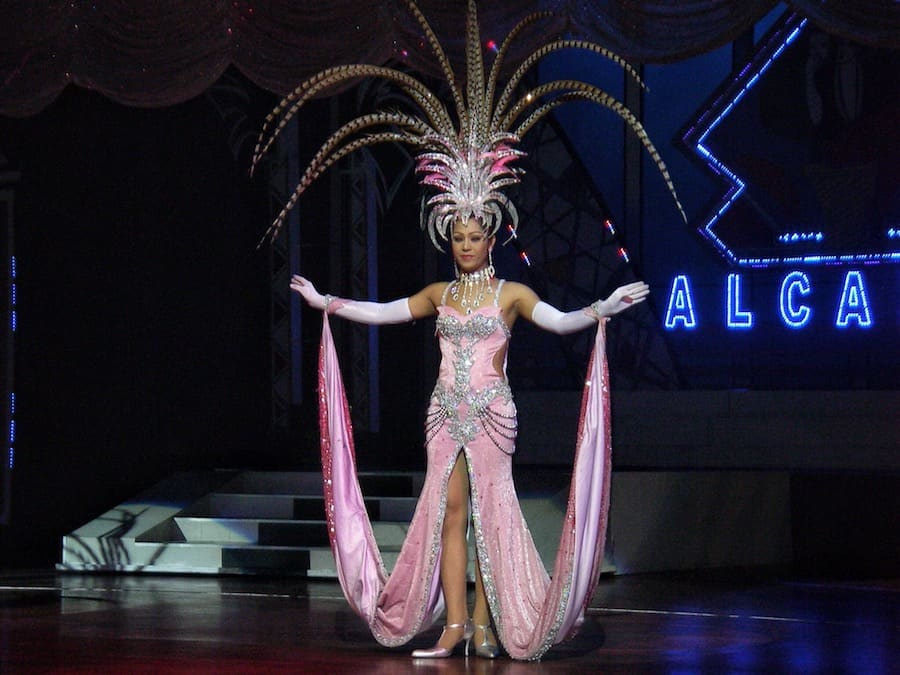 Prostitution is tolerated in Thailand so it's no surprise that sex tourism is big business. Some of the biggest red-light districts can be found in Bangkok and Pattaya.
Thailand is also one of the most LGBT-friendly countries in Southeast Asia (and maybe the world.) There are many LGBT-friendly bars and clubs in Bangkok and everyone is welcome.
Those looking for something glamorous to do can see a cabaret show with a difference. Ladyboys, or kathoeys, are a big draw for many tourists. Whether you want a night of singing and dancing, or something a little more interesting, a night with the ladyboys is one you won't forget in a hurry.
Food & Drink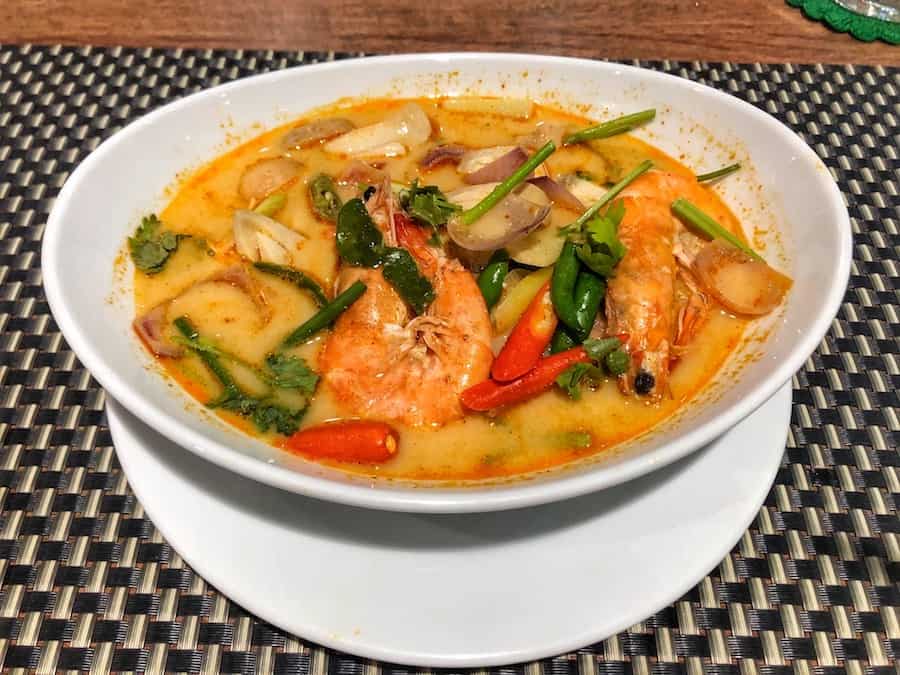 Thai cuisine is some of the tastiest you'll sample on your travels. Forget those ready-made Thai green curry packs from your local supermarket, real Thai food from Thailand is on another level!
From spicy soups to sweet rice desserts, Thai cuisine is quite varied and you definitely need to try more than just the Pad Thai. Although it is cheap and delicious and I'm also guilty of eating way too much of the stuff!
Some of the best Thai food isn't found in an expensive, fancy restaurant but on the street! From simple regional snacks to dining on the sidewalk, street food is cheap, delicious, and not to be missed.
Must Try Dishes Thailand
Pad Thai – possibly the most famous Thai dishes that consists of fried, flat noodles with chicken or prawns.
Green Curry – a creamy curry made with coconut milk, this is the spiciest curry in Thailand. Normally served with chicken and rice.
Papaya Salad – made with green papaya, this salad is one of the most popular dishes.
Penang Curry – a milder curry for those who aren't ready for Thai chillis. Not as spicy but still delicious.
Khao Soi – found mainly in northern Thailand. This Burmese dish consists of noodles in a curry soup made with coconut milk and served with pork.
Gai Tod – forget KFC, the best fried chicken is found in Thailand!
Tom Yum Goong – a spicy prawn soup made from fragrant ingredients like lemongrass, kaffir lime leaves and lime juice.
Pad Krapow – minced pork or chicken stir-fried with basil and chilli. This delicious, but spicy dish is best served with rice and a runny egg.
Chicken with Cashew Nuts – a simple dish with plenty of flavours.
Mango Sticky Rice – the most popular dessert in Thailand. Sticky rice with pieces of mango and condensed milk.
Caution | Although it may seem obvious, you should not drink the tap water! Bottled water is cheap and there are usually deals on multipacks. If you know you'll be in one place for a few days then why not buy a larger one and use it for refills? You won't need to worry about ice as it's factory-made.
Travelling Around Thailand
Thailand is one of the easiest countries to travel around. There are literally tour agencies every few steps that are willing to help you part with your money! A lot of them will work with the same transport provider so it's just a case of who is going to give you the better deal.
Flights
Flying is the quickest and easiest way to get around the country. There are countless budget airlines that fly frequently to and from major cities. This is obviously the most expensive option but you will need the least travel time and it's probably the most comfortable.
Air Asia and Thai Smile are just a couple of the airlines you can check out. Better yet, do a search on Skyscanner to see all the available options from a variety of different agencies.
A flight from Bangkok to Chiang Mai can be as low as £20/$25 when booked in advance. Just check the baggage fees as this could also be the same price or even more!
Train
Thailand has an excellent rail network and can take you to all corners of the country. The trains are relatively cheap, safe, and comfortable. The Bangkok MRT (underground) and Bangkok BTS (Skytrain) are perfect examples of this.
Those looking to travel further afield can an overnight sleeper train. The trains are smooth and comfortable and you can pick what class of cabin you want. Taking the sleeper train also means you've technically paid for your night's accommodation too!
Bus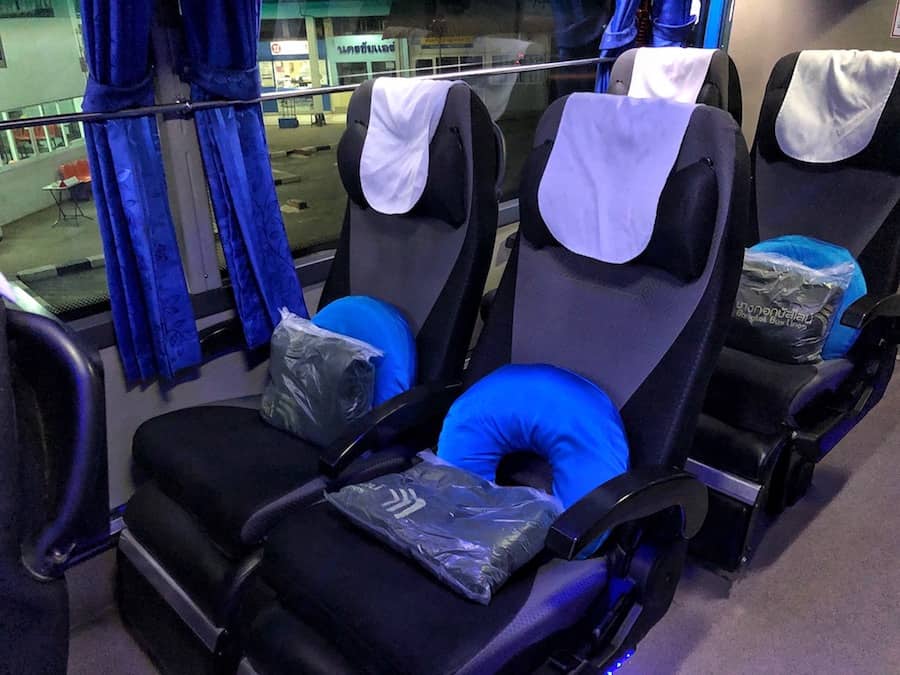 Buses run throughout most of the major cities in Thailand. Many 'buses' are actually minibuses or vans when traveling through more rural or secluded locations. One bus that all first-timers to Thailand will surely use is the dreaded (or not so dreaded) overnight sleeper bus.
These buses are obviously cheaper than the trains but they're an excellent budget option when it comes to long-distance travel. For example, an overnight bus from Bangkok to Chiang Mai costs around 600 THB (£14/$18) and takes around 10-12 hours.
Expect a bit (or a lot) of waiting around and make sure you ask if transport to your accommodation is included in the price. The bus seats may, or may not, recline all the way back and you may, or may not, get a snack & working onboard entertainment screen. You will get a toilet break when you least expect it though!
You can also check/book a bus online then have a look at the Thai version of BusOnlineTicket.com or 12Go.
Taxis
Taxis can be a convenient way to get around and, a lot of the time, are reasonably priced. Just be careful with traffic as you can be stuck with a hefty bill in built-up cities like Bangkok. Never accept the driver's fare on short journeys as they will almost always charge you more than on the meter!
Scam Alert | There are always a few taxis parked outside hotels. These guys are hoping to get tourists to agree to inflated prices or driving off without turning on the meter. Better to avoid these guys and just hail down a metered taxi up the road (hopefully in full view of the scammers!)
Grab
No Uber in Thailand? No Problem! Since the app shut down in Thailand in 2018, Grab has taken over as the number one ride-sharing app service. You can get a grab scooter too to weave through the busy city streets during rush hour, which seems to be every hour!
Boat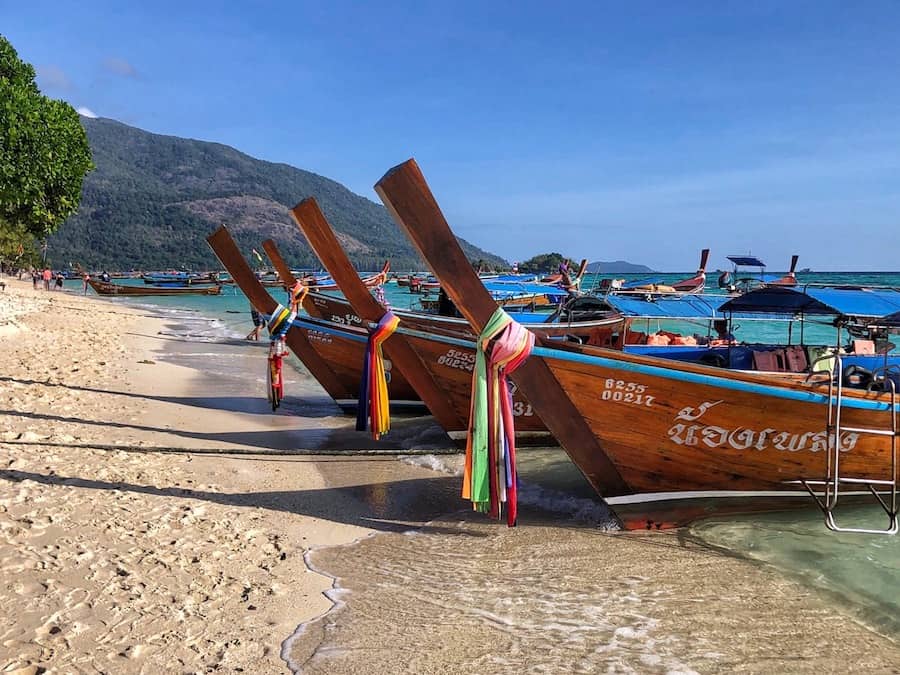 Those looking to do a bit of island hopping will be using boats as their main mode of transport. There are usually comfortable, large ferry boats for island transfers (although I was stuck on a cramped speedboat for 5 hours before) as well as smaller taxi boats for transport around the island.
The classic long-tail boats can often be seen around the islands and many offer day trips to neighboring islands and/or beaches. Just remember to negotiate a price if you decide to take up an offer.
Tuk-Tuk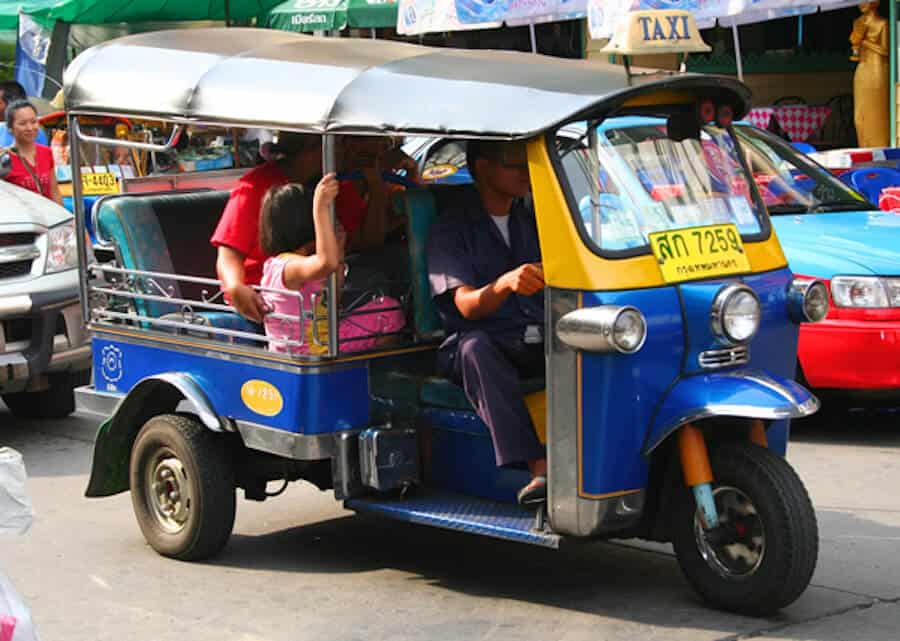 The famous Thai tuk-tuks are not like any other you've seen in Asia. These auto-rickshaws come in all sorts of shapes and sizes depending on where you are in the country. The most famous being the pimped-out vehicles in Bangkok.
You can't leave Thailand without having a ride in one of these iconic vehicles. They're not known to be the cheapest mode of transport so make sure you negoatiate a price beforehand.
Scam | A common tuk-tuk scam is that they'll tell you where you want to go is closed and there's another temple or market that's open. They'll take you there but along the way, you stop at their friend's gifts shops where you'll be pressured into making a purchase. This tactic isn't only exclusive to tuk-tuk drivers.
Accommodation
Thailand is an extremely budget-friendly country. You can spend as little or as much as you want on accommodation! Hostels can be as little as £3/$3.8 for a mixed dorm room in the center of Bangkok, often with breakfast included!
For just a few £/$s more you can have your own private room. For a simple private, beach bungalow in Koh Pha Ngan, I paid £5 a night during the full moon party! If you can budget to $15-$20 or more for your accommodation then you will live like royalty.
I always find that the best places to find cheap accommodation are on Booking.com and Airbnb. If you're not already a member of Airbnb you can get money off your first stay when you join here.
Best Places to Visit In Thailand
Bangkok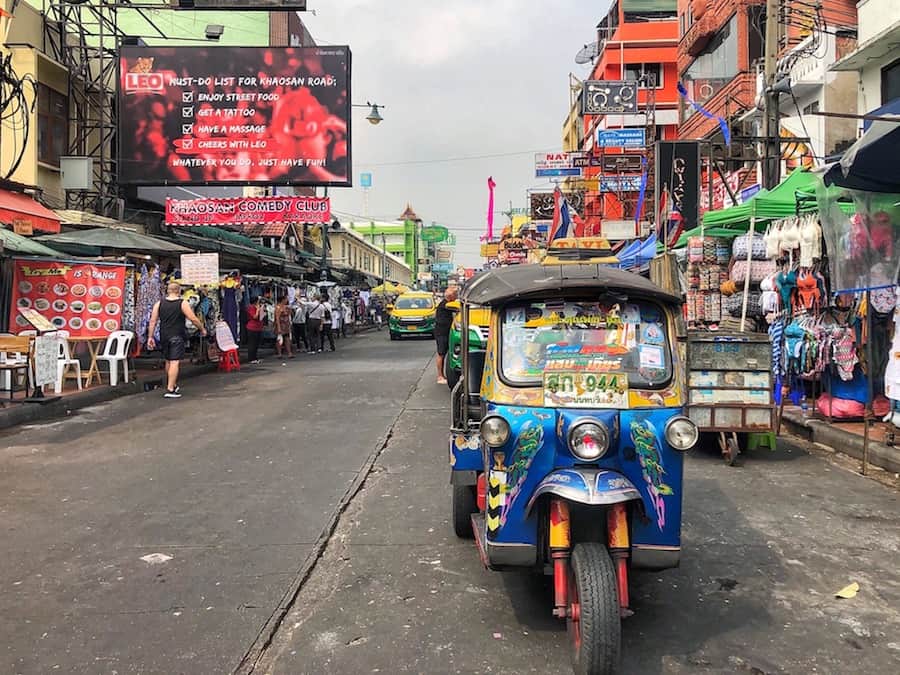 Nearly everyone who lands in Thailand starts in Bangkok. It's the perfect base for traveling to the islands to the south and to the northern cities. It's also the best place to fly to and from surrounding countries due to its extensive flight network.
A lot of people will try and tell you to get out of Bangkok as soon as you can but a few days in this chaotic, energetic city is an awesome introduction to Southeast Asia!
Head to the famous Khao San Road and have a drink with other travelers. Visit the numerous temples around the city such as the Grand Palace or Wat Pho. Haggle at the huge night markets (or even a floating market) and don't forget to try the street food.
Read More | The Best Things To Do In Bangkok
Ayutthaya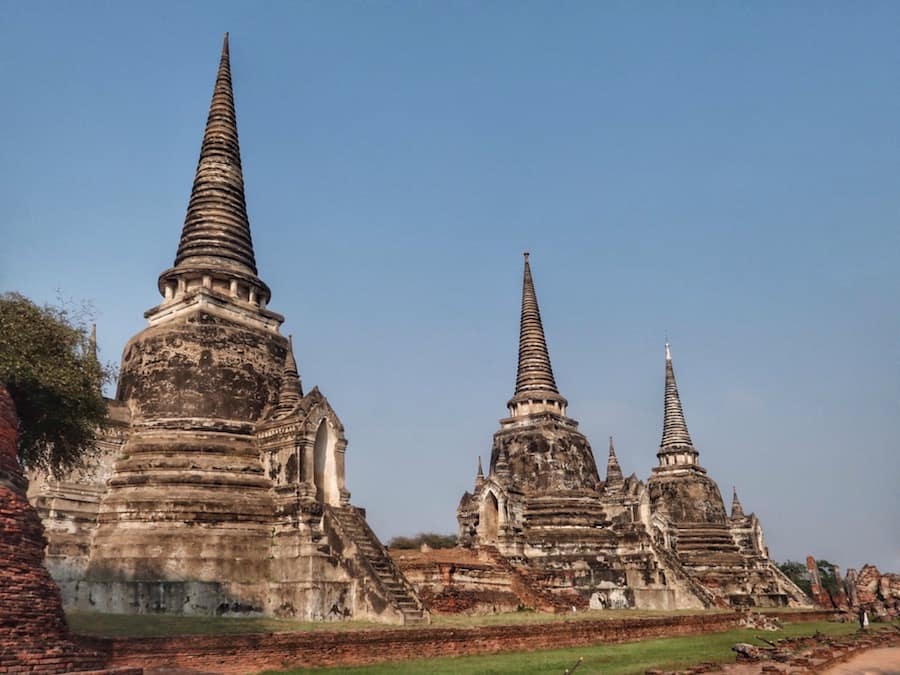 The ancient capital of Siam (Thailand's former name) is one of the best places to visit in Thailand. The best part is that the city is only a short journey from Bangkok! Sukhothai was the first Siamese capital until 1378 when Ayutthaya flourished as the thriving capital for around 400 years.
The UNESCO Heritage Site is filled with incredible ancient ruins and is a must-see for any first-timers to Thailand interested in history and beautiful temples.
Tip | This may be the first time you see the national symbol of Thailand, the elephant. You'll see these many of these magnificent animals carrying tourists but please do not be tempted to do the same. Ultimately, the decision is yours but if you care for animals then do not contribute to the continuation of this cruelty.
Read More | Ayutthaya Tour | How To Plan Your Own Day Trip From Bangkok
Island Hopping
Thailand has so many beautiful islands, and each one has its own personality. Many of these are found in the south and island hopping is usually on top of most traveler's priorities when they leave Bangkok.
On the east coast, backpackers will usually flock to Koh Pha Ngan, with its laid-back vibe and full moon parties whereas Koh Samui is better suited for families. Over on the west, you'll find Krabi, Koh Phi Phi, and the largest island, Phuket.
Whether you want to relax on pristine beaches or party till sunrise or find your inner DiCaprio, no Thailand trip is complete without a visit to at least one Thai island.
Read More | The Ultimate Thailand Island Hopping Guide
Northern Thailand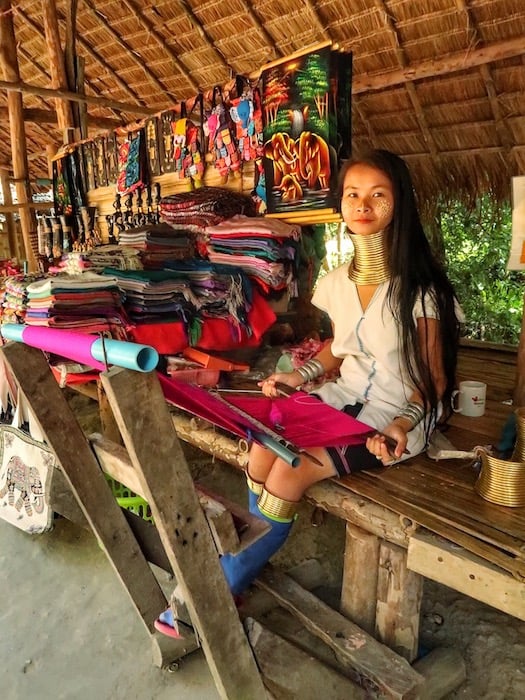 Thailand's north is rugged and mountainous and is the perfect place for travelers to experience a completely different side of this diverse country.
Chiang Mai is the perfect place to start. Although a lot smaller than Bangkok, there is plenty to see and do here. Like the 300 odd temples in and around the city. Chiang Mai's location also makes it a great base for exploring other areas in the north such as Chiang Rai and Pai.
Hill Tribe Villages | The Karen people, along with other hill-tribe villages, fled Myanmar due to political turmoil and now reside in northern Thailand as well as Vietnam. This is where you'll have your opportunity to see the famous Karen Long Neck women although you'll have to decide for yourself whether this is ethical or not.
Best Things To Do In Thailand
Bangkok Rooftop Bars
Ever since a certain bar was featured in the Hangover Part II, rooftop bars have become one the must-dos for anyone visiting Thailand, first time or not!
Many rooftop bars offer spectacular views of the city and they are the perfect place to enjoy a cocktail, or a meal, as the sun sets and the city starts to light up. There is usually a smart casual dress code, so no flip flops or Chang Beer tops, please!
The most famous of all rooftop bars is the Sirocco Sky Bar at the Lebua State Tower Hotel, and they know it! The prices are nearly as high as the bar itself (nearly £30/$40 for a signature cocktail!)
Read More | Sky Bar At Lebua | The Best Rooftop Bar In Bangkok
Full Moon Party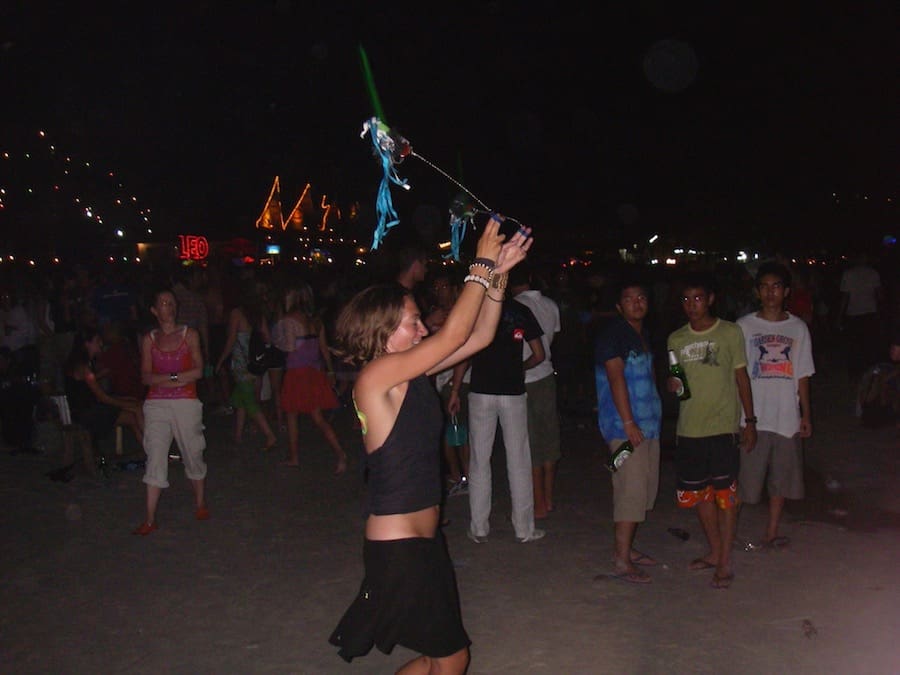 A backpacker's right of passage! The full moon party on Koh Pha Ngan is the stuff of legends! Every month on the full moon (when else?) thousands of travelers descend onto the beach of Haad Rin for one of the biggest parties in the world.
Supposedly started in the mid-1980s at Paradise Bungalows the party now draws in crowds of 10,000 to 30,000 people each month. All dancing to techno, trance, house, R&B, and reggae music till the early hours of the morning and beyond to at the many beach bars.
This has led to the creation of many other parties on the island. Just in case you couldn't make it for the full moon. The parties include the Half Moon Festival, Black Moon Party, Eden Garden Party, Sramanora Waterfall Party and more.
Accommodation | Booking your accommodation online is the safest way to guarantee a room but will cost more and often involve a minimum stay period. If you decide to just show up then do it at least 4 days before the party to avoid the inflated prices.
Snorkelling/Diving
The warm, tranquil waters in Thailand make it a great place to discover the underwater world. On most of the islands, it's easy to hire a mask and fins for a bit of light snorkeling on the beach. Many boat trips will also have plenty of snorkeling stops so you can check out the coral reefs.
With so much of the marine world to discover, Thailand draws in many divers and many travelers get certified on one of the many packages that are on offer. If you head to Koh Tao, you'll think you've landed on an island diving school!
Muay Thai
The national sport of Thailand, Muay Thai (or Thai Boxing) is a brutal, but spiritual, close-combat martial art. Often referred to as The Art of Eight Limbs, Muay Thai is popular with locals and tourists and there are many stadiums around the country that show regular fights.
The two best venues in the country to catch a fight are in Bangkok. Rajadamnern Stadium is only a 20-minute walk from Khao San Road and was the first Muay Thai stadium to be built in Thailand! The Lumpinee Stadium is the other legendary venue but has moved to a new venue making it less accessible. Both venues will often have big names fights and tickets will cost 1500 THB – 2000 THB.
There are plenty of gyms/camps that offer Muay Thai training too. Many offer weekly and monthly packages that include training, food, and accommodation. If you still haven't had enough, the gyms often offer a discount for stadium fights too.
Elephant Walk
Your first trip to Thailand may be your first real opportunity to get up-close and personal with an elephant. These beautiful creatures have been part of Thailand's history for centuries and play an important role in Thai culture.
You'll often see the elephant trainers (mahouts) offer rides in certain regions such as Ayutthaya or Chiang Mai but before ticking this activity off your bucket list, you should know one thing about these domesticated animals.
Any kind of sanctuary that offers rides or any kind of 'show' most likely involves elephants who have had their spirit broken as a calf. This technique is called the Phajaan, or crushing, and involves removing the calf from its mother before being beaten and jabbed with bullhooks until they understand the basic commands.
So instead of riding an elephant, why not go on a walk with them instead? You'll still enjoy an unforgettable experience have a chance to touch, feed and even wash your new jumbo friend!
Take A Thai Cooking Class
After all that delicious and authentic Thai food it's a shame you can't wrap some of it up to take away. Well, you can but it won't taste so authentic after that 10-hour flight! Fortunately, you'll find plenty of cooking classes ready to teach you to make your own Thai dishes.
You'll learn how to make things like curry paste from scratch and how each of the ingredients adds flavor to the recipes. Many tours will even take you to gather your ingredients while you experience a local, bustling food market.
Thai Massage
You can't visit Thailand without getting a famous Thai massage! The traditional massage dates back thousands of years and may be different from what you're used to at home. There's more stretching and pulling and is classed as a healing practice.
From a simple head rub to a complete all-body package, a Thai massage is relatively inexpensive and can lower stress, boost energy and stimulate blood circulation. It's even been given UNESCO Heritage status.
Festivals In Thailand
Songkran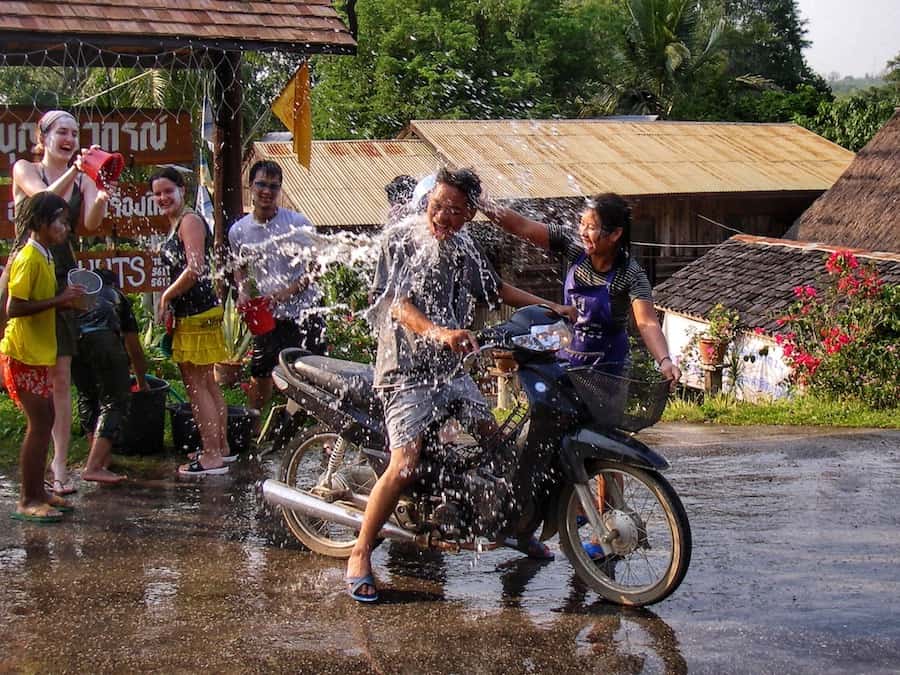 Every year on the 13th of April the whole country celebrates Thai New Year or Songkran. Many offices, banks, and local shops close as residents travel home to be with their families. For the next few days, everyone celebrates, what has now become, the biggest water fight in the world!
The throwing of water symbolizes the washing away of one's misfortunes of the previous year. City streets are packed with locals and tourists alike carry buckets and water pistols. There are also street processions and performances in places like Chiang Mai and Bangkok.
You'll find more spiritual celebrations at the temples with the washing of bathing of Buddha images. You may also witness Rot Nam Dam Hua, the tradition of pouring scented water over the hands of respected elders such as parents or teachers.
Make sure you book your accommodation well ahead of time if you visit during Songkran and be prepared to get soaked!
Loi Krathong & Yee Peng Festival
Known as the Festival of Light, Loi Krathong is celebrated on the 12th moon of the Thai lunar calendar. Loosely translated as 'to float a basket,' a Krathong is a decorated basket made from a piece of a banana tree trunk, banana leaves, and decorated with flowers.
On the night of the celebrations, Thais line up along canals and rivers and make a wish as they release their Krathong into the water. A candle is placed in the Krathong and Thais often fill them with small coins and food for the river spirits and the Goddess of Water.
The Yee Peng Festival coincides with Loi Krathong and is unique to northern Thailand. You may have .seen it on social media – the image of thousands of lanterns (Khom Loy) lighting up the night sky! The lanterns are released as a way to pay respect to Buddha as well as releasing bad memories. Head to Chiang Mai to see the biggest Yee Peng celebrations.
Staying Safe
Thailand is probably the safest country to visit in SE Asia. However, just like most places in the world, that doesn't mean you should let your guard down, especially when traveling alone.
There are some regions that are definitely no-go areas so check with your local government site. It's unlikely that you'll miss anything of interest in those regions unless conflict and violent protests are your thing.
Just like in most tourist destinations, be wary of pickpockets in crowded areas and I've already mentioned how to avoid taxi scammers.
Motorbike Rental
If scooting around with the subtropical Thai island breeze in your hair sounds incredible it's because it is! But before you rent that scooter just ask yourself if it's really necessary. Have you ever driven abroad? Do you have any experience with 2 wheels?
Driving in Southeast Asia is no joke. It's a whole new way of driving and I've seen way too many young travelers who have had arms/legs bandaged after a nasty fall.
I don't want to put you off as it really is an awesome way to get around. Most scooters are automatic too so you only have to worry about the road. Just be sure that you can handle it!
Tip | Make sure you check the bike over thoroughly and inform the rental company of any bumps/scratches not already marked on the agreement. Also, you'll need to use your horn to warn others of your presence, not for when you have road rage!
Vaccinations
Make sure you visit the doctor's surgery at least 8 weeks before your trip. You will need to be up to date on any vaccinations. If you do visit a private clinic then make sure you're not pushed into getting any expensive vaccinations that you won't need.
You can check out the WHO site or the UK's Fit For Travel pages to see detailed updates on things such as vaccinations and/or any outbreaks happening.
Malaria
The risk of malaria is very low in Thailand and it is not usually advised to take antimalarial tablets. Even so, mosquitoes are still a pain in the ass!
They normally feed in the early morning and again late afternoon/early evening so you should be fine during the day. Spraying some repellent with DEET at night or wearing loose, long sleeve clothing can help reduce the risk of getting bitten.
You can treat those itchy bites with good old Tiger Balm. It's cheaper in Thailand and gives a warm soothing, albeit temporary, relief.
Travel Insurance
This is something I never ever travel without. Although it's not a legal requirement to travel with insurance, many tour operators won't take you unless you're covered. Hospital bills can cost thousands and any standard policy can cover these costs and even fly you home if it's serious.
There are many comparison sites you can get insurance from. Just make sure you get properly covered if you're about to go on a longer trip (several weeks/months) as you may need 'backpacker insurance'.
One reputable company that specializes in backpacker insurance is World Nomads. Their plans are flexible and cover activities and emergencies that regular travel insurance policies may not.
Are You Ready For Your First Trip To Thailand?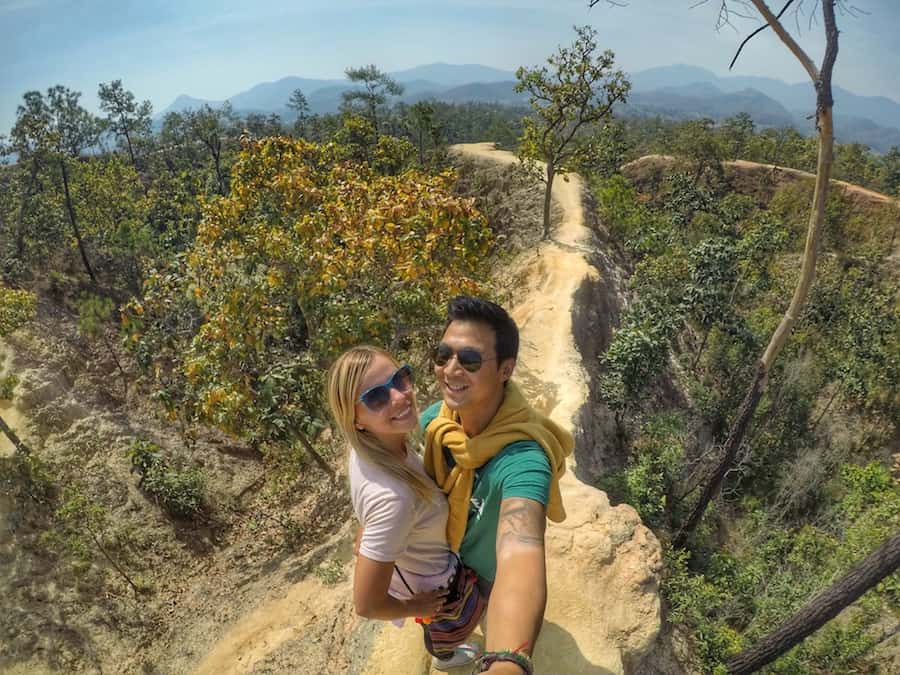 Thailand was my first destination when I started my love affair with travel!
Whether you're planning your first big adventure or a 'short' two-week vacation, Thailand really does have it all. It's probably the easiest country to travel in Southeast Asia due to its excellent transport network and helpful locals.
From modern comforts to adventures off the beaten track, it's no wonder that people often refer to Thailand as the ultimate travel destination. With so much variety on offer, it's likely that your first time in the Land of Smiles will definitely not be your last!
I really hope that all you first-timers have found this Thailand travel guide helpful. If you have any questions about something that I may not have covered then feel free to get in contact. Or just let me know in the comments below.
Disclaimer: This website contains affiliate links, which means that if you click and purchase through them, I receive a small commission. This will never cost you extra and in many cases, you can even receive a discount. Please visit the Privacy Page for more info.