Sky Bar At Lebua | The Best Rooftop Bar In Bangkok
Bangkok is a great place to enjoy a drink at a rooftop bar and Sky Bar at Lebua is one of the best, and most expensive, experiences you can have. The world-famous bar is one of the best rooftop bars in Bangkok and is often named the best rooftop bar in the world!
Sky Bar is part of a hotel that promotes itself as a world-class establishment. The bar has won a ton of awards and, at 820 feet, it's one of the highest rooftop bars in the world.
A Hangovertini or two at Sky Bar is a must-do in Bangkok and that's exactly what we did during our travels through Thailand. Even so, there are a few things worth knowing to fully enjoy your time at this stunning venue.
Sky Bar At Lebua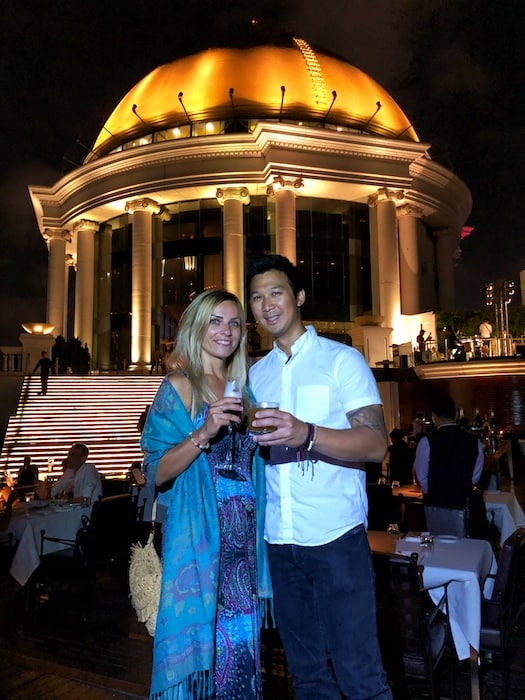 The official name of the rooftop bar is Sky Bar and is located on top of the Lebua at State Tower building. The tower has 64 floors of luxury hotel suites, business centres, conference rooms and Michelin starred restaurants.
You may hear it called Sky Bar at Lebua or Sky Bar Bangkok and sometimes even The Sirocco Bar! The Sirocco is actually an open-air restaurant located next to the Sky Bar so there can be a bit of confusion in the name.
The Hangover-tini!
Of course, one of the main reasons why Sky Bar is so famous is because of a certain 2011 movie. The Hangover Part II saw our 'heroes' in Thailand for Stu's wedding and the bar has become the most popular location since its release.
Sky Bar has even created a cocktail after the movie – The Hangovertini! You can even stay in The Hangover suite if you wanted to recreate the whole experience!
How To Get To Sky Bar
Getting to the State Tower building is relatively easy. Getting to Sky Bar can be a little trickier! The building is Chao Phraya River in the Bang Rak District of Bangkok.
The easiest way to get there, especially if you're staying on Khao San Road, is by taxi. It is quick and cheap but just make sure the taxi driver turns the metre on. Do not negotiate a price with him as it will be much more than on the metre!
You can also book through a ride-sharing app called Grab. It's basically the Uber of Southeast Asia! Whatever you do, don't take a tuk-tuk!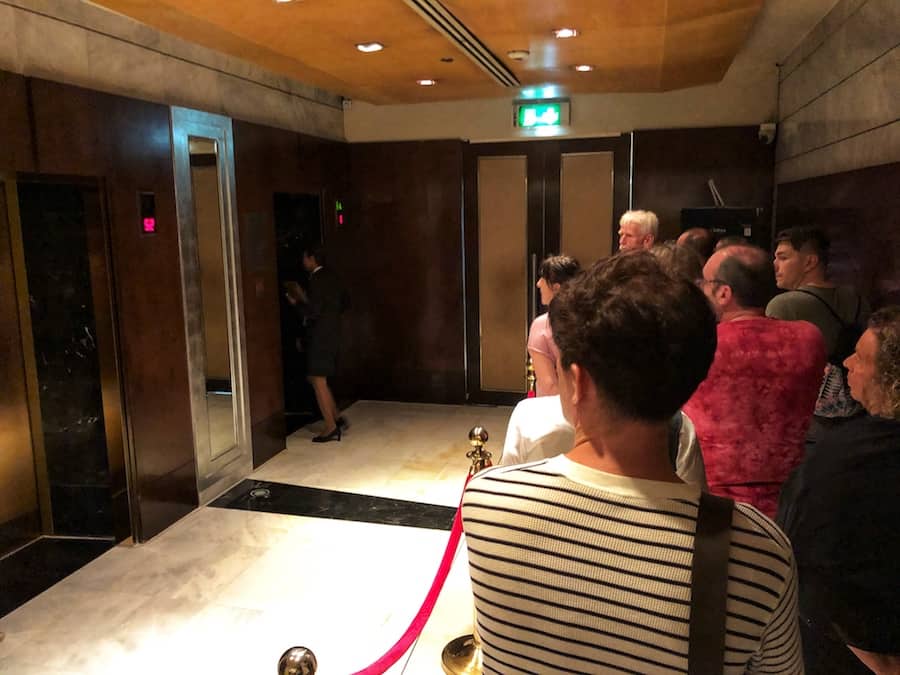 Once you're at the State Tower building you'll walk through what looks like a small ground-floor shopping mall before you arrive at the lift. There will be staff from Lebua waiting to take you up to Sky Bar on the 64th floor.
You'll be pleased to know that there is no entrance fee to Sky Bar!
Avoid The Pink Bar & Other Bars
Let's face it, having a drink at the Sky Bar and checking out Hangover filming locations is the main reason why you came here! So it's annoying as hell when the staff try to push you into buying an expensive drink at their new bar!
That's exactly what happened to us, and everyone else, going up to Sky Bar. We were escorted out of the elevator into the new Pink Bar and asked to order a drink. The cheapest alcoholic drink on the menu was a 2,700 BHT glass of champagne – a whopping $90/£65!
Lebua is reportedly under new management and trying to scam push tourists towards their newest bar. The Pink Bar is basically a pink bar! It's nicely decorated and everything but it's not the reason why people make their way up the State Tower!
Fortunately, I already knew about their hard sales tactics and gave them a firm (and slightly angry) "no" and politely asked the pushy staff to direct us to the Sky Bar. You should do the same!
Sky Bar Dress Code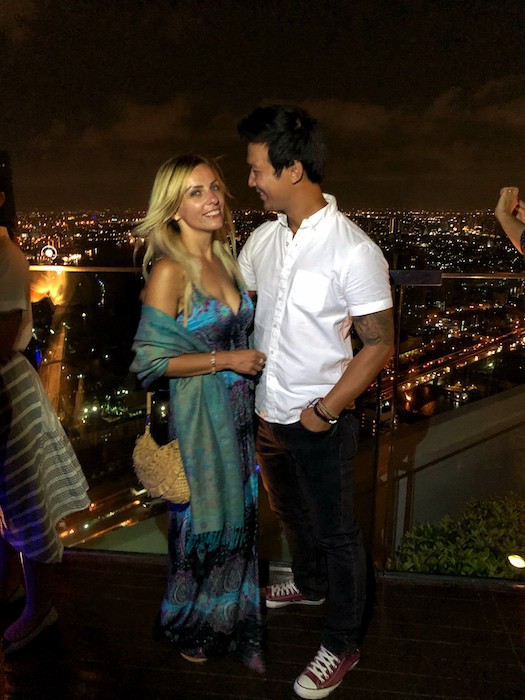 Thailand is a haven for backpackers and budget travellers but you'll be refused entry here if you look like one on arrival! Sky Bar is a classy place, even if they do try to make you order ridiculously priced champagne!
The website states that the dress code is smart casual meaning no sportswear, flip-flops, sleeveless tops or shorts. This applies to children too. Simply pack an outfit you'd happily wear on a night out back home then you'll be fine.
Didn't plan to visit Sky Bar and left your nice dress or shirt at home? Then visit one of the many markets in Bangkok beforehand. A simple dress or shirt should only cost you a few dollars if you're a good haggler.
If you're refused entry because of your clothes then there are some shops on the ground floor of the State Tower building. I didn't visit any of those shops but I assume they're not cheap so avoid this scenario if you can!
Sky Bar Prices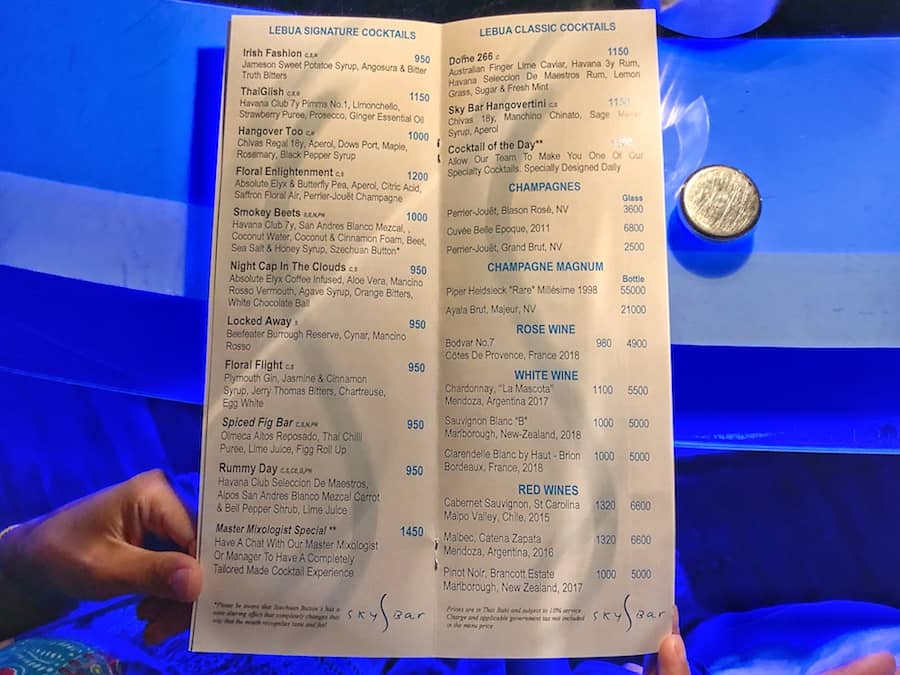 Having a drink at Sky Bar is one of the best things to do in Bangkok, but it comes at a price! Lebua classes itself as luxury/world-class, or whatever they want to call it, and this is reflected in the price of the drinks.
The signature cocktails are specially created for Sky Bar (Hangovertini anyone?) They cost around 1,000 THB each ($34/£24) with some non-alcoholic drinks at 850 THB. If you want a beer, you'll pay nearly the same so just enjoy a delicious cocktail instead.
There's also a selection of light bar bites and even cigars and caviar on offer. Unless you're willing to pay $30 for a snack though, I would recommend eating beforehand.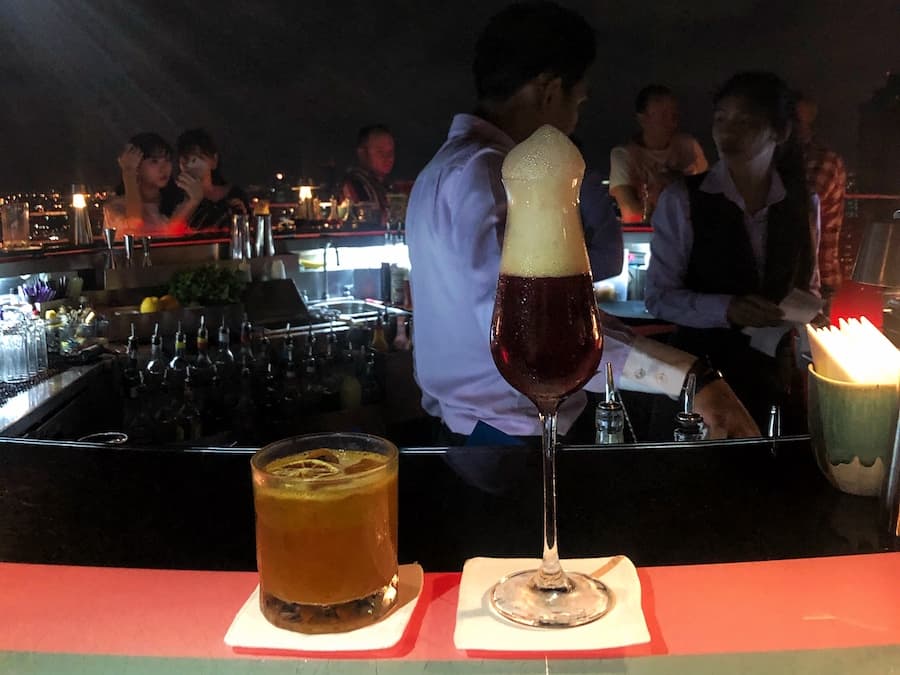 Before you pay just remember that there's a 10% service charge and 7% government tax added onto your final bill. Just to top it all off!
The View & Atmosphere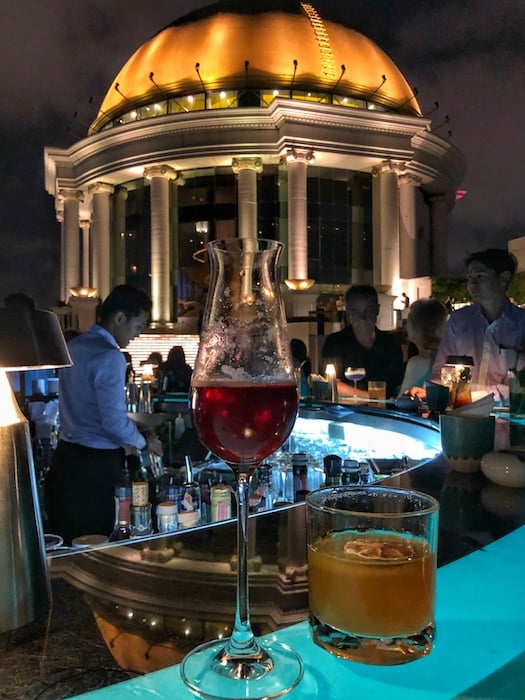 The first thing you'll notice when you step out to the Sky Bar is the magnificent dome. You're now officially on top on the State Tower building.
We arrived at Sky Bar just as it got dark and the bar (and city) was beautifully lit. At 820 feet up, or 250 metres, you can imagine the kind of views we were getting!
There is a jazz band playing is the background the staff are more than willing to help. They'll happily take a million photos for you. You don't have to tip these guys but we gave a little as they were so friendly and took so many photos.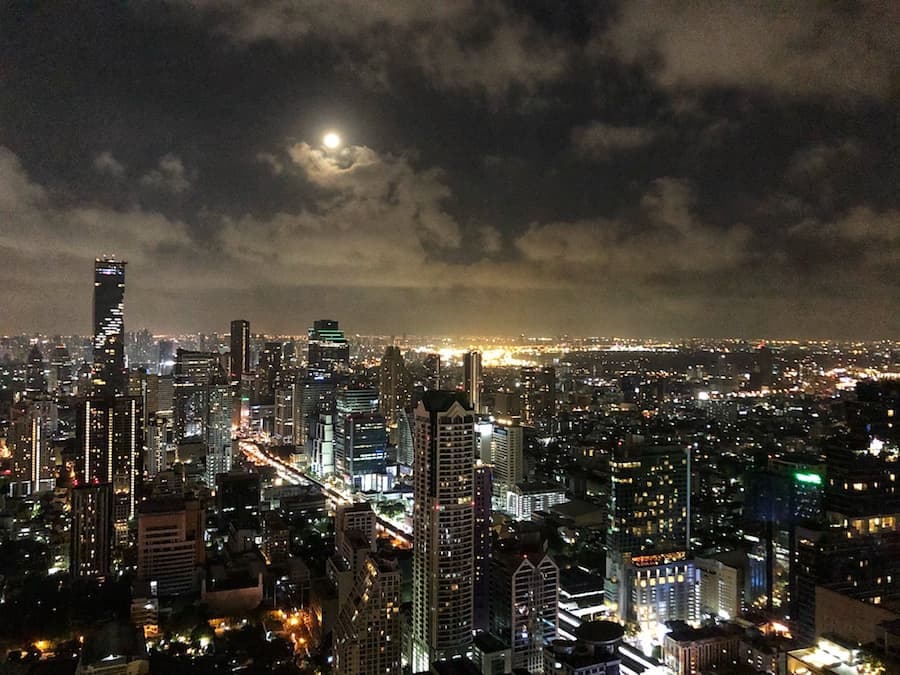 The atmosphere was great but do check the weather before you decide to go. I've read some reviews that the staff will not open the bar if there is some slight drizzle.
Would I Recommend Sky Bar At Lebua?
It may cost more than your accommodation but Sky Bar is a must-do in Bangkok!
We passed through Bangkok a few times on our travels and decided to save Sky Bar as a special treat. I can honestly say that it was just a really awesome night. The drinks were delicious, the views were spectacular and the atmosphere was just so pleasant.
Having said that, the prices of the drinks meant we didn't stay too long. We nursed our cocktails for nearly an hour before ordering a second one each! It wasn't as cheap as a Chang from the 7-Eleven but it was totally worth it!
Read More | Looking for more to do in Bangkok? Why not check out my post on The Best Things To Do In Bangkok for more ideas?
I hope that you found my post on Sky Bar at Lebua useful. Perhaps you want to add something or share your own experience? Get in touch or leave a comment and I'll get back to you as soon as I can. Thanks!
Disclaimer: This website contains affiliate links, which means that if you click and purchase through them, I receive a small commission. This will never cost you extra and, in some cases, you can even receive a discount. Please visit the Privacy Page for more info.