Donna Nook Seals | Visit Baby Seals In England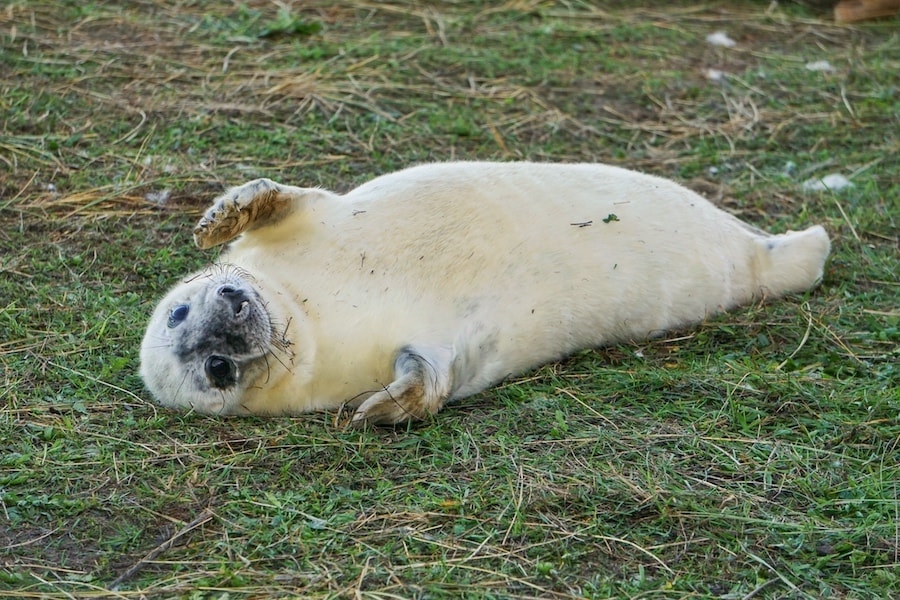 If the idea of being surrounded by hundreds of cute and fluffy baby seals sounds like heaven, then a visit to see the Donna Nook seals is just what you're looking for.
Every year in November and December, the seals at Donna Nook Nature Reserve give birth to their pups on the sand dunes in North Lincolnshire, England. This unique wildlife spectacle attracts over 70,000 visitors from all over the UK every year.
We have visited the Donna Nook seal colony twice and thoroughly enjoyed both times. We were lucky to have nice weather on both occasions as the English winter can be miserable at times. The area is one of the best places to see seals in the UK so is's nothing a few layers and a nice warm coat (and a hot cup of coffee) can't solve, as this event is well worth braving the weather for!
Donna Nook National Nature Reserve
First, little information about Donna Nook! The nature reserve covers more than 10km of coastline and consists of dunes and marshlands. Much of the reserve is maintained by the Ministry of Defence so certain areas are used for a bombing target range. If you see red flags you must not enter the area!
This may sound like a recipe for disaster but the seals have become accustomed to the sound of the bombings. As the seals only show up from late October to January, it's easy to manage the area to allow for peak times for visitors. However, you should still be wary of any red warning flags.
The name of the location is supposedly taken from a ship in the Spanish Armada called The Donna. The ship sank in recess (or 'nook') near the area in 1588 and Donna Nook is now the name of this area in the northeast of England.
Best Time To Visit Donna Nook Seal Pups
The first pups can usually be spotted towards the end of October and nearly all the seals will have left by mid-January. The busiest times to visit are normally the last weekend of November/the first weekend of December. This is usually when there are the most seal pups at Donna Nook.
With this in mind, we planned our visit to see the seals just before the peak weekend as we didn't want to be fighting the crowds. The seals were also a little smaller and fluffier than peak weekend but it was still quite busy so I recommend visiting during the week if you can. There is no need to book – just turn up!
How Many Seals At Donna Nook?
The British Isles are home to an estimated 120,000 grey seals. That's 40% of the world's population with one of the largest seal colonies at Donna Nook! For much of the year, they are out on small islands or rocks close to the shore. But during the winter the females come to the beach and give birth to their pups.
In 2021, a total of 2,134 were born at Donna Nook. The first of these was born on the 28th of October. There were also over a thousand cows and hundreds of bulls. It's hard to believe that the number of grey seals was once so low that, in 1914, they became the first mammal to be protected by law in the UK.
From October onwards, you can find a weekly Donna Nook seal count on the Lincolnshire Wildlife Trust website. The reserve warden normally has a count of all seals during the breeding season available on Fridays. This year (2022) the first pup was born on the 27th of October but was not visible from the viewing area.
You can also join the official Donna Nook Facebook group. They post regular updates and visitors post their photos as well as helpful tips and tricks from their visit.
How Long Do The Seals Stay At Donna Nook?
The seals only visit the dunes of Donna Nook to give birth to their pups from October to January. Males usually arrive first to stake out their territory before being joined by the females shortly after. The pups then suckle on their mother's milk for around three weeks or so. In that time they will triple in size and lose their white furry cuteness and look more like your typical grey seal.
Once the pups are mature the mother (cow) will mate with a male (bull) before all of them head out to sea to eat and generally do what seals do. This means seal sightings from February to September are pretty rare but not entirely uncommon.
How To Get To Donna Nook
Donna Nook Nature Reserve is located in north Lincolnshire in England. Getting to the reserve is relatively simple but driving from London will take over four and a half hours. If you have a sat nav (or Google Maps or Maps.me) it's very easy to find your way to Donna Nook from anywhere in the UK using the postcode LN11 7PD (OS Map: TF 422 998).
When you get closer to the car park, you'll eventually turn into Marsh Lane – a long and narrow street with cars parked along the road. This road can be very busy during the peak seal season so be wary. There are plenty of signs to follow and they'll tell you to ignore your sat-nav directions from there onwards.
Unfortunately, there are currently no public transport options to get to Donna Nook although you can always join a photography tour
Where To Park At Donna Nook
During the seal birthing season, the land near the dunes opens up for visitor parking. The car park is privately owned and is only open during seal season. It is quite large though and well maintained with friendly traffic wardens directing vehicles to their spaces.
Car Park Fee
You do not have to book to see the seals at Donna Nook but there is a small charge of £5 to park for all day (£10 for coaches). You can literally stay for as long as you want once you've paid. Twenty percent of this fee goes to the wildlife trust to help maintain the nature reserve and the protection of the seals.
There is another car park which is free for most of the year. However, during seal season the Stonebridge car park is only for easy access to the viewing area. These designated disabled parking bays have ramp access for blue badge holders only.
Facilities
There are a couple of food vans at the car park that sell hot food such as burgers and hot dogs as well as coffee, tea, and soft drinks. You'll also find a vegetable stall (which usually sells the biggest brussels sprouts I've ever seen!) and there are toilet facilities available.
There is also a small shop in the viewing area.
Visitor Guidelines
These are the official guidelines from the Lincolnshire Wildlife trust.
Stay in the viewing area and behind the fence for the seals and your protection.
Observe red flag warnings and any other RAF bombing warnings.
Do not feed or pet the seals at any time.
All children must be accompanied by an adult.
No dogs in the viewing area – seals carry diseases that can be harmful to them.
No flash photography – please remember this on your smartphones.
Be considerate on your visit and only park in designated areas.
On peak weekends, traffic management will be in operation for your own safety.
Helpful Tips For Visiting Donna Nook Seals
Having been to see this amazing wildlife event twice, I've managed to pick up some tips that could enhance your visit. These are in addition to the guidelines above.
Try to visit on a weekday if possible. Weekdays are always super busy.
Arrive as early as possible. Before 10 am if you want to avoid the crowds.
Remember that it's the beginning of UK winter so wrap up warm. Layers are best.
It rains often in England so bring appropriate footwear too. A change of shoes/socks for the drive home, perhaps?
Winter also means that it will get dark earlier. Around 4 pm.
Take the winter sunrise/sunset times into consideration when taking photos – remember that the golden hour is one hour after sunrise and one hour before sunset.
Remember to pack your camera or make space on your smartphone.
Use a telephoto lens or hire one for your camera.
There are only two hot food vans so if that's not to your liking bring a packed lunch. A thermos is also useful.
Visiting with kids? Take the time the read some of the interesting info plaques in the viewing area.
Be aware that there is a lot of placenta lying around!
Try and spot a rare black seal pup. Only around 5 are born every year.
Look out for Ropeneck. A female seal who first visited in 2000 but had to have fishing gear cut from her neck. She now has a ring around her neck but has visited every year since!
If you have to travel from far away then think about booking a hotel or Airbnb. That way you can have a couple of days at Donna Nook or visit nearby cities such as Lincoln or Hull.
Last but not least, please respect the visitor guidelines above.
Our Donna Nook Seals Experience
This is a small description of our first visit to Donna Nook nature reserve. We decided to stay in an Airbnb close by so that we could experience a couple of days of cute seal pup madness.
First Impressions Of The Donna Nook Seals
The first thing I noticed as we walked towards the beach was the strange, haunting noises I could hear in the distance. I wasn't sure what seals would sound like but, for some reason, I thought they 'barked' like the sea lions in Finding Nemo. It was obvious that I had no idea what the differences between a seal and a sea lion were!!
As we reached the fence, we could see the seals spread across the beach with many mothers and their pups close by on the dunes. Weekly updates on seal numbers can be found here but at the time of our visit, there were over 2,000 seals at Donna Nook with over 900 seal pups. At its peak, there can be around 4,000 seals at the reserve.
The main attraction was, of course, the seal pups. They were still quite small, white, and fluffy. They were very cute and the kids, as well as the adults, absolutely loved them. Many of the pups were right up against the fence. It was very tempting to reach out and touch them, however, there are plenty of signs telling us not to touch the seals (for obvious reasons!)
There were also males fighting for dominance and seals at various stages of the mating game! In the distance, there are a few buildings on the beach which, one of the helpful volunteers explained, was part of a bombing range used by the Ministry of Defence. They don't use it while there are pups on the reserve which is good to know.
Donna Nook Viewing Area
Arriving later in the afternoon meant that it wasn't that crowded and the people that did gather around a pup by the fence would leave quite quickly. The viewing area behind the fence runs 600m along the beach and there are plenty of gaps in the crowd to catch a glimpse of the seals.
There were information boards placed along the footpath with lots of interesting facts to educate us. These were probably aimed more toward young kids but there's nothing wrong with learning something new, especially as an adult!
As we were pretty much the last ones still at the reserve and, with the sun disappearing long ago, we decided to say goodbye to the cute seals and come back the next day. You definitely feel the difference once the sun drops during winter in the UK.
Peak Weekend Crowds
We arrived a little earlier the next day (around 11:15) and discovered how popular the Donna Nook seals really were. A queue of traffic, at least 20 mins. long, awaited us today. When we did eventually get to the car park, we were directed to an overflow area as the main car park was full.
After we parked, we were greeted with a gigantic queue to the only toilets facilities on the site so we decided to walk straight to the seals. There was also a queue to get onto the path that leads to the beach! There was almost a music festival atmosphere in the air compared to the previous day.
Even though we didn't visit during the absolute peak weekend, any time around that date would've been just as busy. Any weekend for that matter!
The viewing area was also much busier than we had seen but people still dispersed quite quickly after seeing the seals by the fence. As beautiful as it was to see the newborn pups, the reality of nature is also very evident. The midday sun revealed the number of placentas scattered around the reserve.
There was a gory fight between bulls, soaked in blood from the neck up. We even saw a poor pup that did not survive – no crowd by the fence for this unfortunate soul. There are going to be a lot of questions for all those parents who brought their inquisitive children with them!
We ended the day with a burger and coffee at the food van, having enjoyed the couple of days we had with the seals. The crowds made the second day a little less enjoyable but I couldn't blame them for wanting to see these beautiful creatures up close.
Donna Nook Seals – Worth It?
Absolutely! The cuteness overload is definitely something that is enjoyable whether you're a child or a child at heart! The whole spectacle is set up nicely with viewing areas, information boards, and ample parking. It's just a shame we still haven't seen a black pup or Ropeneck… yet!
We have visited Donna Nook on two occasions and on both, we have stayed in accommodation close by. I think if you are travelling more than a couple of hours away this is a great option as it gives you more time to enjoy the seals.
We could've tried to arrive on a weekday when it is less crowded but it didn't matter. This won't be our last time at Donna Nook! We braved the crowds, and we braved the cold, and witnessed an amazing wildlife experience, right here in England!
Like it? Pin it!