Dreaming of travelling abroad? Bored of staying at home? Maybe you've already planned your trip and just want a sneak preview? Luckily, some of the best virtual tours can be experienced, right in your own living room!
At some stage in our lives, it's just not possible to travel to our dream destinations. Maybe you're still saving for that once in a lifetime trip? Or maybe your employer just won't agree to those four weeks off work?
Whatever the reason, it's incredible to think that we can still enjoy amazing sites and experiences with our laptops, tablets or smartphones.
Here are some of the best virtual tours online that you can take right now!
Museums
One of the must do's whilst travelling is visiting the many world class museums. Whether you're learning about natural history or studying one of the great masterpieces, there are now many museums that offer some of the best virtual tours on offer. With many of them being free.
Vatican Museums
My personal favourite has to be the Vatican Museums. It was so good, I've been twice! The online museum tours gives you a 360° view of several of the museum's most popular rooms, including the Sistine Chapel.
This is probably the only time you can see Michelangelo's Creation of Adam and The Last Judgement in an empty hall.
The only thing missing from the virtual tour is Saint Peter's Basilica and the panoramic views from the top to the dome.
You can visit the Vatican Museums virtual tour here.
Read More | Rome | The Ultimate 3 Day Itinerary
The Louvre
The Louvre, in Paris, is probably the most famous museum in the world and another that I was lucky enough to have visited twice.
The virtual tour has several exhibitions on show from the remains of the Louvre's moat to Egyptian antiquities. If virtual tours aren't for you then you can follow several YouTubers as they guide you through the museum.
There is also a Mona Lisa VR experience available to download onto your smartphone. Now you can marvel at the most famous painting in the world without battling the crowds.
You can visit the Louvre virtual tour here.
Other Virtual Tours Of Museums
Art Museums
Those lucky art lovers amongst you will be pleased to know that there are many more art museums that offer virtual tours.
Google Arts & Culture have a maps style virtual tour of many of the top art museums in the world. You can literally travel the world to see these virtual tours including the Guggenheim Museum in New York, Musée d'Orsay in Paris and the Van Gogh Museum in Amsterdam.
You can also download the the Google Arts & Culture app on your mobile device. A great way to experience museums like the Uffizi Galleri on the go!
Historical Museums
For something a little different, The British Museum offers a virtual tour through its huge collection of human history and cultures.
Finally, if you prefer natural history then the Smithsonian Museum offers their own virtual tour. The museum has recently gained popularity thanks to its appearance in the second Night at the Museum movie.
Natural Wonders
Nothing can take your breath away more than experiencing a natural wonder! With the many virtual tours of national parks available, it's quite easy to find yourself lost in the virtual natural world.
Northern Lights
One of the most spectacular events to occur on the planet are the aurora borealis, or northen lights.
I was lucky enough to see them on my visit to Iceland and, even though it was absolutely freezing and ridiculously late at night, it was totally worth it.
Lights Over Lapland have kindly offered VR footage of auroras in Abisko, Sweden. It might not be as rewarding but you can experience the northern lights whilst staying warm in your home.
You can visit Lights Over Lapland here.
The Great Barrier Reef
Diving and snorkelling the Great Barrier Reef is a truly bucket list experience. It won't be the same as being there but, until you finally make that trip down under, Sir David Attenborough will have to do instead.
I'm a huge Attenborough fan and have seen every documentary he's made so it's a huge honour to invite the British historian into our homes for this one!
The interactive journey explains everything from how coral grow to how a reef sounds.
You can visit Attenborough's Reef here.
*Please note that Attenborough's Reef only works on desktops, laptops and tablets.
Other Virtual Tours Of Natural Wonders
Everest Base Camp
If you've ever wanted to conquer the highest peak in the world then you'll know that all you need is around $45,000 and the knowledge that you might die trying.
At just over 5,000 metres, Everest Base Camp is the closest most of us can get and Google has created a Street View tour for anyone who take a look at their next big challenge.
U.S. National Parks
If U.S. national parks are your thing then you'll love The Grand Canyon virtual tour. Not only can you do virtual hikes but you can also do a virtual raft rip through the canyon.
You can also use Google Maps to dive deeper into the canyon with a Street View tour
I can't mention U.S. national parks with mentioning Yellowstone and Yosemite. Both spectacular in their own right. Take a virtual tour and decide which one you'd prefer to see.
U.K. National Parks
For a taste of the UK's natural wonders check out the National Trust's virtual tour of the Giants Causeway in Northern Ireland. If you believe in the legend, the columns are the remains of a track, or causeway, built by Fionn the giant.
Last, but not least, another legends don't get much bigger that the Loch Ness monster. Those who believe in Nessie can look for her in Loch Ness thanks to Google Maps.
Landmarks
Some of the most amazing landmarks have made by us – humans. From modern architectural marvels to mysterious and ancient feats of ingenuity, some of the most famous manmade landmarks attract millions of visitors every year!
For those of you who can't see these famous landmarks in person (yet,) the internet has got your covered!
I've visited many of the landmarks on this list and I guarantee you'll enjoy these virtual tours. It may even be the motivation you need to get off that sofa and start planning that dream trip!
Machu Picchu
Machu Picchu is one of the most famous landmarks in the world and is also one of my favourites!
You can now explore every angle of this UNESCO World Heritage Site with 360° views over the Inca ruins. The tour is expertly narrated so you'll feel like you're actually wandering through the ruins with your own personal guide!
While you can't do the four day Inca Trail or climb Huayna Picchu, the tour does a pretty good job of bringing Machu Picchu to your living room.
You can find the Machu Picchu virtual tour here.
Petra
Another incredible sight is the ancient city of Petra. Many of you may have seen the beautiful photos of the Treasury or the Monastery but the city of Petra is so much more than that.
You can spend hours exploring the many passages and gorges of this ancient Nabatean Kingdom. Google has delivered a detailed street-walking tour so, with a pair of headphones, you can really picture yourself standing in the Rose City!
You can find the Google Maps tour of Petra here.
The Pyramids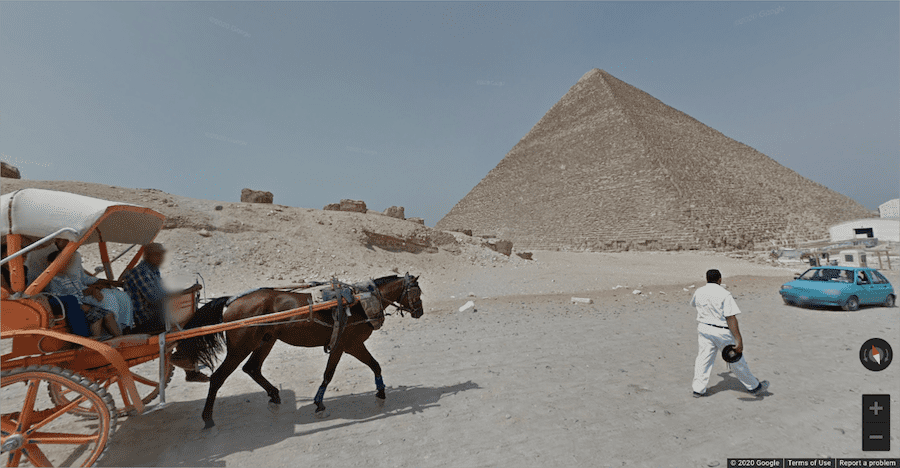 The only Ancient Wonder Of The World that remains today. The Egyptians built some of the biggest pyramids in existence, with the most famous being in Giza.
Taking a Street View tour with Google enables you to see the pyramids up close with the stifling heat and people offering you camels!
You can the Google Arts & Culture tour of the Pyramids here.
Other Virtual Tours Of Landmarks
European Landmarks
Europe has some of the most visited manmade landmarks and it's great that most of them have their own virtual tours. One of my favourites is the Colosseum, the Flavian Amphitheatre that has stood since the Roman Empire and housed 80,000 spectators in its heyday!
If Paris was always on your bucket list then why not try Google's Eiffel Tower tour. Just have bring your own wine and cheese from the kitchen.
Maybe you're more interested in Greek history? If so, the You Go Culture's virtual tour of the ancient Acropolis citadel in Athens might be more for you.
Asian Landmarks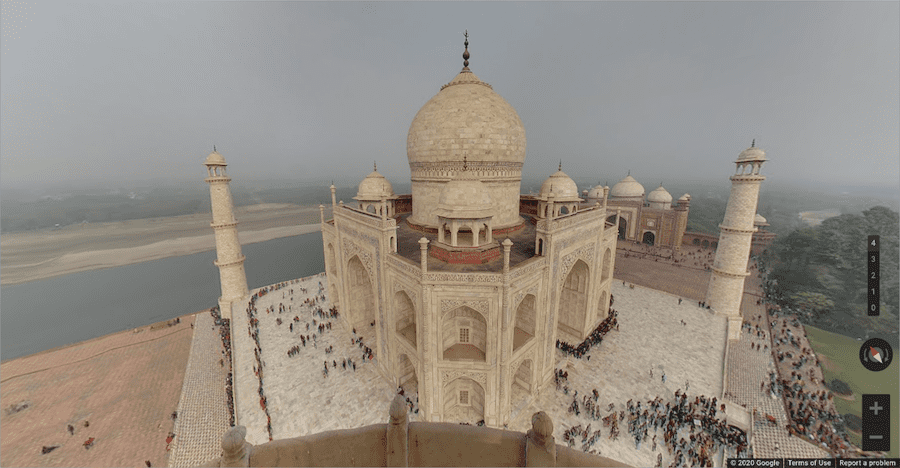 Thanks to today's technology, two of the new 7 wonders of the world can now be explore virtually. The absolutely stunning Taj Mahal has been given the Google Arts & Crafts treatment so now you can 'Street View' into the extravagant tomb.
Another New7Wonder, Great Wall Of China, has a detailed virtual tour from The China Guide detailing several sections of the 3,000 mile structure.
One wonder that didn't make it onto the list was Angkor Wat, but that doesn't make it any less spectacular. You can check out the 360° views of the Khmer Empire's finest achievement here.
The Child In You
If you have children then you'll know how important the internet is when it comes to making your lives easier. Everything from cartoons to games can be watched/played at the touch of a button.
You can now add virtual tours for kids to that list. Educational virtual tours are obviously great for adults too.
Educational
I love learning about all the different varieties of wildlife from around the world. Unfortunately the welfare of animals has been well documented over the years thanks to social media and films such as Black Fish.
The San Diego Zoo, however, has a great reputation for providing the best enclosures for their animals. They're also involved in numerous conservation projects and has one of the best veterinary hospitals around.
You can see how happy their animals are though their live cams here.
Theme Parks
What child doesn't want to visit Mickey and his friends at World Disney World? I met Mickey too when I was a little explorer many years ago!
Visit Orlando have kindly brought the Magic Kingdom to kids of all ages who cannot be there for one reason or another.
You can visit their virtual tour of the many parks here.
If the older children have outgrown Mickey then Hollywood has got your back. The Universal Studios virtual tour takes you through the park and gives a sneak peak at all the different movie related rides.
Out Of This World
While our planet has so many things to offer, it's still not enough for some people. Elon Musk being one of them!
Maybe you're one of lucky few who have been accepted on the mission to colonise a certain red planet. What better to prepare yourself than to explore the virtual world that has been created with actual footage from NASA's Curiosity rover?
Perhaps one day, when I happen to find a few million dollars in my pocket, I'll take a short weekend trip to Mars myself? Make sure you look out for that post!
You can find the Mars virtual tour by Nasa here.
Can Virtual Tours Replace The Real Thing?
Honestly, nothing can replace the feeling of actually experiencing the world in person!
Even the best virtual tours online will have a difficult time replicating how it feels to be at that special destination you've always dreamed of visiting. However, that's not the goal of these tours – these places have designed the virtual tours to inspire rather than recreate.
A virtual tour can still be an enriching experience and I have found that it's easier to educate ourselves about a place without the pushing and shoving of crowds. The wealth of information available from these tours is also something we don't always gain on our trips.
So if you still have ambitions to see that bucket list landmark/natural wonder/national park then the internet has done its job. When the time is right, we will all be able to visit our dream destination. And not just virtually!
I hope you enjoyed discovering the many different virtual tours around the world. If you liked this post, or want to know about a particular tour, then please leave a comment. Thanks!